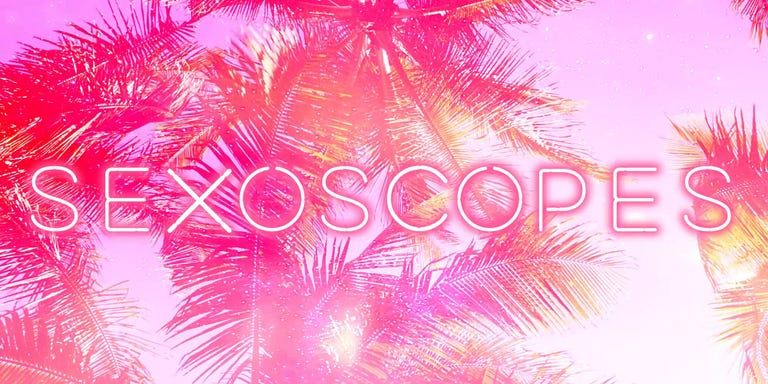 Aries
You have a tantalizing sex appeal, Aries, and your natural ability with words can carry you a long way this week. If you've been eyeing someone, chat them up and you could get lucky! You feel hot AF, and your sexual urges are strong this weekend. The Scorpio Moon and Venus in Cancer boost your chances of a spicy night this weekend, but beware of coming on too strong. You're confident in what you want, but a little apprehensive to make the first move. You're on the right path, however, and the Full Moon in Sagittarius during the week will help you find satisfaction!
Taurus
A new person you meet this weekend could quickly become a special someone if you're willing to go out on a limb and be adventurous, Taurus. The intimate Moon in Scorpio helps you get to know someone else on an exceptionally deep level, and you have the opportunity to indulge in your sexual fantasies with them. During the week, you crave and ache for even more intimacy, but risk overwhelming your partner. Maybe take a breather until the Full Moon later this week encourages you to go for round two!
Gemini
You're in-tune with your deepest urges, Gemini, and acting on them this weekend can lead to some breathtaking nights! Kinks and experimenting appeal to you way more now, and if you were considering trying out a new toy in the bedroom, now's the perfect time. You might feel anxious bringing up these hidden desires, but you'll feel good about voicing them once you do! Good sex feels refreshing, and you'll wake up bright-eyed and ready to take on the week on Monday. The Full Moon on Tuesday marks a new, fresh perspective on your love/sex life, and you feel satisfied.
Cancer
Cancers usually prefer to stay at home, but if you go out this weekend, you may meet a friend-of-a-friend who turns your world upside-down. You're urged to act on your sexual and romantic impulses, and the Scorpio Moon teams up with Venus in Cancer helps you to be in-sync with the desires of others. Optimism is a welcome change to your typical moodiness as the romance and pleasure sector of your chart is activated. Spend the week taking care of yourself and planning a fun night with this special someone! You'll appreciate the gratification and fun that come afterwards.
Leo
You're drained from this busy week, Leo, and your daily obligations keep piling on. If you're partnered up, sex can be just the outlet you need for all of this frustration, and you can engage in some serious sexual healing. If you're living the single life, superficial sex doesn't appeal to you right now, but you can still de-stress with a little ménage à moi. You're back to your frisky self by the end of this week, and the Full Moon will rejuvenate your relationships if your angst caused any upset.
Virgo
Venus continues to bump up your allure and encourages you to put yourself out there! Virgos hate making a move until they're absolutely positive it'll pay off, but risks can result in a delightful reward this weekend. You're encouraged to connect with others, and the sex asteroid Eros inspires you to have some magical sex this summer. The Full Moon elevates your luck and confidence while diminishing your anxiety, so get ready to shoot your shot! The potential for in-depth connections with a hookup is high this week!
Libra
You're an expert at sweet talk, Libra, and your natural charisma is potent this weekend! Friday's astrological forecast calls for in-depth discussions regarding your desires and pleasure that segue into an exciting evening of erotic enjoyment. Things simmer down as the Moon enters Scorpio on Saturday night – you want to stay in for the rest of the weekend and aren't too keen on seeing anyone. Once the week begins, you're eager to abandon your daily obligations in favor of more sexy time with your boo, but stress-free sex is unlikely until you take care of some annoying tasks first.
Scorpio
Your relationships are heating up, Scorpio! Long-time crushes could become something more, or a friend could become a FWB this weekend. You're used to acting on your instincts because they typically lead you in the right direction, and the Moon in your sign enhances that natural ability so that you can instigate these changes in your relationships. You're especially in-tune with your needs as well as the needs of others right now, and you're motivated to to satisfy your partner in order to fulfill your own romantic and sexual desires. The Full Moon this week will bring a make-or-break moment and push you to decide where to take your relationship.
Sagittarius
Over the weekend your mood is a total whirlwind, but you'll be back to your optimistic, outgoing self when the week starts. The Full Moon in your sign helps you get to the bottom of all of the confusing, emotional BS you've dealt with lately. Makeup sex helps to stabilize any problems you caused with your partner due to your crankiness. No special someone? No problem! Sagittarius is the luckiest of the signs, and this week is perfect for you to meet someone new as Mercury (the planet of socializing and communicating) enters the relationship sector of your chart.
Capricorn
Being social is easier for you this weekend as the Moon highlights the part of your chart that relates to your friend groups, but you're still reluctant to approach new people. Luck is on your side, Capricorn, but you still need to work on loosening up a little. Get in touch with your private passions and play around with yourself this week! Pleasure could come from unexpected stimuli, so you'll be motivated to introduce exciting new techniques and positions to your next partner. You're driven to become a master of all that you do, and you'll be able to further impress your next hookup with a new approach to sex!
Aquarius
Your peculiar quirks lure others to you with magnetic power. Fetishes that you've been aching to explore manifest in the bedroom this weekend, as long as you speak up about them! Your fantasies all have potential to be received quite well from your partner, but be considerate of how ready they are to play and explore, and try not to overwhelm them. Romantic thoughts still buzz around in your brain and this summer could be cuffing season for you, Aquarius. The Full Moon brings new opportunities for romantic attention, and you're motivated to link up with others.
Pisces
You feel like you can't find the intimacy and satisfaction you crave in another person, and it's starting to wear on you a bit, Pisces. Luckily, this weekend's Scorpio Moon encourages a delectable evening with a new partner. Commitment isn't on your agenda right now; the stars encourage pleasure and variety. If you're into it, a sleepover with multiple partners could occur this week. Some good sex combined with the Full Moon could be exactly what you need to help sweep away the dissatisfaction and frustration you've been dealing with lately.
Follow Jakesastrology on Instagram.
Source: Read Full Article