I have learned a lot these past few weeks. These lessons — the importance of proof-reading, the value of imagination, the truly mind-blowing amount of royal wedding merchandise available for purchase — can all be traced to my discovery of one extra very special royal wedding commemorative plate on Etsy.
Allow me to explain.
I was recently tasked with crafting a guide for finding the best royal wedding merchandise that you could purchase based on your zodiac sign. To prepare, I spent some time on the internet's preeminent marketplace for all things handmade, vintage, and offbeat: Etsy. After only a few minutes on the website, sellers' excitement over the event became palpable. You can buy royal wedding-themed ANYTHING. As of writing this, there are over 42,000 items for sale that pop up when you type "Royal Wedding" into the search bar. Among the more unique listings available are a set patterns for crocheting dolls that bear a likeness to the happy couple, a literal cereal box with their faces on it, and leggings.
But the pièce de resistance is, undoubtedly, this: for a little over $35, you can be the proud owner of this Prince Harry and Meghan Markle alternative commemorative royal wedding plate that trolls fans so expertly that it basically transcends the royal wedding fandom.
If you don't look very closely at the design, you might be a little puzzled by my fixation with the item. I'll give you a minute. You'll know when you spot it.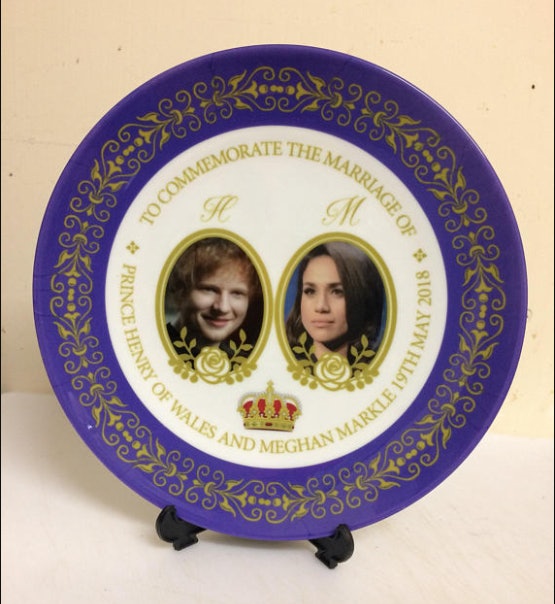 Royal Wedding Commemorative Plate, $35.02, Etsy
Yup — that's not Prince Harry. It is none other than fellow British ginger Ed Sheeran, who may be a prince of pop, but is decidedly not the prince set to marry Meghan on May 19.
Lucy Bryant, a multimedia artist, the face behind Etsy shop ModernChintz, and the mastermind behind the plate, tells Bustle this joke was actually a long time in the making — years, in fact. She tells Bustle she was inspired to create the plate after she purchased a royal wedding mug in 2014 that had Harry's face on it instead of William's.
"It really made me laugh," she tells Bustle, "and when Harry & Meghan announced their engagement I wanted to do something similar, but intentional. I chose Ed as the 'wrong' prince because he was the perfect redhead with his links to the royal family."
She designed the plate herself, and chose to go for a "generic 'classic' feel, typical of a lot of royal merchandise."
In the product description on Etsy's website, Bryant does not allude to the switched façade (one reason why I didn't pick up on it at first). This was intentional, she explains to Bustle. "I didn't want it to appear contrived and to come across as a genuine mistake. People started tweeting about it, then The Daily Mail picked up in it, and after that I received many, MANY messages informing me, helpfully, that it was Ed and not Harry on the plate."
Bryant tells Bustle she has thoroughly enjoyed seeing the impact of her handiwork, but at times the response was stressful. "This plate has been so much fun for me, I think I'll be sorry once the wedding is over and things go back to normal! After [The Daily Mail] had run the story … I had sleepless nights where I wondered if I could fulfill the orders. I had to employ a company to handle all my deliveries as I have a full time job and Etsy is something I do for fun. Even if I did Etsy full time it would have been too much for me to handle. Things have calmed down now but I know all it takes is a mention somewhere on TV or radio and I will be swamped again!"
For now the plate remains in stock in the ModernChintz shop. But if you want to get your hands one one act fast; something this *perfect* is sure to fly off virtual shelves. You can see it on Bryant's Etsy shop here.
Source: Read Full Article