The holiday season is upon us! No, I'm not jumping the gun on winter holidays here. Heck, I'm not even talking about Halloween. I'm talking about the taco holiday season leading up to National Taco Day on Oct. 4, duh. A respectable holiday indeed, this day helps us all celebrate one of the purest and most beloved things in this world: Tacos. And to taco fans' delight, the mecca of all things taco is giving us all a gift for this most celebrated holiday. Taco Bell's $5 National Taco Day Gift Box returns for one day only on Oct. 4, hitting participating restaurants nationwide. And like I said, we'll have this gift bestowed upon us for one day and one day only, so clear your your calendar (or at least, you know, like 15 minutes of it) so you can take advantage of this generous and delicious holiday gift.
I know this is very exciting news, but pull it together so I can tell you all the details of Taco Bell's holiday offerings, cause more excitement is in store. The $5 gift box includes a collection of one each of what TBell describes as their four most iconic tacos: The Crunchy Taco, the Nacho Cheese Doritos Locos Taco, the Cool Ranch Doritos Locos Taco, and the Fiery Doritos Locos Taco. "Holidays certainly differ across the globe, but we know that a celebration of taco love is nearly universal," said Marisa Thalberg, Global Chief Brand Officer at Taco Bell Corp, in a statement. I couldn't agree more. In short, it sounds like maybe we should all just eat Taco Bell tacos for all three meals of the day on National Taco Day, just to properly show our respect. Maybe even four, if you count Taco Bell's famous "fourth meal." I mean, it's only appropriate.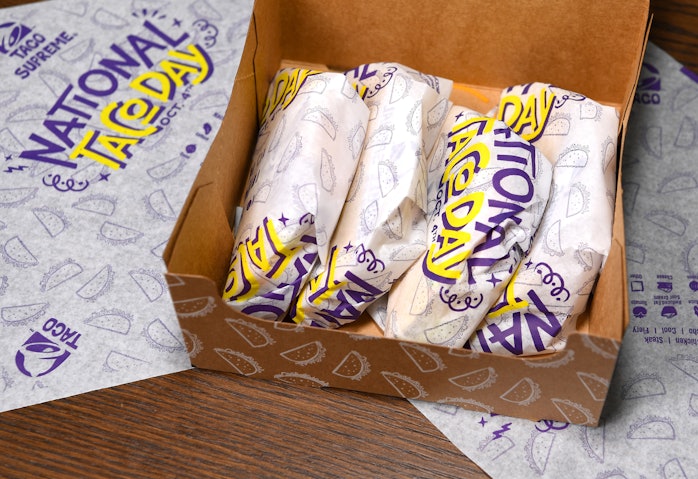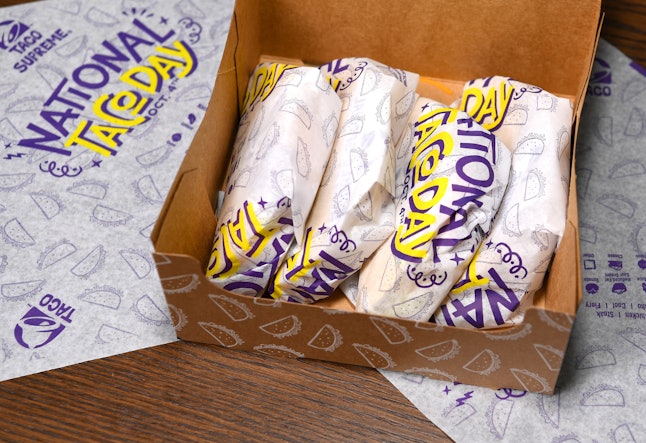 While actual tacos are certainly the main event when it comes to the National Taco Day holiday season, the festivities don't stop there: Now you can rep the world's best holiday all year round, because Taco Bell is releasing exclusive National Taco Day t-shirts to commemorate the epic day. You can snag one in Taco Bell's Taco Shop on Oct. 4 and sport your taco pride forever after.
And there's more! Sitting around the tube to watch classic animated winter holiday specials is a major past time — and Taco Bell wants to make sure that tradition extends into taco season, too. Grab your TBell tacos and your friends, then gather round for a wholesome holiday viewing of Taco Bell's soon-to-be-classic "Glen and the Magic Taco," which tells the epic tale of the origins of National Taco Day, according to the imagination of the restaurant itself. The film stars a magical taco named El Cruncho and a chef named Glen, a character inspired by Taco Bell's very own founder, Glen Bell. Catch it airing all month long leading up to the holiday on Oct. 4, or watch it now below.
And good news for all of our taco-lovin' friends abroad: TBell's Taco Day celebrations aren't just limited to the U.S. "National Taco Day has become a beloved tradition in the United States, and it is our honor to help translate that tradition to our friends around the world," said Thalberg. Yup, Taco Bell is making National Taco Day more of an International Taco Day by expanding its celebrations to countries around the globe. According to the brand, it has festivities planned in more than 20 countries. And while the $5 gift box appears to be a US-only treat, the celebratory freebies in other countries won't disappoint. "If our rapid expansion into nearly 30 countries is any indication, our fans' unwavering excitement for tacos is limitless," shared Liz Williams, President of Taco Bell International, in a statement. "It only makes sense for us to celebrate with them as we kick off the National Taco Day season." If you're in Sri Lanka, for example, prepare to receive free tacos with every order on National Taco Day. If you're in Australia on Oct. 4, you'll reportedly receive free and exclusive National Taco Day merch with the purchase of any taco. Taco fans around the world certainly have reason to rejoice.
Taco Bell is putting National Taco Day on the holiday map. If you want to stay up-to-date on taco season happenings, be sure to follow #NationalTacoDay and share your own taco celebrations, too. And remember, Taco Bell is known for its highly-customizable menu, so even if you forego the $5 gift box due to taste, allergies, or dietary restrictions, you can still revel in the joy of National Taco Day by hitting the drive-through and ordering your taco (or burrito or Crunchwrap or taco salad) of choice. Joy (and tacos) to the world.
Source: Read Full Article