Peter Weber's season of The Bachelor has been an odd one. Much of Bachelor Nation is disappointed in the way Weber has carried himself thus far, especially his actions towards fan-favorite Madison Prewett. But a lot of fans — including notorious crier Ashley Iaconetti — are finding it difficult to root for anyone this season. 
During a recent episode of their podcast, former bachelor Ben Higgins and Ashley Iaconetti of The Bachelorette and Bachelor in Paradise mentioned to host and producer Chris Harrison how it's difficult to really like any of women this season. Fortunately for Bachelor Nation, Harrison had a good answer. See why Harrison thinks "it's hard to root for anybody" vying for Weber's heart on The Bachelor.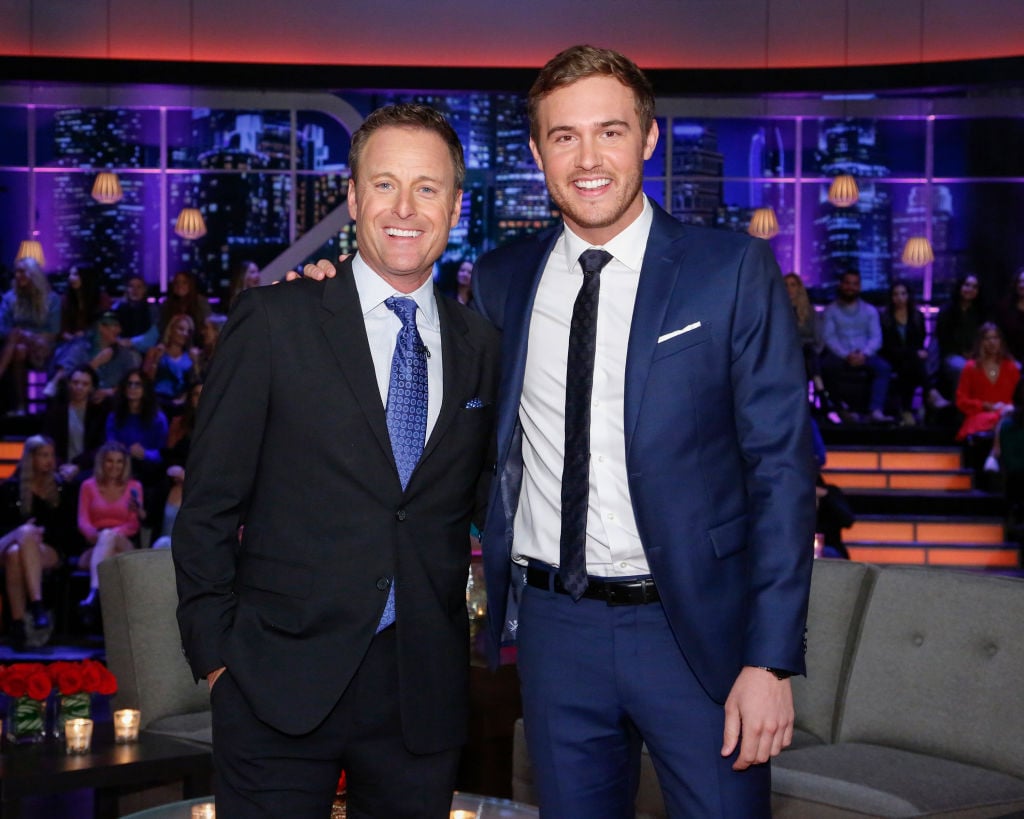 Peter Weber's season of 'The Bachelor' thus far
Thanks to former bachelorette Hannah Brown, Weber had a rocky start to his season. Instead of choosing to give Brown another chance, he decided to commit to his journey on The Bachelor. Weber quickly forged new relationships with the thirty-some women in the mansion. 
Now, as the competition starts to wind down, Weber is left with Victoria Fuller, who seems incapable of opening up, Hannah Ann Sluss, who appears to have one of the strongest connections with Weber, and Prewett, who caused a rift in her relationship with Weber after not being completely honest about her virginity. Fans have theorized the many ways the show could end, including Weber going home with no one or possibly ending up with one of the show's producers, but only time will tell what happens in the end.
Why it's hard to root for anyone left on 'The Bachelor'
Despite the relationships these women share with Weber, it seems there's a missing connection between the fans of the show and the women of this season, specifically Sluss. Iaconetti addressed this issue, asking Harrison: "Hannah Ann, I can't connect with her. Can you explain why?"  
Harrison conceded that it is hard to feel any kind of connection with the women on this season of The Bachelor, attributed that lack of connection to editing. "Maybe that was editing and we didn't do a good enough job of letting you connect with these women." Harrison goes on to say that Sluss is a "lovely woman" outside of the show, fully taking the blame for how she might come off on television. 
Peter Weber's season of 'The Bachelor' is just getting started
In a post on Instagram, Harrison said, "Tonight this season of The Bachelor truly begins. This is going to be a wild ride." Since Weber's season premiered, Harrison has said that it would be unlike any other. There have been a lot of ups and downs throughout this season of The Bachelor, but as Weber's story starts to unfold in the final few episodes, Harrison says, "this show will do a 180." It's better late than never!
With "Women Tell All" fast approaching and only a few episodes left of The Bachelor, fans are eager to know who Weber will end up with — if he ends up with anyone at all. Harrison is confident that if fans are still willing to dive in and watch through to the end, they won't be disappointed. 
Source: Read Full Article