Relationships that blossom from a place of difference
offer the additional benefit of a unique perspective on life.
Some friendships start with a clean slate. You meet somewhere neutral – at university, perhaps, or in the tearoom at work – and a relationship slowly forms. Then there are the people who come into your life in a structured role. They could be your teacher, or someone you're linked to through marriage.
We're not primed to see such people as potential friends, says relationship expert Meg Tuohey. This is especially true when an element of pain has existed within a dynamic, such as after a relationship ends. We're often tempted to sever ties with such people.
But if you process your pain, or simply ignore the social cues telling you not to be friends with someone, Tuohey says you open yourself up to the possibility of a beautiful friendship. She believes relationships that blossom from a place of difference offer the additional benefit of a unique perspective on life.
"These new experiences," she says, "can be uplifting, deeply connecting and provide a shared sense of joy." Sunday Life spoke to three pairs of women who looked past the usual social norms and discovered the joys of friendship in the most unexpected places.
THE FORMER MOTHER-IN-LAW AND DAUGHTER-IN-LAW
Yvonne Melling (right) was Sandy Edwards' mother-in-law. Yvonne, 76, is a TAB agent while Sandy, 59, is a freelance production runner and Uber driver.
Sandy and Yvonne.
When Rick brought his girlfriend Sandy home to meet his mum Yvonne, he had no idea how close the two women would become. Sandy was immediately drawn to Yvonne's loving, down-to-earth demeanour, while Yvonne adored Sandy's bubbly personality.
Yvonne, a mother of two, had always wanted another daughter. And when she met Sandy, Yvonne recalls, she immediately thought she'd found her.
Sandy also felt that instant connection. Her own mother had been just 22 when she left her four children, all aged under five. Sandy longed for a mother figure after that and grew up with her girlfriends' mums acting as surrogates. "But then when I found Yvonne it was just, 'Oh yeah.' It was perfect."
The pair were as thick as thieves during the time Rick and Sandy dated, had a baby and got married. But eight months after the young couple tied the knot, their marriage turned sour and Sandy packed up her baby along with her belongings and left Rick. She had no intention, though, of giving up her relationship with her mother-in-law.
Thankfully, Yvonne felt the same. Staying friends with Sandy "felt like the most natural thing in the world". She was thrilled that Sandy never kept her granddaughter from her or complained about her son to her, and Sandy was grateful that Yvonne never took sides.
When Rick remarried, his new wife wasn't happy about Sandy and Yvonne's relationship. "So I said, 'Oh well, we're not going to be seeing the second wife much!' " Yvonne laughs.
The pair grew even closer after Yvonne's husband, Ron, passed away nine years ago. Sandy could see that Yvonne was heartbroken so she suggested they go travelling together.
The pair jetted overseas. One evening, in a restaurant in Japan, Yvonne and Ron's wedding song was played. Sandy says, "She just broke down. I hadn't seen her cry at all, ever, and I said, 'Good, get it out.' We both sat there crying our eyes out."
When they got home, Yvonne was touched to receive a card from Sandy saying what a great travel companion she was, and asking Yvonne to join her in America for their next trip.
Rick and Sandy are on good terms nowadays, and while Rick jokingly laments the fact that his mother always takes his ex's side over his, he understands their close bond. "Sandra's just a part of our family," Yvonne says. "You can't ask for any more than that."
THE TEACHER AND STUDENT
Julie Rollinson (left), 63, was a visual arts teacher when Carni Brown, now 51, first entered her classroom. The pair have been friends ever since.
Julie and Carni.
Carni was a year 9 student who'd just started at a new school when she joined the visual arts program, which Julie taught. At first, the pair had a typical student-teacher relationship. But that relationship deepened as they spent more time together. Carni would often visit the visual arts room at lunchtime or after school, and was always blown away by Julie's "infectious energy", while Julie lapped up Carni's passion.
Over time, Carni, whose parents are Spanish and don't speak English, began to see her relationship with Julie as "like having another mum". For her part, Julie was more than happy to guide and nurture her young student.
Over time, a friendship flourished. The pair would chat about artists, music, art projects and were delighted to share a similar sense of humour. Carni still went to Julie for career advice, but Julie recalls they also started chatting about "all the usual teenage things", too.
When Carni graduated, the pair stayed close. Julie was there for all of Carni's key milestones, from her 21st to her wedding and having her first baby. When it came to choosing a career, Carni credits Julie with inspiring her to follow in her footsteps.
Carni's first job as a visual arts teacher was back at her old school. At first, she found it "weird" having Julie as a colleague. But Julie wasn't fazed and, as the pair began to teach side by side, the dynamic quickly turned to one of equals.
When Carni divorced and then remarried, the women started going out for dinner with their husbands, catching up like old friends.
Recently, their roles have reversed to some degree. Carni sensed Julie was no longer as happy as a teacher, and could see she was keen to pursue fashion. While Julie had inspired Carni professionally in the past, now Carni acted as a mentor. "I was the one that said to her, 'Go on and do it,' " said Carni. "And she did."
The pair no longer live in the same city, but try to get together whenever possible and still chat on the phone. "When you first meet your teachers at school you don't think, 'I'm going to be best buddies with them,'" says Carni. But, 38 years after they first met, they're thrilled to have found a lifelong friend in each other.
THE EX-WIFE AND NEW WIFE
Carol Hutchins (right), 53, was married to Antony for 10 years. They have a daughter together. Adrienne Hutchins, 51, has been married to Antony for one year.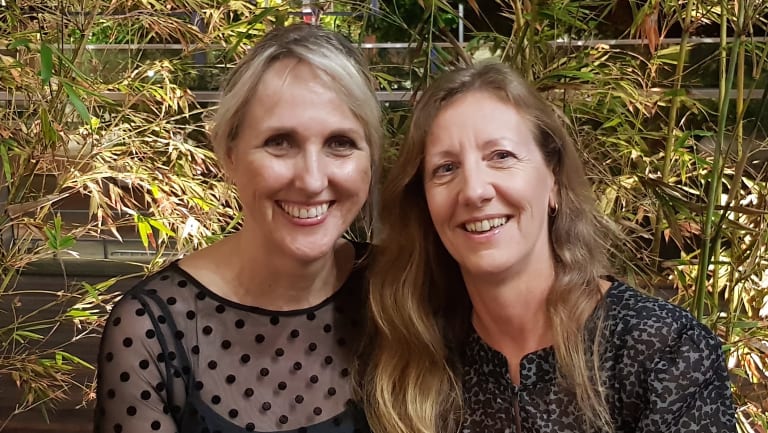 Adrienne and Carol.
Before even meeting Carol, Adrienne had an inkling the pair would hit it off. She would listen to how her husband, Antony, spoke of his ex with the "greatest respect and fondness" and was keen to get to know her.
When they met, Adrienne wasn't disappointed. As soon as Carol opened the door, Adrienne felt welcomed, saying there was no trace of bitterness. "It was just a fresh meeting."
Things only improved from there. The women soon realised they shared an interest in spirituality. "When we get together we have some quite deep spiritual conversations about life and what it means and how we're travelling," says Carol.
The trio get on so well they decided to go away for "Christmas in July" last year, joined by Antony and Carol's daughter, for what Carol calls an "extended-family weekend".
They all stayed in the same unit, with Antony and Adrienne sharing one room and Carol and her daughter the other. "We had a Secret Santa thing and we found a place that did a roast dinner and had their own roaring fire," says Adrienne.
The four of them drove around together and spent time perusing markets, going out for meals and just lounging around in the unit, playing board games.
"You know when you go away with your family on holidays? It was just one of those really lovely things," says Adrienne. She describes how everyone woke up at different times, did their own thing in the morning and then met up and came together when they felt like it. "It was just very easy."
Having been married to the same man means Adrienne and Carol share an extra bond, and they occasionally chuckle at Antony's foibles together.
On the weekend away, for instance, Carol says Antony came out with a "bad dad joke" which both she and Adrienne had heard many times before. "And Adrienne and I both looked at each other and rolled our eyes," she laughs. "But it's all in good humour."
They admit that their friendship has attracted second glances. "I certainly have friends where there's just no way they would have that kind of relationship with their ex's new partner," says Adrienne.
But they don't allow other people's views to prevent them from nurturing their friendship, now so warm they view each other as family.
Adrienne says watching friends who have divorced made her determined "to not make it something that separated the family, but something that made a bigger family. And that's what we've done."
This article appears in Sunday Life magazine within the Sun-Herald and the Sunday Age on sale July 22.
Source: Read Full Article