You don't need to know the difference between a three-card and a Celtic cross spread to get the most out of a tarot card reading. All you need: your Sun sign! Here's what I do: Shuffle my tarot deck and pull out the cards in order from Aries to Pisces, plus one general card for everyone so that you can get specific advice around your personality. Let's go!
A GENERAL CARD FOR EVERYONE: TEN OF WANDS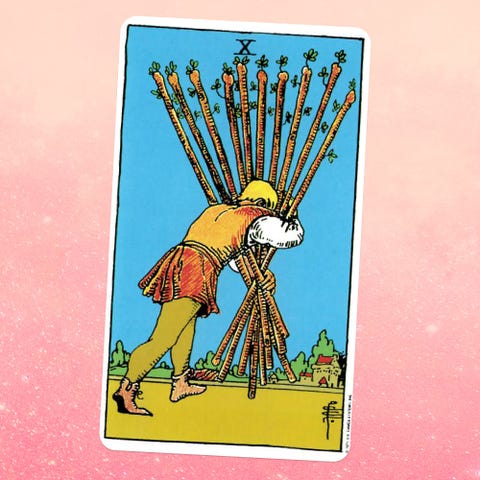 Take a break. Switch gears. Less is more. The Ten of Wands waves a little red flag signaling that we're all in danger of rushing headlong into burnout if we're not careful. Refocus on your top priorities, and let the rest go. It's easy to get lost in all the tasks and chores and activities, forgetting why, exactly, we're doing them in the first place. Conserve and focus your energy. Make a change this week.
ARIES: SEVEN OF WANDS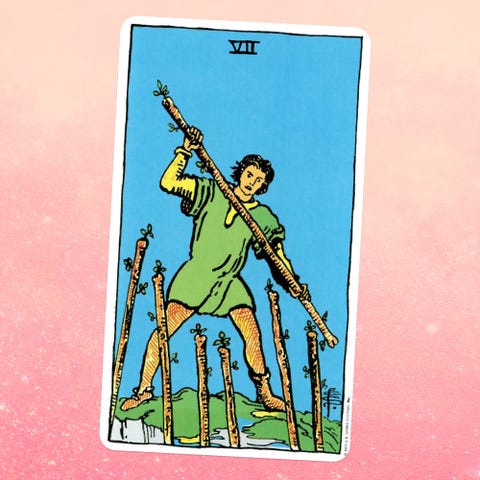 Competition is fuel for you, Aries. Because you're ruled by Mars, rivalry makes you raise your game. So, the Seven of Wands is good news for you this week. Others want what you've got, and they're preparing to compete with you for it. Stand firm, Aries. You deserve every ounce of your current rewards.
TAURUS: THE HIEROPHANT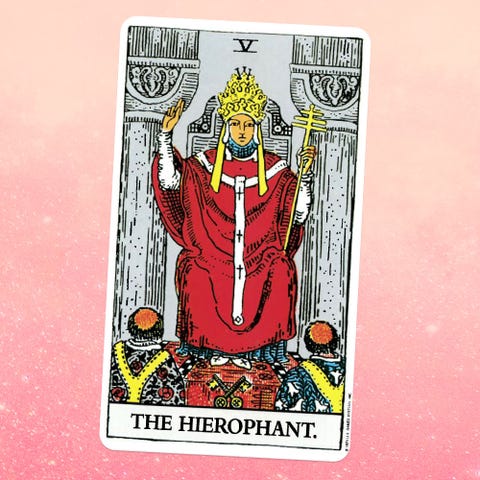 Find a cause or campaign you believe in, Taurus, and go contribute something. You need to be part of something bigger than yourself. This week, get involved in a cause you truly think will make a positive difference to your corner of the world. The Hierophant represents spiritual membership, fellowship, or teamwork for a greater good. Doing good will really make you feel good.
GEMINI: THE HERMIT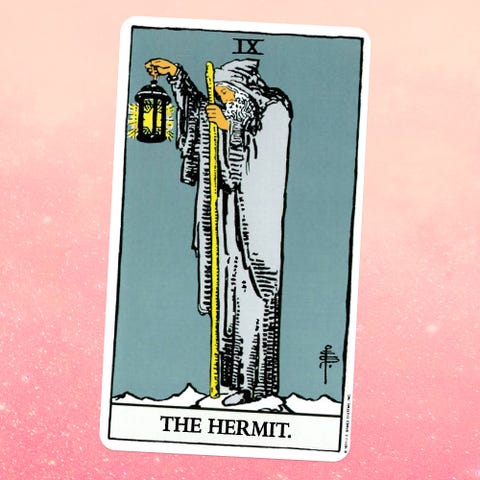 Cancel your party plans, Gem, and get to work. The Hermit asks you to take yourself and your to-do list seriously, because a period of effort and concentration is necessary. It's all worthwhile, and you'll see results soon. Make life easier by turning down social obligations, removing distractions, creating a plan of attack… and then taking action. No excuses.
CANCER: ACE OF WANDS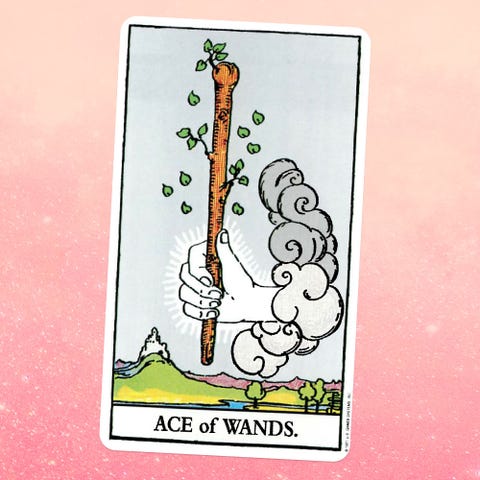 Start a new hobby, book, lifestyle habit, travel plan, or creative project this week, Cancer, because the Ace of Wands is a positive omen about new beginnings. Get things off to a powerful start by using this week's ~clean slate~ energy. This could be anything from taking a new exercise class, to creating your own podcast, to redecorating your home. Whatever it is, get it started this week and you'll get further, faster than you currently think is possible. The universe wants to see you succeed!
LEO: TEMPERANCE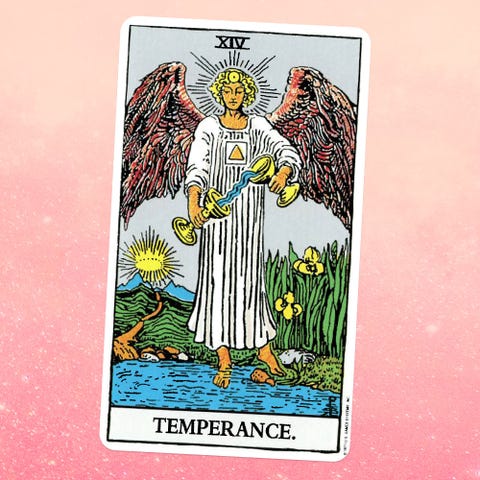 The ground beneath your feet is shifting, forcing you to adjust your stance and find a new position that feels stable and strong. Life does this to us frequently, and the best thing to do is to adapt. Temperance shows you're seeking a ~new normal~ as a result of changing circumstances, and though it has been a bit choppy, you're feeling more grounded and secure this week. This has been a testing time, but you've done so well. Reward yourself with a nice treat, Leo.
VIRGO: KING OF WANDS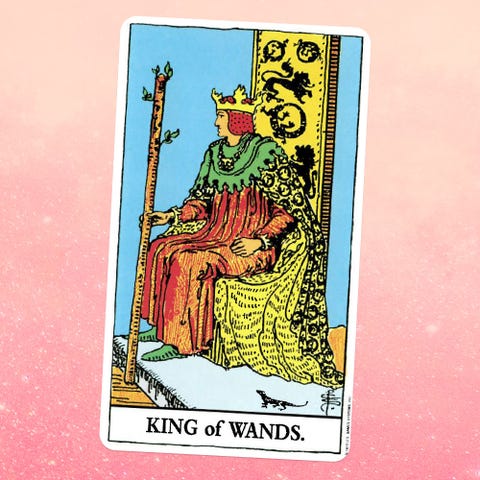 The King of Wands is a bold adventurer, and he's bringing you his wanderlust energy this week. I'm guessing this means you're going to be on the move one way or another. Book a trip, apply for a new job, or invest in some kind of ambition. Make something happen this week, and your risky move will be rewarded. This is not the time to play it safe. Go big or go home.
LIBRA: FOUR OF WANDS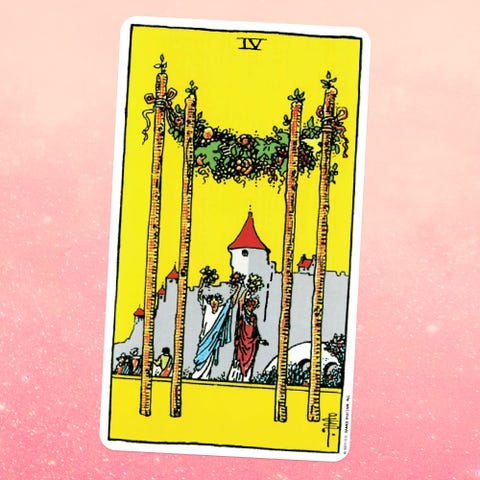 Working hard brings you big rewards in the long run, and you've realized this truth. You're only cheating yourself when you half-ass things. The Four of Wands tells you to celebrate this week, because you've worked hard and done well. Then, get busy working towards your next goal. Keep this momentum going, and who knows where it could take you!
SCORPIO: FIVE OF COINS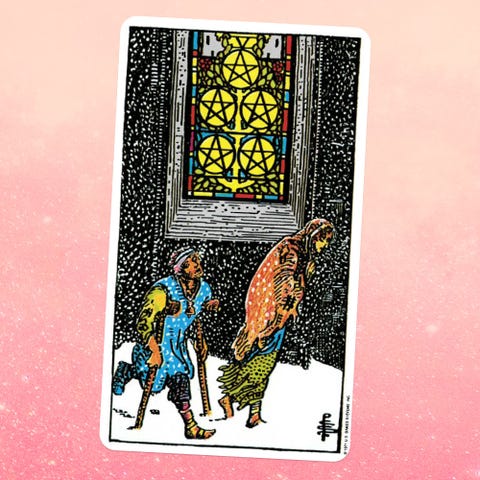 An emotional echo from your past resurfaces this week, and its intensity surprises you because you thought you were over this already. The Five of Coins reveals that it's okay to take a moment to be sad about what happened. We are all emotional beings. However, the good news is that this feeling won't be with you for long, because you really ARE over this. Pause to reflect. Maybe take a life lesson from it. And then move on.
SAGITTARIUS: THE MOON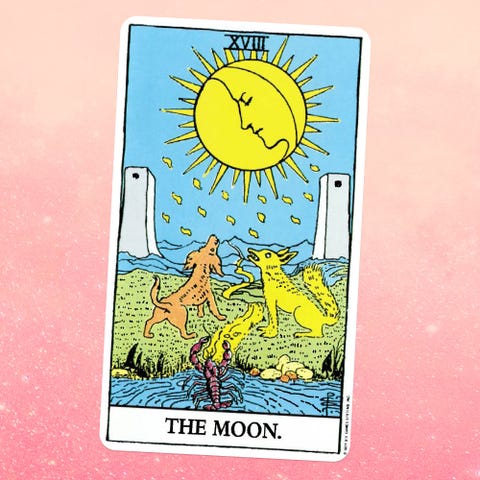 Detective Sagittarius, you're needed this week! The Moon shows that there's a mystery in your life that needs your focus. Crack the case! Just don't do anything too bold yet, because you simply don't have all of the necessary information. This week is all about research and asking questions. A major revelation or insight could change the game.
CAPRICORN: KING OF COINS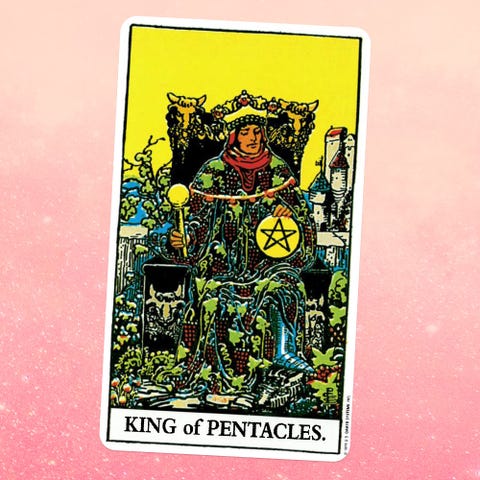 The King of Coins represents you at your best: Ambitious, secure, successful, pragmatic, and strong. You truly can handle anything life throws at you and turn lemons into lemonade (for a tidy profit too). Revel in your strength, Cap, and think about where you can make even more progress in your career, finances, health, and home. Use this momentum to really reach for the stars. You can achieve whatever you work for right now.
AQUARIUS: SEVEN OF CUPS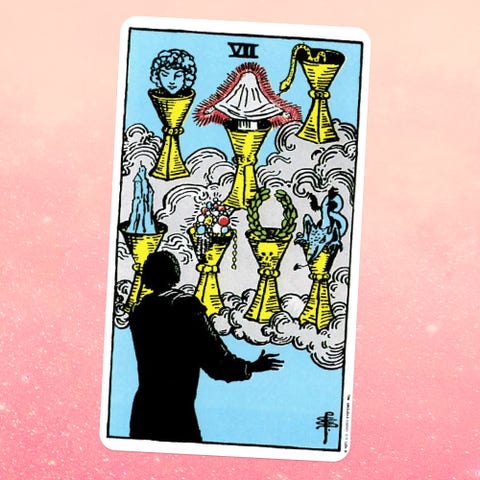 Did you know that you're the zodiac's natural inventor? It's true. You're ruled by the planet Uranus, which makes you naturally creative. You love solving puzzles and finding new solutions to age-old issues. The Seven of Cups has you in an innovative mood this week, so turn your gaze to things that need fixing. You're bound to come up with a clever plan, and you'll enjoy the whole process. Find your eureka moment.
PISCES: EIGHT OF WANDS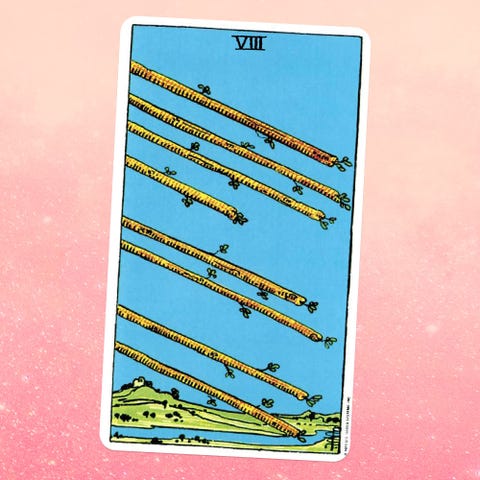 The Eight of Wands puts you in the hot seat this week, Pisces—in a good way though. Communication is the theme this week. You'll find yourself inundated with news, information, gossip, invitations, and opportunities. You need to stay tuned in and react fast. Be ready to say "yes" to everything.
Source: Read Full Article