Detroit: Become Human wants so badly to be an interactive Hollywood blockbuster, but its amazing visuals and cinematic presentation can't make up for some really lame writing, weird performances and an overall lack of grace. In spite of all that, though, I kind of love it.
From the makers of landmark narrative game Heavy Rain, Detroit tells a story set twenty years in our future, where artificial humans make up a new slave class. Suddenly, however, these androids are awakening to their own potential as self-aware beings, and demanding their freedom from oppression.
Kara is a home assistant robot that decides to disobey her programming to protect a girl.
To get the negative stuff out of the way first, there are a lot of problems with Detroit. The facial animations, and especially the eyes, are an absolute technological marvel, but the writing and many of the performances are not up to mainstream cinema standards. The sci-fi element of the story is weak (it's essentially 2018, but with unbelievably human-like androids), the narrative leans on an absurd number of tropes and, although it explicitly and repeatedly invokes contemporary and past race and gender issues to frame the divide between humans and androids, its allegories are, to be kind, simplistic.
As with previous Quantic Dream games, Detroit takes itself incredibly seriously. It's po-faced and cynical, supercilious and (ironically) without a shred of self awareness. The characters all have a tendency to plainly speak their motivations and inner monologues out loud to each other, leaving virtually zero subtext for the player to mull over, and where there is humour it certainly isn't intentional.
To be honest, if this was a movie I don't know if I would have been able to watch the whole thing, but the genius video game structure hidden beneath makes it all much more fun than it should be.
As with Heavy Rain, the story here changes dynamically depending on your decisions and actions as the player, but the complexity of the system here is beyond anything else I've seen in a game. Each of the bite-sized scenes has dozens of interwoven potential paths, and you move invisibly between them as you make decisions or notice (or fail to notice) aspects of the environment.
And not only that, but each of the three protagonists has to juggle relationships along the way, which can be heavily impacted by your decisions. One character can swing between "warm" and "hostile", for example, and at certain junctures the status of the relationship can have a massive effect on what happens.
Connor is a police android specifically designed to hunt robots that have developed feelings.
Quantic has made the risky decision to be very transparent about this, letting players analyse the flowchart that shows all possible outcomes (with stuff you haven't yet seen greyed out). This does encourage players to go back and repeat scenes before they've even finished the game – say if one of their characters dies and they see a way they could have avoided it – and that's pretty damaging to the high-stakes experience. But on the other hand, being able to plainly see where I was headed and what my relationships looked like made me all the more invested.
Like a B-movie that can be enjoyed for its practical genius as well as its laughable premise, I found myself wowed by the legitimately impressive interwoven narrative, even as I giggled at some of the characters' cheesy over-exposition and shook my head at the ham-fisted commentary on emancipation. I found myself caring less about how lines were delivered or whether a throwaway Holocaust reference was at all justified, and more about how my decisions were shaping the future of the characters. Had I missed something in the house that would have unlocked a vital path later? Was my snap decision to shoot someone in self-defense going to come back to bite me?
Some scenes involve a bit of trickery (i.e. you have three choices but they all essentially amount to the same outcome), but many of the biggest game-changing decisions are straight-up judgement calls: you're presented with two options, you know the likely consequences, and you have to choose quickly.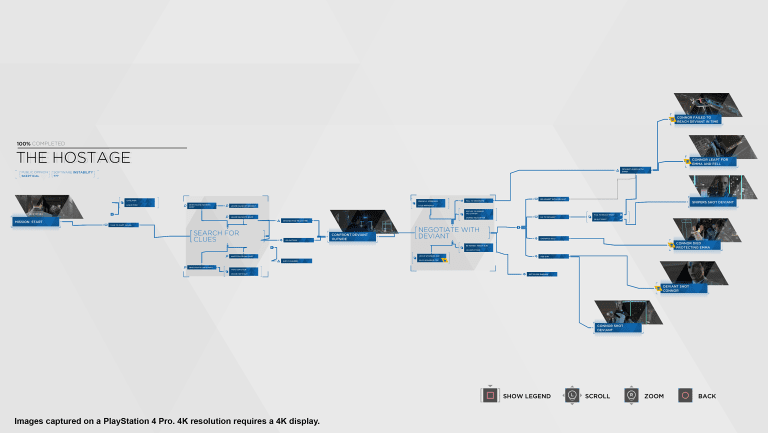 The flowchart for this early scene is pretty straightforward, but they increase in complexity as the plot rolls on.
The game is absolutely shameless in its attempts to elicit any emotion from players. It delights in trying to guilt you into sacrifices or shock you into uncharacteristic decisions, and it sets up moral dilemmas with two horrible options only to twist the knife no matter which you choose, and while that does nothing for the storytelling's legitimacy it does add to the fun.
The only unforgivable sin the game commits is well overstaying its welcome. I thought the story was wrapping up and moving into an epilogue about four times, with the game continuing for hours after. Depending on your decisions the ending can also be pretty disjointed and weird, as the results of the various bits and pieces falling together don't quite seem to line up.
But none of this stops Detroit from being the most ambitious, successful and enjoyable attempt to blend cinema and video games into a form of semi-linear storytelling. Playing through multiple times reveals the true nature of the underlying story (for better and worse), but there's also something thrilling about just going through once and knowingyour story could be totally different to somebody else's.
Source: Read Full Article