Struggling to think of a decent present for the music lover in your life this Christmas? Fret not, as we have looked around the internet to find the very best headphones that you can buy this year.
From the excellent noise-reduction available from Bose, to the popular stylings of the Beats By Dr Dre series, we are sure you can find the perfect set for you.
RELATED: The best earphones to partner your new iPhone XS
So sit back, relax, and take a look at the best headphones and where you can buy them in time for Christmas.
The best on-ear option – Bose Quiet Comfort 35 II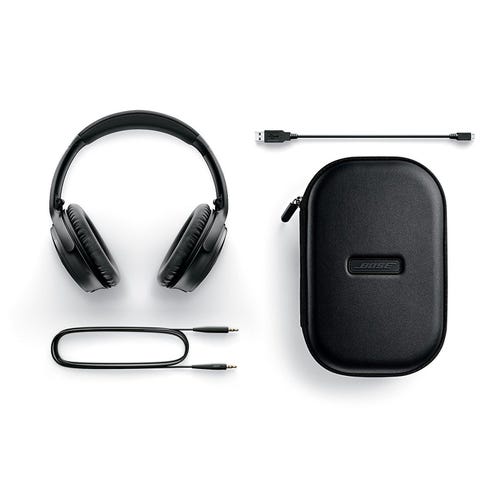 These on-ear wireless headphones have it all, and then some – but like many on this list, as the best in class, they don't come cheap at £329.99.
You get great sound quality that's balanced and not overbearing, alongside a huge 20 hours of listening time from one charge. And they're comfortable and stylish, too.
It doesn't stop there, though. If you're low on battery, a 15-minute charge will give you 2.5 hours of use, and if you run out completely, you can carry on using them thanks to the audio cable that's included.
They've even got noise-cancelling technology so you can completely immerse yourself in your music.
Bose – £329.95
Amazon – £289, down from £329.95
John Lewis – £289, saving £40
The best Bluetooth in-ear headphones – Bose QuietControl 30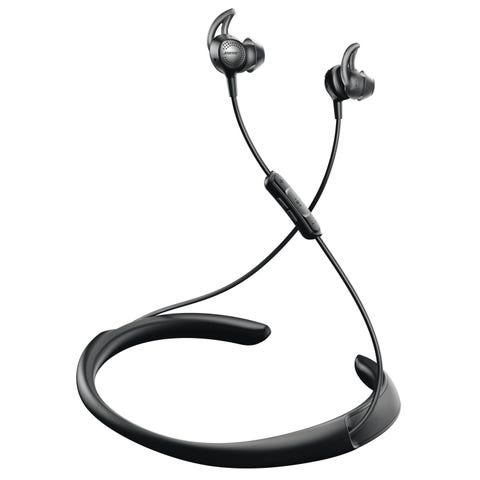 These are great quality Bluetooth in-ear headphones we're confident you'll love but they do come with a hefty price tag. They sound great with excellent detail across the treble, mid-range and bass notes.
They have a collar band that is hidden discreetly, meaning you can keep them on your body securely even when you're not listening to them. And they're noise-cancelling, too, blocking out outside sounds, immersing you in the music.
It's manually adjustable, so you can decide how much noise cancelling you want either by pressing a button on the headphones or using a slider control in the app.
The only slight disappointment is that the bass was soft and there was a slight hiss at low volumes.
Bose – £299.95
Amazon – £250, down from £299.95
The best wireless headphones – Sol Republic Amps Air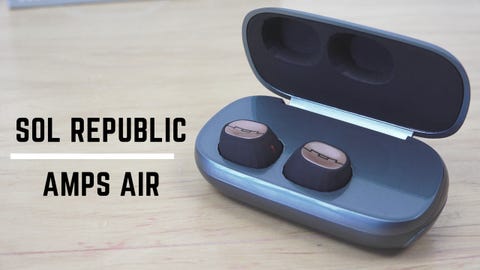 The Sol Republic Amps Air certainly offer freedom from wires and, unlike most here, are available on a budget. Overall, the sound quality is good and they're easy to use.
While the headphones do have some handy features – such as a quick shake of the case showing you the battery level – in our eyes, they lack one major feature.
We think the earphones should have a function that stops music when one or both of the earbuds are removed from the ear, as this would be a great indicator that they had accidentally fallen out of your ears.
Argos – £59.99
Amazon – £114.95, down from £149.99
Best on-ear noise cancelling headphones – Sony WH-100XM2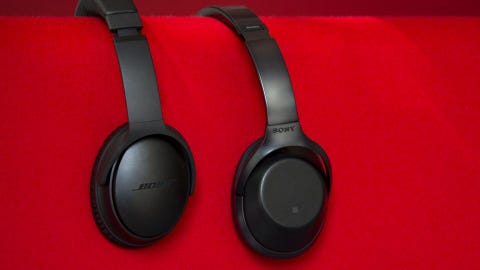 These wireless on-ear headphones almost have it all – great sound, effective noise cancelling, and plenty of listening time, thanks to a great battery life. But, they do come – again – with a hefty price tag.
The noise cancelling works well – even better, you can just cover the right ear cup with your palm if you temporarily want to hear what's going on around you, for example, an announcement at a station.
They're also comfortable to wear for long periods of time and come with Google Assistant built-in, so you can ask them to search the web for you, although it's worth noting that the headphone slipped forward a little when exercising.
Amazon – £390.61
Currys – £329.99
The best style option – Beats Solo3 Beats by Dr Dre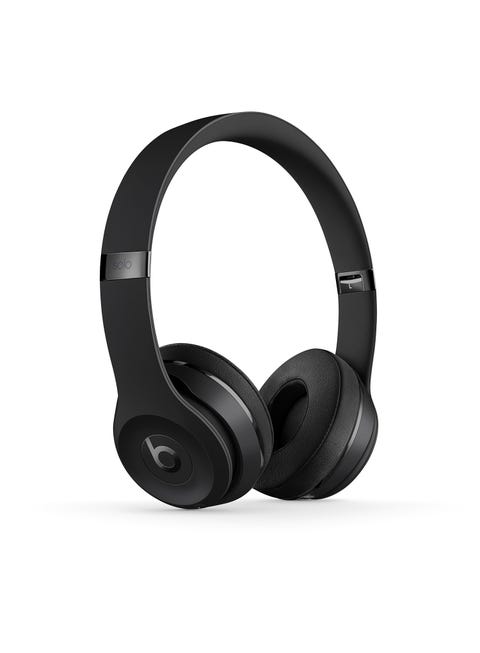 The Solo3 headphones are a fantastic get if you can afford to splash the cash on them – they still somehow offer unparalleled style and just ooze cool, and you notice these when you see someone else wearing them and jamming to their tunes.
You can ping your bangers wirelessly to your ears no problem, and they are easy to set up.
A bunch of different styles and colours give you plenty of of individuality to your headphones, which we really like, and they are lightweight and comfortable to boot.
Forty hours of battery life and an award-winning sound make these headphones a great choice.
BeatsByDre – £249.95
Apple – £249.95
Amazon – £199.99, down from £249.95
John Lewis – £229.95 and get 3 months of Apple Music for free
Source: Read Full Article