On the season 5 virtual Tell All for 90 Day Fiancé: Happily Ever After, the infamous bachelor and bachelorette party for Angela Deem and her new husband, Michael Ilesanmi gets brought up. Angela reveals that she actually danced with Michael's friend to make him "jealous," but the night ends up getting ruined when Angela thinks she saw Michael looking at another woman dancing.
During the Tell All, the bachelor and bachelorette party gets brought up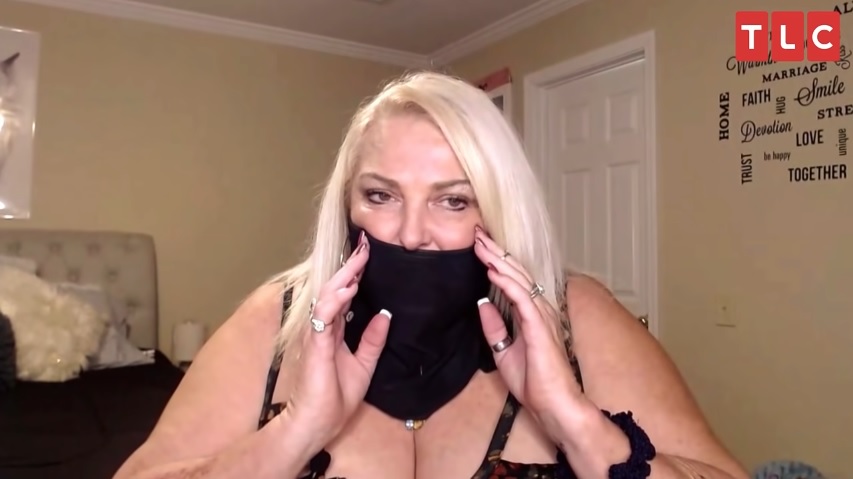 Of course, the Tell All is full of drama, and that goes for Angela and Michael's relationship as well. The host, Shaun Robinson, mentions the couple's trust issues, which were clearly on display at the joint bachelor and bachelorette party at a strip club. A clip is played of the night, including the couple dancing together and having a good time. But the fun doesn't seem to last, and Angela gets infuriated when she thinks she saw Michael seeing a woman dancing. Things get explosive, and Angela leaves the club.
Elizabeth Potthast Castravet gives Angela "props" for going in the strip club, saying she wouldn't have gone in. Angela insists she "didn't know." Shaun then asks Michael why he would take her there.
"I don't know," Michael reveals. "I mean, it's just for us to have fun. I didn't know. It was my friend that choose the, the club. I didn't know it was going to be like that."
Angela goes on to say that he "didn't stop it."
Michael insists that he "didn't look." "I told Angela I didn't look, but they are claiming I looked," Michael says. "I was cautious she would be upset."
Angela calls "bull s***."
Shaun mentions Angela's age and how she thinks of it as a "problem" in their relationship. "Because I'm already, you know, 54, gonna marry a 32-year-old man and for you to look at other younger women while in my presence, it makes me feel like maybe everybody's, you know, at that time, maybe everybody's right," Angela says. "Maybe I shouldn't be marrying a younger man. Because obviously he can't even look at me in public instead of looking at other women."
Angela admits she danced with Michael's friend to make him 'jealous'
Angela goes on to say that she tried to be "OK" in the moment, but she claims to have seen Michael look between her and her friend, Jojo, watching another woman dancing.
But Angela doesn't stop there, and goes on to say that she was dancing with Michael's friend to make him "jealous." "He has a good-looking friend, Dre," Angela says. "So I sat there and I said, 'Watch Michael.' I said, 'I'm going to get his attention one way or another.' So I started dancing just with his friends. We're on our VIP. And his friend was getting in it, getting in it. And I said, 'Yup. I'm going to make Michael jealous.' He was too busy enjoying me dancing with his friend, so he could get a glare out of his eye like this at the girl's c*****."
Michael admits that he saw Angela dancing with Dre, but he wasn't worried about it. "Yeah, I was right there," Michael says. "I mean it's nothing, it's nothing because I trust my friend. It's nothing. Because I trust both of them."
There was a lot more from this couple during the virtual three-part Tell All. We'll have to see where their relationship goes in the future.
Source: Read Full Article