Netflix just dropped Million Dollar Beach House to try to quench everyone's Selling Sunset thirst, and, I mean, it kinda worked? Like, I'll say this: if you enjoy a) spending your time salivating over real estate you can't afford and b) drama, then this show about rich real estate agents and their even richer clients in the Hamptons is most definitely for you. In fact, chances are you already binged your way through the entire series, which felt weirdly short at just six episodes and left plenty of loose ends untied (mostly about who TF ended up buying all these mansions). On that note, here's what we know about Season 2!
Netflix Hasn't Renewed It…Yet
Give them a second, Million Dollar Beach House literally JUST dropped. Netflix typically likes to wait a beat to see how well a show does before green-lighting another season—like, they have't even officially renewed Selling Sunset yet, to which I say:
Here's the thing, though: Even if Netflix wants to renew Million Dollar Beach House, they might have missed their window, 'cause…
The Pandemic Screwed Up Filming
Despite the ongoing coronavirus health crisis ruining literally everything, the Nest Seekers crew (aka Michael Fulfree, Noel Roberts, Peggy Zabakolas, JB Andreassi, and James Giugliano) are still out in the Hamptons hustling. Here's Noel casually showing off a $5 million home just a few days ago:
#984NoyacPath might be one of the most unique estates in the Hamptons. Set at a 300-foot elevation, the highest point in all of the Hamptons, this Feng Shui-inspired mansion is known as "Island In The Sky". Travel down a half mile long driveway, two security gates, and a gorgeous pine forest and you'll find this incredible site. Offered at $5,950,000. 📧 [email protected]
A post shared by Noel Roberts – Real Estate (@noelxroberts) on
But if there's one thing we learned from Season 1, it's that real estate only sells in The Hamptons during the on-season, aka summertime. If Netflix doesn't hurry up and get a film crew out there, they may have to wait an entire year to capture content for Season 2.
Noel Says Season 2 Could Film in October
Despite Season 1 hammering home the point that Hamptons real estate is a summertime-only-gig, Noel recently said that Season 2 could potentially film this fall, telling Worth, "I hope this goes 10 seasons, but we are already looking at a season two, potentially, in September, October, which would come out maybe early next year."
What's unclear is how much content Netflix will really be able to capture if the show films for such a short window. Also unclear? If JB has any idea how to properly wear a face mask:
Expect Season 2 to Get More Personal
While Season 1 focused mainly on prime real estate and office drama, we could learn more about everyone's personal lives in Season 2. JB told Us Weekly that "The most important thing to me is my family. If I'm not working, that's who I'm with, so I think for season 2, if you want to get to know me a little bit more, I'll have to bring in my brother and sister, my mom and dad and possibly even my girlfriend. I'm definitely open to it but it might take a little bit of convincing!"
Cool, in the meantime, I'll just be sitting here waiting for someone to buy me this house: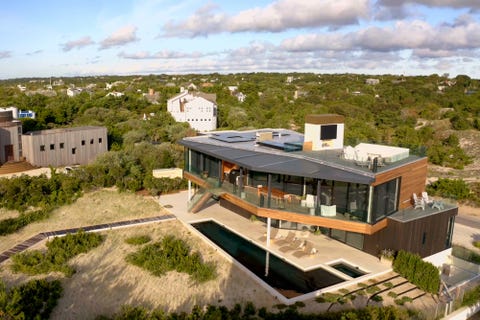 Source: Read Full Article