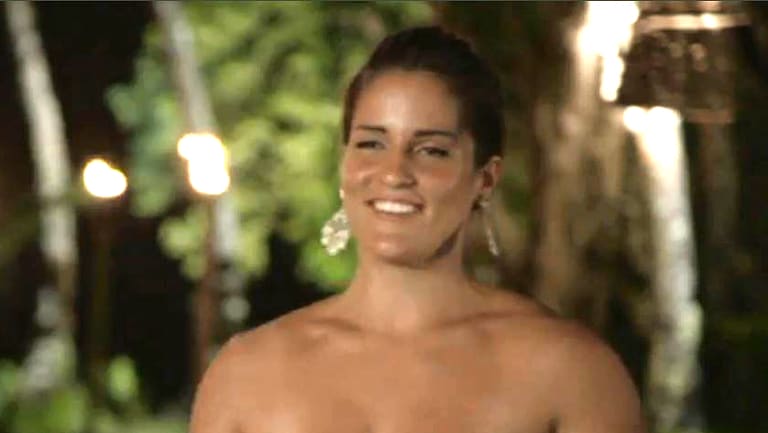 Elora fires up for Apollo in final attempt to win his heart on Bachelor in Paradise.
Muscled heartthrob Apollo Jackson has confirmed he and Simone Ormesher did not make it as a couple in the outside world after beating a hasty exit together from Bachelor in Paradise.
Elora and Apollo twirl fire sticks on BIP.
The pair, who after only a week together on a Fijian island, had come under intense pressure to work out their romantic connection while fellow bachelorette Elora Murger made another heated play for Apollo's affections.
Elora made no secret of the fact that she was on BIP to pursue Apollo, even prior to the 25-year-old entertainer stepping foot on the island resort, only to be thwarted by Simone, who was also attracted to the fire-twirling magician.
Apollo was seen to whisper "sorry" to Elora when he granted the final rose to Simone during Monday night's rose ceremony, which ensured that Elora was sent packing, along with recently revived BIP hopeful Florence Alexandra.
"That's why I got so emotional, I really take people's feelings into account and I just saw how it was affecting Elora and also affecting Simone, I just felt terrible," he said. "I just wanted to be really respectful and take everyone's feelings into consideration.
"I didn't understand that it was a feud from before Paradise. I sort of took it upon myself that it was all my doing so I felt terrible about it.
"But then obviously it was about a conflict that they had had beforehand."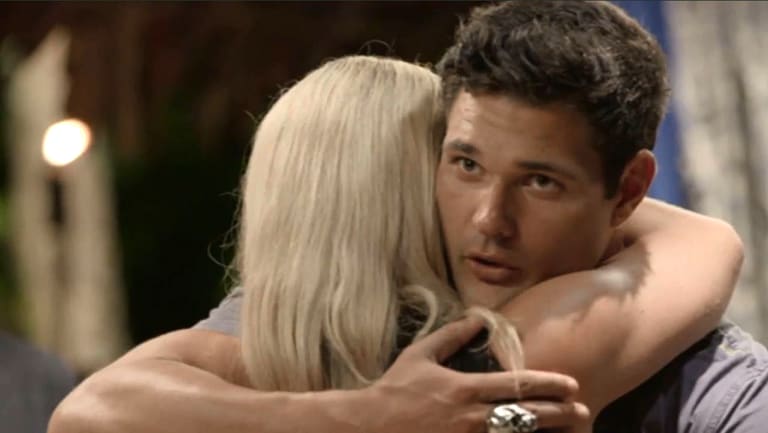 Apollo whispers "sorry" to Elora during the rose ceremony.
As viewers came to learn, Elora and Simone's friendship had been rocked in the pursuit of another bachelor, prior to BIP, in which Simone, once again, got the man.
Simone's jealousy streak flares up.
Apollo, whose real name is Jake, said he only learned of the details regarding the feud in light of the show, and Simone had only touched upon it after they decided to leave Fiji together, shortly after the rose ceremony.
"It's between them, it's not my business and I didn't really have much interest in it. But she did say, 'look you could see you were just really struggling, you were thinking that you'd caused this feud between two friends' but she said it was 'something not to do with you, so don't take that on, on yourself'."
Despite feeling a genuine instant attraction to Simone, Apollo found it difficult to see her outside of BIP due to conflicting schedules.
"Unfortunately we didn't work out on the outside," Apollo said. "It was mostly the distance thing because I'm mostly based on the Gold Coast and in Sydney, a little bit, and she's in Melbourne.
"Nothing romantically evolved. We stayed as friends, we stayed in contact but it didn't work out."
He said he was preferring to focus on his entertainment career and family rather than dating.
Apollo and Simone aren't the first BIP couple to take a nosedive in the real world, with Lisa Hyde and Luke McLeod calling it quits in January over a reported cheating scandal.
It was never confirmed by either party what occurred, only that trust had been broken and Luke was responsible.
Luke later posted to Instagram: "Everybody deserves a second chance. None of us are perfect. We all stuff up at some point. I know I certainly have.
"It's how we act and respond when we do is what matters. And rather than pushing to make something work, accept that maybe things just aren't meant to be."
Lisa, in any case, wasn't planning any reconciliation, telling her Instagram followers that she also left the island to take care of her sunglasses business.
Yet despite numerous unlucky-in-love couplings, Apollo said he had high hopes for three of the couples.
"What Sam (Cochrane) and Tara (Pavlovic) have is so beautiful and you can see that it is so genuine as well. I'd be super stoked for them if I was to hear that things were going the way we are all seeing on TV continue out there in the long-run," he said, possibly alluding to Channel Ten's promised engagement by the series end.
The show has so far been building up Tara and Sam's love story above all others, with the couple getting a date on Sunday night, during which the pair exchanged "I love yous".
New Weekly magazine reported on Monday that the couple were engaged and Sam had confirmed that his $2000 cushion-cut halo engagement ring fit Tara's finger when he proposed during BIP filming, which will be shown on the season finale.
That leaves well-publicised lovebirds Keira Maguire and Jarrod Woodgate, who Apollo saw as a cute couple, and Jake Ellis and Megan Marx, who he also thought would go strong in the outside world because they got through all the ups and downs of having other people interfere in their relationship during BIP.
His only hesitation for Ali Oetjen and Grant Kemp was the distance due to Grant living overseas, to which BIP-evacuee Leah Costa has also thrown shade at the relationship, telling Yahoo7! it was definitely over.
Source: Read Full Article