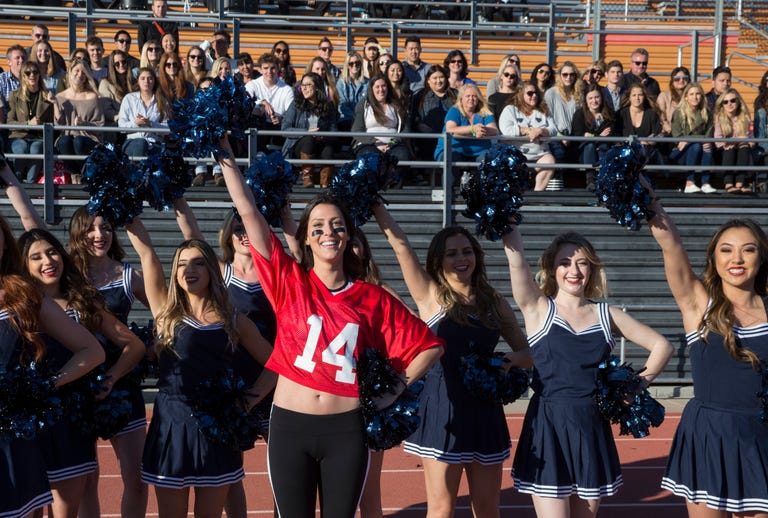 Because she's been there and done that, literally, former Bachelor contestant/tear fountain Ashley Iaconetti is recapping this season of The Bachelorette for Cosmopolitan.com. And just FYI, she's one of the franchise's biggest success stories when it comes to love now too! With insider insight as well as a clear eye for what's going down both in front of and behind the cameras, read on for her thoughts.
The first group date this week ends up playing out like not-so-romantic one-on-one with Colton. (Especially when you consider that Becca forgets that one guy Jason's name, oof.) Remember, we learned last week that Colton had a relationship with Becca's friend Tia Booth; Becca was, rightly so, thrown off by this news — so what better than to bring Tia on a date to straighten things out! In the Bachelor family we're used to these kinds of 'oh no they didn't moments happening… it's just usually a little later in a season.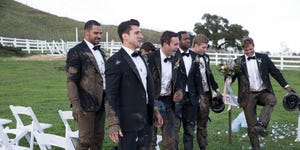 So, Tia, along with Becca's other Bachelor besties, arrives to a spa to be pampered by the men. The facial expressions on Tia and Colton's faces screamed sexual tension! I legit was thrown back to high school — it was like someone told my crush I liked him and then I ran into him in the hall for the first time since he got the news. You guys, there's still definitely something there between the two of them. Am I the only one that feels this?!
Colton and Tia both assure Becca that their fling was no big deal and shouldn't come in the way of a future romance with Becca. Neither of these conversations convinced me that Colton's relationship with Tia wasn't sketchy, at least in terms of its timing, or that he didn't just want to be with whoever was named The Bachelorette. Tia may have told Becca she's not breaking girl code by continuing to date Colton, but you know her heart was aching a little bit. She not only lost out on being The Bachelorette, but she also lost a hottie to her friend, The Bachelorette. She may be thinking, "The odds aren't in his favor to win and he'll probably end up in Paradise with me." If Tia and Colton end up on Bachelor in Paradise together I see it going two ways: 1) he claims he made a mistake and they're Paradise's golden couple, or 2) she goes after him with vengeance.
I may not feel content with the "resolution" of this Colton and Tia storyline, but Becca apparently is? I'm puzzled. I feel like there's a piece of the story that was edited out. Where did she go from utter skepticism and "holding back" to giving him the group date rose, the bedroom eyes, and kisses. It's probably because she got permission with Tia to move forward with him, but I'd have like to have seen that?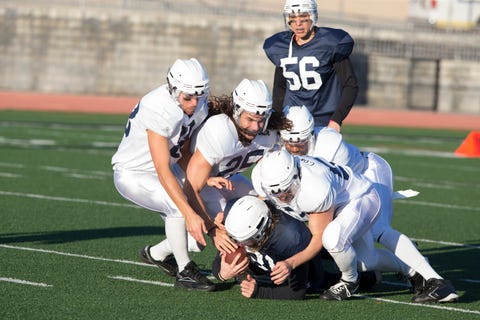 During the second group date, the guys suit up for a football game; the "Becca Bowl," if you will. Legit NFL player Clay just couldn't hold back, because why would you hide your light under a bushel on The Bachelorette?! Well, maybe to ward off an injury — Clay ends up breaking his wrist.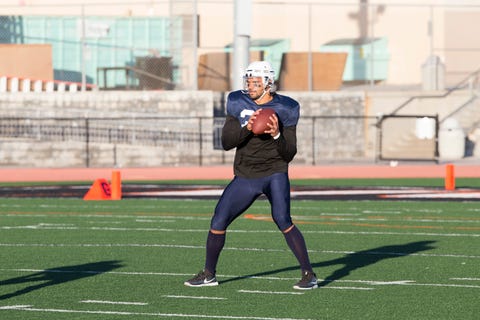 The break requires surgery, which means Clay basically needs to choose between Becca and his career. While I was initially expecting a grand romantic gesture on Clay's part, he decides to take the surgery date instead, hopeful for a return to the NFL (because his career helps him provide financial support to his family).
Honestly, this is a smart choice.I think that Clay was emotionally in-tune enough to know he and Becca weren't going to get married in the end, and his exit comes in lieu of a full rose ceremony this week.
But let's rewind a little, because there's also a cute-enough one-0n-one date with Becca and Chris R. who get to write emotional songs together with the pop star and mega talented songwriter, Richard Marx. I've always imagined angels sounding like Richard Marx's singing voice. I'm a big fan — and I'm swooning over their slow dance together to his vocals. Oh, and there's also another injury we need to address!
While all of this is happening, David and Jordan are getting into what may be a historical Bachelor argument over… Jordan's Tinder matches? (He does claim to have 4,000 of them.)
David just cannot see the humor in the character that is Jordan and is determined to take him down, by tatting to Becca about those dating app stats. It's just ridiculous how much focus he's putting on this guy who is a joke. And, look, not that anyone ever wishes harm on anyone, but you know that the producers — and probably the guys — had a lil' internal chuckle to find out that David was the guy who fell out his bed. Thanks probably to some Jordan-induced nightmares, he took a dive from his top bunk and needed a middle-of-the-night trip to the hospital to fix his busted face! You couldn't script this shit even if you tried.
I'll see you next week when we get to see what David's face looks like post-fall… as well as what bad jokes Jordan likely makes about it.
Follow Ashley on Instagram and Twitter.
Source: Read Full Article