Since taking over The Daily Show in 2015, Trevor Noah has hit the ground running when it comes to his political satire, comedic barbs, coverage of American politics, world news, and popular culture. Some of Noah's favorite topics have been his analysis of the United States government, and the presidency. Having taken over The Daily Show just before the 2016 Presidential election, Noah has seen quite a lot in his short years as the show's host. With the Donald Trump's presidency, Noah's jokes have become endless.
In an interview with CNN, Noah analyzed the biggest differences between former president Barack Obama and Trump when it comes to comedy. You'll laugh out loud when you read why Noah says Trump doesn't have any ideas of his own (page 6).
Creating the parallels
Trevor Noah pointed out how Donald Trump can't seem to stop talking about Barack Obama. | Kevin Dietsch-Pool/Getty Images
Donald Trump loves to talk about former President Barack Obama and Hillary Clinton
As much as President Trump wants to separate himself from Obama, his deliberate dismantling of any and all of the former president's policies only serves to draw comparisons. This became especially clear when he obsessively talked about his predecessor and former Secretary of State Hillary Clinton while waving around the word treason.
On a February 2018 episode of The Daily Show, Noah quipped, "Yeah guys, lighten up. The president was just joking about treason. Just like when he was joking about Obama helping ISIS, or when he joked Russians should hack Hillary's email, or – my favorite joke – when he said police should rough up people in custody. Protect and serve, whatever."
Next: Two opposite sides of the comedic spectrum
Comparing Trump and Obama
Trevor Noah poked fun at Barack Obama too. | Comedy Central
Throughout the end of Obama's presidency, Noah did poke fun at the Harvard Law alum. He even called out Obama out when he returned to the public eye after leaving the White House for cracking jokes about what's been happening since he's been out of office.
Speaking with CNN anchor Christiane Amanpour, Noah explained the differences between the former and current president. He said:
One is ripe for comedy. One is, for instance, Donald Trump has left no contradiction unturned. That's his thing. Donald Trump is a gift to every level of comedy. If you want to apply comedy or satire at the lowest level, Donald Trump is ripe for that. You don't have to dig deeper. But if you do dig deeper, you will get more from him as well.
Next: Digging for the Obama jokes
In search of a laugh
Barack Obama didn't attract too many scandals during his time in office. | Alex Wong/Getty Images
Finding the right joke about Barack Obama wasn't always easy. 
We could all laugh at Obama's affinity for tan suits and his terrible dad jokes. However, because the former president was virtually scandal-free, especially when it came to his personal life, comedians had to dig deep to find ways to include him in their comedy.
Noah explained, "Obama was, like many politicians, a water table that is very far beneath the surface. So, to get to the right joke and the right piece of satire that would really illuminate what Obama was doing, you had to dig through so many layers and work through the weeds to get to the water table of jokes."
Next: Too many Trump jokes to tell
The jokes runneth over
Donald Trump has created a lot of material for comedians. | Frederic J. Brown/AFP/Getty Images
Donald Trump, on the other hand, makes the jokes easy to find
Throughout Trump's presidency, whether it's been his misspelling of his wife's name, his alleged affair with adult film star Stormy Daniels, his uncomfortable comments to the French first lady, and everything in between, late-night TV is almost bursting at the seems with Trump jokes.
In his CNN interview, Noah articulated, "Donald Trump has water on the surface. And the deeper you dig, the more water you find. So, I think that's the difference between them. It's just there is more."
Next: Finding the humor in the midst of a disaster
Laugh to keep from crying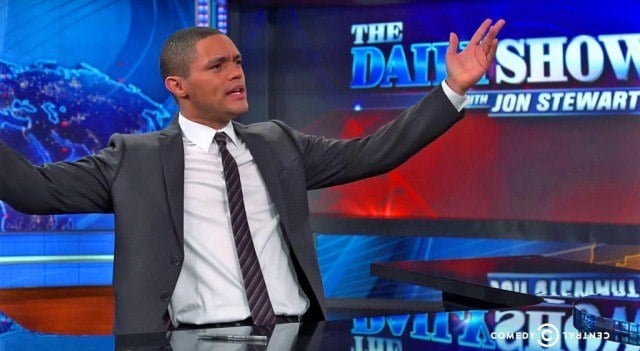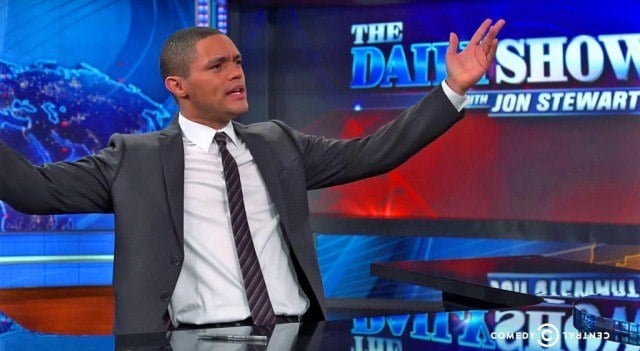 Trevor Noah has a few Trump jokes under his belt. | Comedy Central
The TV host can't stop himself from making fun of Trump
Though Noah certainly has tons of material to crack on Trump about, unlike his somewhat dry jokes about Obama, it's almost as if The Daily Show host has to laugh to keep from crying.
In fact, it appears that the only way that he (and many others) can continue stomaching Trump in office is because of all the jokes that come with it. One of Noah's most clever one-liners was, "Donald Trump isn't a president — he's just playing one on TV."
If only.
Next: A very familiar speech 
Putting his stamp on things
Donald Trump takes credit for other people's work. | Fabrice Coffrini/AFP/Getty Images
Trump likes to slap his name on other people's projects
Though Trump seems to be running in the opposite direction of everything Obama did and stood for, Noah is convinced the president secretly wishes he could emulate the former Commander-In-Chief.
During an August 2017 episode of The Daily Show, the Born A Crime author highlighted how similar Trump's Afghanistan Speech was to Obama's. He said, "So Trump is adding more troops to Afghanistan. You have to ask yourself what the end goal of the strategy is. Because as much as Trump wants to act like he's doing something different, the truth is he's saying things that sound very familiar."
Noah added it was clear Trump was "slapping his name on someone else's project and doesn't have any fresh thinking of this own."
Next: A very serious letter
Too serious to be humorous
Left: Barack Obama was a different kind of president. | Right: Drama seems to follow Donald Trump everywhere he goes. | Jim Watson/Getty Images
This is one of the biggest differences between Obama and Trump. 
One of the main things that differentiates the Obama and Trump presidencies is that Obama took his job extremely seriously. He didn't leave too much room for jokes at his expense, especially pertaining to the White House. In fact, even when CNN published the contents of the note Obama left to Trump after leaving the White House, Noah had to read between the lines to get a laugh.
On a September 2017 episode of The Daily Show, he said:
I don't know if Trump realizes it, but that letter is just Obama throwing presidential shade the entire time. Like, that's not the note you leave for your successor. You leave that note for a first-time babysitter. "Dinner's in the oven, bedtime's at 7—but not for you—oh, and P.S., the baby's the one without the fur." I mean, Obama's basically reminding Trump to keep democracy. That's what the letter's telling him to do.
Check out The Cheat Sheet on Facebook!
Source: Read Full Article