Netflix holiday rom-com launches Nov. 26
Here's the official logline for the Netflix holiday original film "A Castle for Christmas":
Famed author, Sophie Brown (Brooke Shields), travels to Scotland hoping to buy a small castle of her own, but the prickly owner, Duke Myles (Cary Elwes), is reluctant to sell to a foreigner. Working to find a compromise, the pair constantly butt heads, but they just may find something more than they were expecting.
Starring Shields and Elwes, "A Castle for Christmas" is written by Ally Carter and Kim Beyer-Johnson and directed by Mary Lambert. Brad Krevoy is producer, with executive producers including Amanda Phillips, Shields, Steven R. McGlothen, Steve Berman, Katrina Stagner and Eric Jarboe.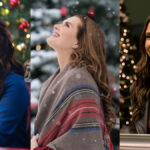 "A Castle for Christmas" launches Nov. 26 on Netflix.
"A Castle for Christmas" is among several new holiday original movies on Netflix's 2021 Christmas slate, which also includes the eagerly anticipated third installment of Vanessa Hudgens' "The Princess Switch" franchise, "The Princess Switch 3: Romancing the Star," Nina Dobrev's "Love Hard" and Michael Urie's "Single All the Way."
On the TV side, there are scripted shows like "Christmas Flow" and the second season of "How to Ruin Christmas," plus plenty of holiday-themed unscripted content, like "School of Chocolate," "The Great British Baking Show: Holidays" and "Blown Away: Christmas."
Source: Read Full Article