Counting On stars Jinger Duggar and Jeremy Vuolo have been living in a gorgeous California home ever since they moved to Los Angeles last summer. However, on the show, the two said they were only supposed to be staying in the house for a few months until they could settle into the area and find something that was the right fit. But Nearly nine months later, the two are still living in their massive home — and now, it appears they aren't going anywhere any time soon.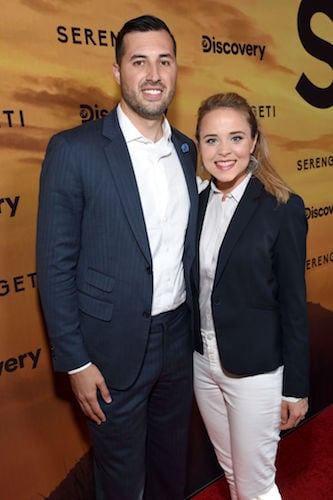 Duggar and Vuolo moved to California for Vuolo's graduate school
Last spring, Duggar and Vuolo announced to fans that aftermore than two years of living in Laredo, Texas, they were uprooting their livesand movingto Los Angeles, California. Vuolo received an opportunity to take graduateclasses at The Master's Seminary, and the family of three didn't want to passup the opportunity.
Duggar and Vuolo have lived life a bit differently from Duggar's other family members. They dress like a modern couple, watch regular television, and have branched out from their church to make many different friends. 
The two have been staying in a $4,000/month rental
When the two first moved to L.A., Counting On highlighted their apartment search in an episode. After looking at a few small apartments, some of Vuolo's friends from the church offered up a $700,000 newly-remodeled home that the two could stay in while they continued their search. The home reportedly rents for around $4,000 per month, but the two were staying for free, according to the show.
Fans were under the impression that Duggar and Vuolo would only be in the home for a few months. But now, it's coming up on a year, and fans have been curious as to how they've been able to stay.
Duggar's Instagram story showed off a brand new rug for their huge living room
Though it was thought that Duggar and Vuolo wouldn't stick around in the home for long, Duggar's recent Instagram story made it clear they're not going anywhere. She did a sponsored post for Ruggable, where she showed off the brand new rug she had purchased from the company (though it might have been a gift for the ad) for her living room. The rug was very big and would clearly only fit in a large living room. And it seems obvious from Duggar's new rug that the family won't be downsizing any time soon.
Fans think the church has allowed the two to stay because of the show
Fans have discussed the couple's living situation on Reddit, and though there are no confirmed answers, some think the two are allowed to stay in the home because of their reality television fame. Users suggested that the church might have allowed the couple to stay because it brings publicity to the Christian organization. "Look at all the publicity the church gets by letting 'celebs' live there," someone wrote.
People are certain there must be some kind of arrangement, since the couple would hardly be able to afford a home like that on their combined income. But fans have yet to figure out the true story.
Source: Read Full Article