After 10 years, fans finally got to see Dexter's son Harrison Morgan all grown up in Dexter: New Blood. Harrison has been through a lot for a teenager. Dexter is constantly worried that what happened in Harrison's past has created darkness inside him. Harrison's past is mentioned often in the revival, but some fans might need a refresher on what exactly happened to the young boy.
What happened to Harrison in 'Dexter'?
Dexter was born in season 4 of the original series. Dexter and Rita are his biological parents. He also has two half-siblings, Astor and Cody. Dexter becomes involved in a complicated battle to take down the Trinity Killer in Dexter Season 4. He tries to get Rita to take Harrison and leave town, but Trinity gets to her first.
Dexter finds Rita at home in a bathtub full of blood. The Trinity Killer slashed her femoral artery and left Harrison on the floor beside the tub covered in his mother's blood.
Dexter suffered a similar trauma when his mother was murdered in front of him as a child. It's the reason Dexter has a "Dark Passenger," his urge to kill. In Dexter: New Blood, Dexter constantly worries that Rita's murder gave Harrison a Dark Passenger too.
In Dexter Season 8, Hannah McKay traveled with Harrison to Argentina. Dexter was supposed to meet them there to start a new life. However, before he could depart, Dexter's sister Deb was killed. Dexter then faked his own death, leaving Harrison in the care of Hannah.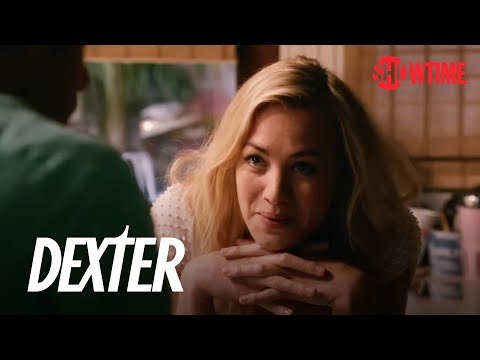 The revival brought back Harrison Morgan
It seems that Hannah took good care of Harrison. Still, in Dexter: New Blood, Harrison reveals that Hannah died of pancreatic cancer, Screen Rant reports. Harrison then went into foster care until he learned that Dexter was alive and decided to track down his biological father.
Now, Dexter has been noticing some disturbing things about this son that have led him to believe he too carries a Dark Passenger. Harrison befriends a kid named Ethan at his school.
Later, Harrison claims he confronted Ethan, who was planning to shoot up the school. Harrison says Ethan then attacked him and he slashed his leg in self-defense. However, Dexter concludes from the blood spatter that Harrison attacked Ethan unprovoked.
In an even more disturbing scene, Harrison pins an opponent down during a wrestling match and purposefully breaks his arm. Dexter remarks that his sons Dark Passenger made a "very public appearance." All signs point to Harrison having similar dark tendencies to Dexter, so will he end up a killer too?
Is Harrison a killer in 'Dexter: New Blood'?
Many fans have speculated that Harrison has already killed someone, maybe even Hannah, by the time of Dexter: New Blood. However, there is nothing to confirm this yet. It seems like Harrison's Dark Passenger is beginning to take hold, but it might not be too late for Dexter to help him.
Kurt Caldwell is pushing Harrison toward the darkness, but maybe if Dexter can get through to his son, he can find a way to stop him from being a killer.
Source: Read Full Article