After the first Grey's Anatomy season 17 table read, Ellen Pompeo tweeted her thoughts on a new "adorable" couple on the ABC hit.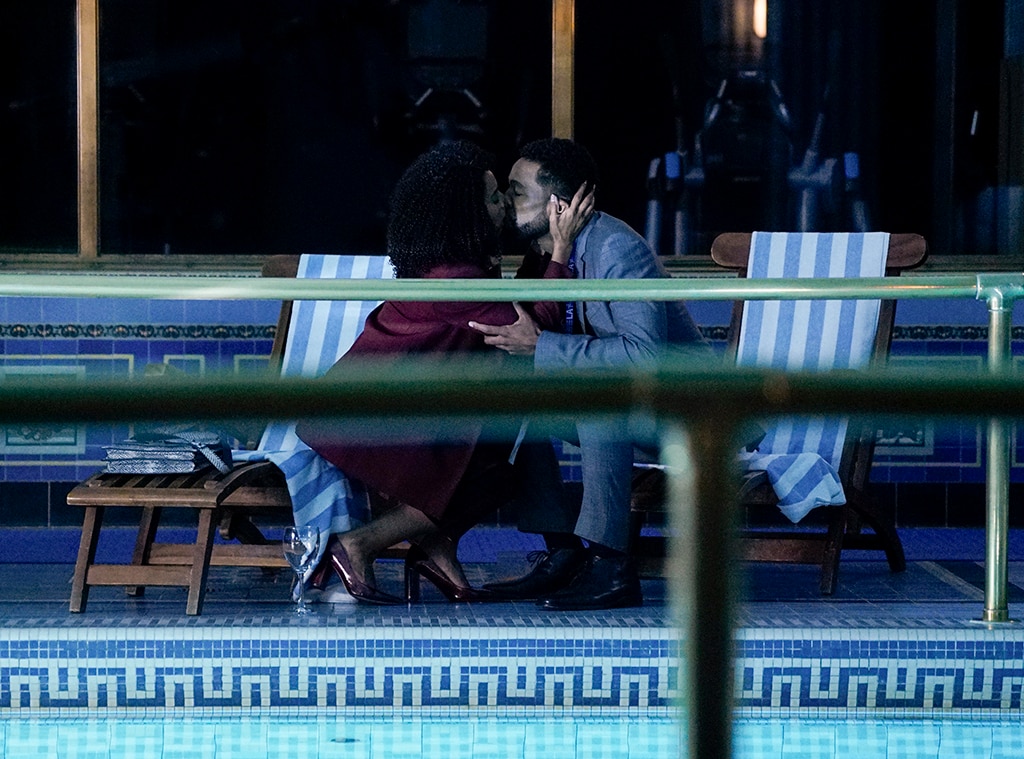 Ellen Pompeo knows how to keep the fans interested even during an extra long wait for more Grey's Anatomy. 
After shutting down production in early March because of the coronavirus pandemic, Grey's finally had a table read for season 17 on Friday, Sept. 3. When a fan asked about the table read on Twitter, Pompeo graciously shared a little tidbit that proves romance is alive and well at Grey Sloan Memorial—even in the pandemic. 
"Yes I have a new favorite couple," she tweeted. "Not sure what you'll call them…but they are adorable you guys can have fun guessing who!!" 
That fun guessing game didn't last long as she immediately confirmed when another fan asked if it was Maggie (Kelly McCreary) and her boyfriend Winston (Anthony Hill). 
"Ding ding ding!" Pompeo wrote. "You guys… you have no idea how adorable they are." 
Maggie had been Winston's boss before she moved to Seattle and they reunited at a medical conference in season 16. Romance blossomed while they were at the conference, but their time together was cut short when Richard (James Pickens Jr.) collapsed and had to be rushed to the hospital. 
Hill was made a series regular for season 17, so it's nice to have confirmation that he and Maggie get to continue to be adorable full-time. 
Richard Flood, who plays Dr. Cormac Hayes, was also promoted to series regular, and Stefania Spampinato, who plays Carina, is now a series regular on Station 19. 
Trending Stories
See How Khloe Kardashian Pulled Off Kourtney's Birthday Parade
Jay Cutler Breaks Silence on Tomi Lahren Romance Rumors
Cheer's La'Darius Marshall Prompts Concern With Alarming Post
Pompeo also responded to a fan who asked if season 17 would be about COVID-19, confirming what showrunner Krista Vernoff has previously said about the stories for the new season. 
"Yes the biggest medical crisis the world has ever seen?" Pompeo tweeted. "Yes we are meeting the moment and telling some stories." 
Vernoff has said that while she initially did not want to address the pandemic, the writers on her staff convinced her it would be "irresponsible" not to. 
"[Doctors] were saying things like, kids, their first year out of medical school, are seeing more death in the first year than many doctors see in a decade, and it just felt like we had to tell this story," she said on THR's TV's Top 5 podcast. "We have to tell this story, and so the conversation became, how do we tell this very painful, brutal story that has hit our medical community so intensely—and as they keep saying, permanently changed medicine? How do we do that and provide some escapism? How do we do that and create romance and comedy and joy  and fun?" 
At the very least, it looks like the romance is still in the cards. 
Just for fun, Pompeo also responded to a tweet that went viral this week. 
On Sept. 2, actor Sophia Cadogan tweeted, "Anyone else rip their mask off when they get in to the car like they've just finished a disappointing surgery on Grey's Anatomy[?]" 
The tweet had already hit a million likes before Meredith Grey herself weighed in with "I do!" 
While we wait to see Maggie and Winston turn up the adorable, get up to date on all of the current couples on Grey's Anatomy and Station 19 below! 
Status: Split
Meredith (Ellen Pompeo) and DeLuca (Giacomo Gianniotti) aren't together right now, but Mer was last seen telling Andrew she still loved him as she helped him through a mental health breakdown, even if he currently doesn't love her. We refuse to give up hope for these two. 
Status: Married
Ben (Jason George) might be on a different show, the spinoff Station 19, but not only are these two still happily together, and even weathered a devastating miscarriage together before adopting a teenage patient. 
Status: Divorced
All we have to say is "Welp." 
Alex (Justin Chambers) and Jo (Camilla Luddington) were happily married for a time and even made it through Jo's breakdown over learning she was the product of rape, despite Jo giving Alex an easy out. Instead of taking it then, he decided to suddenly leave and went back to Izzie (Katherine Heigl) after learning she had two of his kids thanks to the eggs they had fertilized back when she had cancer. So now Jo is single and hopefully ready to find someone even better to spend her life with.
Status: Together
Amelia (Caterina Scorsone) and Link (Chris Carmack) hooked up at a conference once and now they've got a baby together! There was a rough patch for a second there while Amelia figured out who the father actually was, but now they seem more solid than ever. 
Status: Engaged…for now.
What do we even say about these two? Owen (Kevin McKidd) and Teddy (Kim Raver) were happy and they had a baby together and they were definitely going to get married, but then Teddy got all in her head about Amelia thinking her baby could be Owen's (a storyline we have yet to forgive the Grey's writers for) and cheated on Owen with Tom Koracick (Greg Germann). Owen now knows about the cheating thanks to a very NSFW voicemail and we're honestly getting very tired. 
Status: Separated
Richard (James Pickens Jr.) and Catherine (Debbie Allen)'s marriage fell fully apart last season. She was by his side when he got sick and he even hallucinated the two of them rekindling things, but then rejected her when the hallucinations wore off. Things are not looking great for this pair. 
Status: Together
Nico (Alex Landi) and Schmitt (Jake Borelli) have had their ups and downs, but they're still holding strong. They even made it through a long-distance relationship for a bit! 
Status: Sleeping together
We thought Teddy and Tom were over, but nope! They've continued to sleep together, and Tom's in love with her and wants her to fully choose him, while she's about to get married to Owen. A true mess that just keeps getting messier. 
Status: Dating
Maggie (Kelly McCreary) reunited with her old colleague Dr. Winston (Anthony Hill) at a medical conference last season, and the two really, really hit it off, spending a magical couple of days together before having to part due to a medical emergency. But now Hill is joining Grey's full time, and finally Maggie might be getting the relationship she has always deserved. Pompeo might have confirmed this when she tweeted about the couple, "You have no idea how adorable they are." 
Status: Married
Andy (Jaina Lee Ortiz) and Robert (Boris Kodjoe) quickly and suddenly got married in season three before Andy's dad died, but they weren't prepared for what comes next. Robert is thinking his wife will be there to support him through surgery recovery and his painkiller addiction, while she just learned (Spoiler Alert!) that her mom is secretly still alive. 
Status: Together
Carina (Stefania Spampinato) was ready to say goodbye to Maya (Danielle Savre), but in the season three finale of Station 19, Maya professed her love. Now, Carina's moving to Station 19 full-time! 
Status: Split
Jackson (Jesse Williams) moved on fairly quickly from Maggie (Kelly McCreary) with Vic (Barrett Doss), but that relationship now appears to be over too. Vic sorta kinda moved into Jackson's apartment without really telling him, and it turns out he didn't like that, even though she was basically homeless at the time. 
Status: Split
Travis (Jay Hayden) actually took a step in the most mature direction by breaking things off with Emmett (Lachlan Buchanan), since Emmett is newly out and Travis also just doesn't love him. Hopefully Travis is on the path to happiness and a real relationship! 
Grey's Anatomy is about to begin shooting for season 17 and is expected to premiere in late 2020 on ABC. 
Source: Read Full Article