'Prodigal Son', which was scheduled to air on Tuesday, May 24, has been pulled by CBS and replaced with a repeat of the crime drama series due to the storyline which concerns a school shooting.
AceShowbiz -CBS has had to make a quick adjustment to its schedule following a tragic mass shooting in Texas. In the wake of the tragedy that struck an elementary school in Uvalde on Tuesday, May 24, the network has removed "F.B.I." season finale from its schedule.
According to Deadline, the decision was made due to the storyline of the episode that concerns a school shooting. Titled "Prodigal Son", the episode was originally set to air on Tuesday night, May 24. The official episode description states, "As the team investigates a deadly robbery that garnered a cache of automatic weapons for the killers, they discover one of the perps is a classmate of Jubal's son, who is reluctant to cooperate with the case."
Instead, CBS will air a repeat of "FBI" in place of the season finale. The February 1 episode of "FBI", titled "Under Pressure", sees Maggie (Missy Peregrym) going undercover at a bar to investigate an anti-government group.
The episode will be followed by the season finales of "FBI: International" and "FBI: Most Wanted", as planned. "In light of current events, a rebroadcast of FBI will air tonight. The FBI: International and FBI: Most Wanted season finales will air as scheduled," a tweet on the official Twitter account for "FBI" confirmed the news.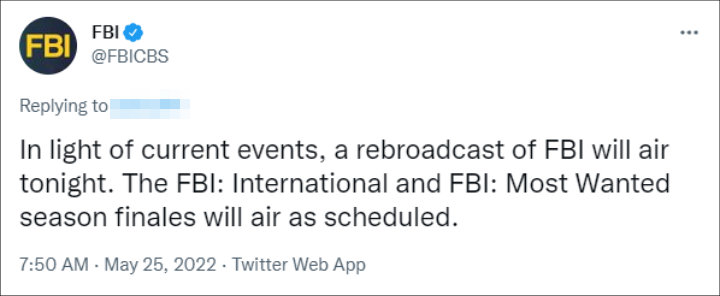 'FBI' confirmed its season 4 finale is pulled off schedule.
As of now, a new airdate for the season finale has yet to be determined.
Meanwhile, Apple+'s series "Physical" has canceled its red carpet premiere celebrating season 2 in light of the Texas shooting. Explaining the decision, the show's cast and crew said in a statement, "Out of respect for today's tragedy in Texas, tonight's screening of 'Physical' season two will be a private event with no press. We thank you for wanting to be there with us, and know that you join us our heartfelt support for all of the families affected by today's event."
The 10-episode season 2 of "Physical" will premiere on June 3.
On Tuesday morning, a gunman opened fire at Robb Elementary in Uvalde, Texas, at approximately 11:32 A.M. local time, after shooting his grandmother and crashing his vehicle near the school. The shooter, who has been identified as 18-year-old Salvador Ramos from in Uvalde, was wearing body armor and exchanged fire with law enforcement officials and multiple officers were shot.
The suspect was eventually shot on the scene. He has been pronounced dead. Two law enforcement sources told CBS News that the suspect had a handgun, an AR-15 assault weapon and high capacity magazines.
At least 18 students and 1 teacher were killed in the incident. Texas Senator Roland Gutierrez confirmed the shooter's grandmother is still alive but in critical condition. The tragedy has prompted strong reactions from public figures, such as Chris Evans and the Kardashian sisters.
Source: Read Full Article