In many ways, it's hard to believe that Grey's Anatomy is still on the air. It's been running for 16 seasons, with at least one more still to go. For millions, the show has become habit-forming. For some fans it has also become a habit to complain about it – a lot. 
Often it's the unexpected exits of actors like Sarah Drew and Jessica Capshaw, and now one of the originals, Justin Chambers has departed as well. But now the problem is that Grey's Anatomy has spun off a show called Station 19, people don't like being "forced" to watch it to keep up with Grey's.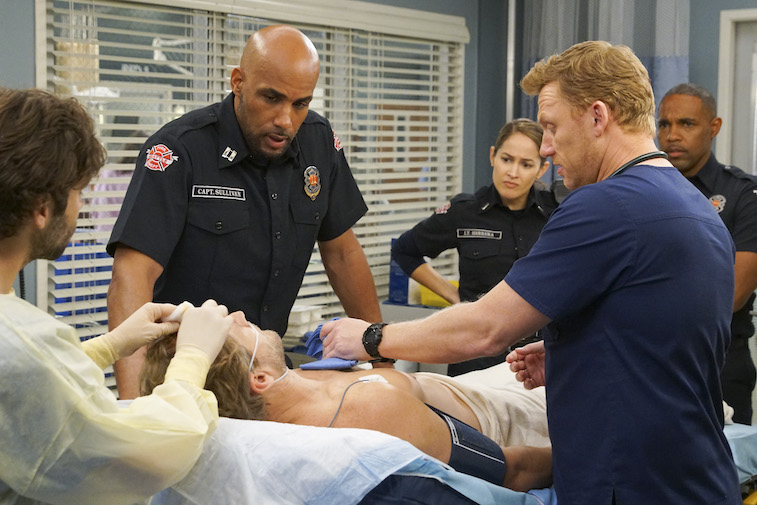 'Grey's Anatomy' begat two spinoffs
Many shows that have been on the air for more than nine seasons produced spin-offs. Sometimes they work out, like Cheers leading to Frasier. Other times they don't, with Happy Days spawning Joanie Loves Chachi. So far, both of Grey's broadcast spinoffs have had decent runs.
The first, Private Practice, ran from 2007 to 2013 and focused on Kate Walsh's character, Addison Montgomery, who left Seattle Grace to form her own practice. Although the move allegedly displeased some other Grey's cast members, the show hung around for a solid run until season six, when Walsh decided to move on.
Station 19, which started in 2018, focuses on a fire station in, of course, Seattle. Since fire departments and hospitals commonly work together, the spinoff made sense thematically, but gauging fans' reactions, the Grey's Anatomy habit has stuck while Station 19 has not. 
Why are fans miffed about 'Station 19?"
Fans generally prefer not to watch a show they skip to understand a show that they do watch. With an overabundance of viewing options out there, fans feel like they don't have time to keep up with everything, and some resent having to do "homework" to follow their favorite show. 
A topic starter on Reddit groused, "I'm just incredibly angry that I'm being manipulated to watch Station 19 to find out what's happening with the Grey's characters and storyline. I should have DVR'd this crap so I could fast forward thru the boring firehouse stuff."
Another fan concurred, saying "It's more of the fact that we're being forced to watch (Station 19) that makes it suck." A third commenter said, "I don't have two consecutive hours to dedicate to TV, especially when I have no interest in half of it. Or more than half of it-at this point."
Sometimes crossovers work, sometimes they don't
How well crossovers fare can depend on how they're framed. The CW's superhero shows make an event out of it, with one week of shows per year where the heroes and villains of the different programs visit each other's worlds.
Sometimes the story in the crossover had little to do with the main episodes, but more recently, Crisis on Infinite Earths had dramatic impacts on the individual series, because, one of them, Arrow, is going away. 
Either way,  the CW has gotten people to watch the crossovers by making them an event. Fans feel the showrunners have not done that with the medical/fire dramas.
This is hardly the first time Grey's Anatomy has tried crossovers – it was done while Private Practice was still running. The difference now seems to be that fans feel that watching Grey's Anatomy is becoming less fun because it's turning fun into work. 
Companies like to boast that viewers have to watch one show to understand another. Disney has been saying that fans will need Disney+ to keep up with the Marvel movies because the Marvel TV shows will feed into them. It will be interesting to see how fans take a crossover when it moves from the theater to the TV, or vice versa.
Source: Read Full Article