As the political incorrectness of Apu, the Indian-American convenience-store owner on The Simpsons, becomes impossible to ignore, the actor who voices the character says he's willing to stop.
Hank Azaria, who has voiced a number of characters on the long-running animated series reacted to the controversy as a guest on The Late Show with Stephen Colbert on Tuesday.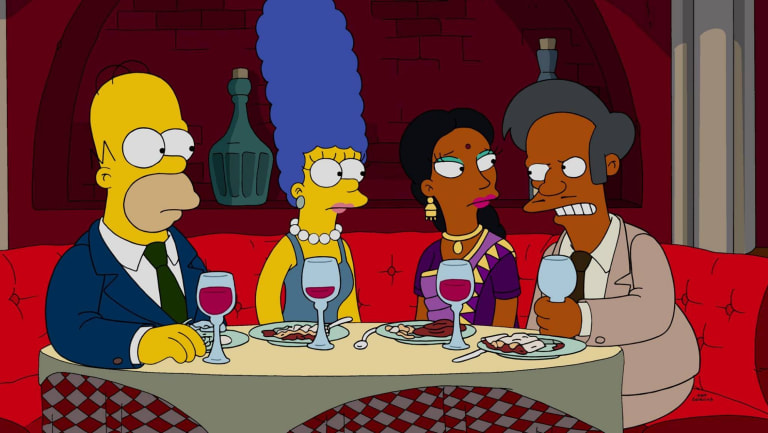 The Simpsons has come under fire from new documentary looking at 'The Problem with Apu'.
"I really want to see Indian, South Asian writer or writers in the room – not in a token way, but genuinely informing whatever new direction this character may take, including how it is voiced or not voiced," Azaria said, adding that he's fine with leaving the character behind.
"I'm perfectly willing and happy to step aside, or help transition it into something new," he continued. "I really hope that's what The Simpsons does. It not only makes sense, but it just feels like the right thing to do to me."
Actor Hank Azaria said he would be willing to stop voicing Apu.
The Simpsons addressed the controversy in an episode earlier this month titled No Good Read Goes Unpunished, which people thought fell short.
At the end of the April 8 episode, Marge is reading to Lisa when she realizes that the book, The Princess in the Garden, is full of stereotypes. She censors herself and asks, "What am I supposed to do?"
Lisa looks into the camera and replies: "It's hard to say. Something that started decades ago, and was applauded and inoffensive, is now politically incorrect."
The camera pulls away to an inscribed photo of Apu on her nightstand that's signed "Don't have a cow".
Azaria told Colbert he had nothing to do with the writing or the voicing of the episode and only saw it around the time it aired.
"I think that if anybody came away from that segment feeling that they should lighten up, or take a joke better, or grow a thicker skin, or toughen up… that's certainly not the way I feel about it, and that's definitely not the message that I want to send."
McClatchy
Source: Read Full Article