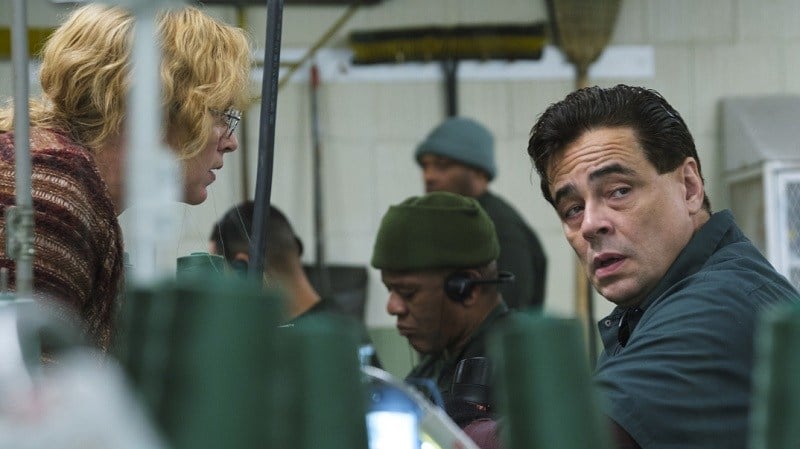 Patricia Arquette as Tilly and Benicio Del Toro as Richard Matt in 'Escape at Dannemora' | Christopher Saunders/Showtime
Escape at Dannemora, Showtime's limited series than concluded with its seventh and final episode December 30, is based on a true story. David Sweat (Paul Dano) and Richard Matt (Benicio Del Toro) actually did escape from a maximum-security prison in upstate New York earlier this decade.
In 2016, New York's Office of the Inspector General released a 154-page report detailing how Sweat and Matt pulled off the only escape in Clinton Correctional's long history. Writers Michael Tolkin and Brett Johnson consulted that document and extensively researched the event before delivering their script.
However, while being faithful to the events of the story, the producers had to take some liberties to bring Escape at Dannemora to life. Here's help separating fact from fiction in the show.
Both inmates had received life sentences for murder.
Escape at Dannemora did not exaggerate the violent pasts of the inmates played by Dano and Del Toro. Sweat killed a police officer at 23 and got a life sentence. For his part, Matt tortured and killed his former employer before chopping up the man's body. He also as serving a life sentence before he made his escape.
Tolkin, Johnson, and director Ben Stiller had no need to make these characters more dangerous than they were in real life. In fact, both approached the escape as a last shot at freedom. Neither had much of a chance at seeing freedom anytime soon.
Sweat and Matt were neighbors at Dannemora. They also loved to paint.
While it might seem like a fictional twist, Sweat and Matt actually were neighbors at Dannemora for some time. Matt left the "honor block" where they stayed for awhile after engaging in bad behavior. However, he returned later. According to the IG report, they also shared a work station in the prison tailor shop that Tilly Mitchell (Patricia Arquette) ran.
But their passion for painting was also real, as was the popularity of their artwork around the prison. A New York Magazine article on the state report noted that they used request for art supplies to smuggle in tools. Without their bond over the arts, Sweat and Matt would have had a much harder time escaping.
'Escape' only used the Clinton Correctional yards and exterior.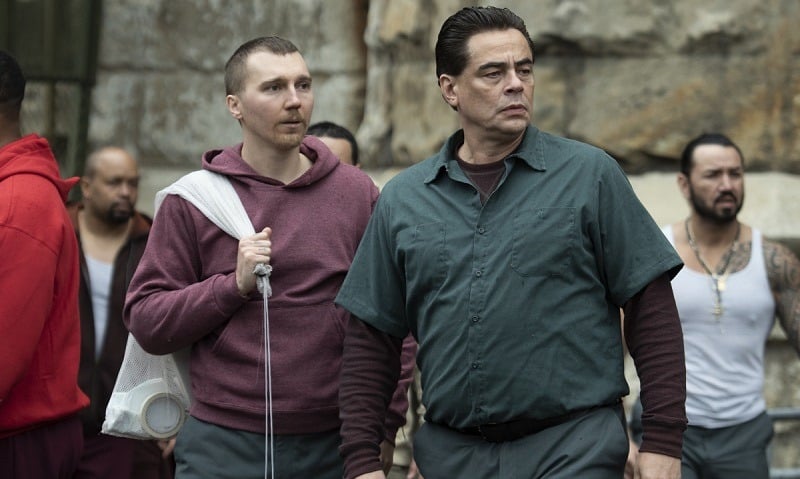 Paul Dano as David Sweat and Benicio Del Toro as Richard Matt in Escape at Dannemora | Wilson Webb/Showtime
The prison-cell scenes in Escape at Dannemora seem very realistic. So do the escape scenes in the tunnels. However, a USA Today report on the show's filming revealed that the production only had access to the prison's exterior and yards. In fact, getting that access proved incredibly difficult for Stiller and the Showtime team.
It took a push from Governor Andrew Cuomo for prison officials to allow the production onto Clinton Correctional grounds. (Stiller went so far as to say Cuomo "basically saved our production.") Prior to Cuomo's intervention, prison officials avoided the Escape team for undisclosed reasons. Scenes of Dano and Del Toro escaping were filmed in an abandoned Pittsburgh prison.
Tilly and Gene Palmer helped Sweat and Matt in various ways.
According to the New York report on the escape, Sweat and Matt couldn't have pulled it off without lax security and extensive help from prison employees. Tilly Mitchell (Arquette) sits atop the list of enablers. As depicted in the show, she had a romantic attachment to both prisoners. She may have even had sexual relationships with Matt and Sweat.
Over the course of several weeks, Tilly brought in six hacksaw blades the inmates used to break out of Clinton. Gene Palmer, the guard played by David Morse, helped by allowing Matt to bypass metal detectors.
While Tilly received the affection of both men, Palmer got what he wanted as well — Matt's artwork. That detail in the Escape production is faithful to the true story as well.
Tilly and Palmer were both charged for their roles in the prison break.
Out of all the negligence shown by Clinton Correctional staff members, only two people got charged with crimes. According to Showtime, Tilly Mitchel received a sentence of three-to-seven years for "promoting prison contraband." She is currently serving that sentence at Bedford Hills Correctional (Westchester County).
Palmer faced five counts and pleaded guilty to two felonies and one misdemeanor. He received a sentence of six months in prison and served four after getting out early for good behavior. He walked out of Clinton County Jail a free man in July 2016.
Check out The Cheat Sheet on Facebook!
Source: Read Full Article