It was the emergency that stopped My Kitchen Rules in its tracks. Or was it?
Fans of Seven's top-rating cooking show found out who was carted off to hospital on Monday night after weeks of dramatic promos.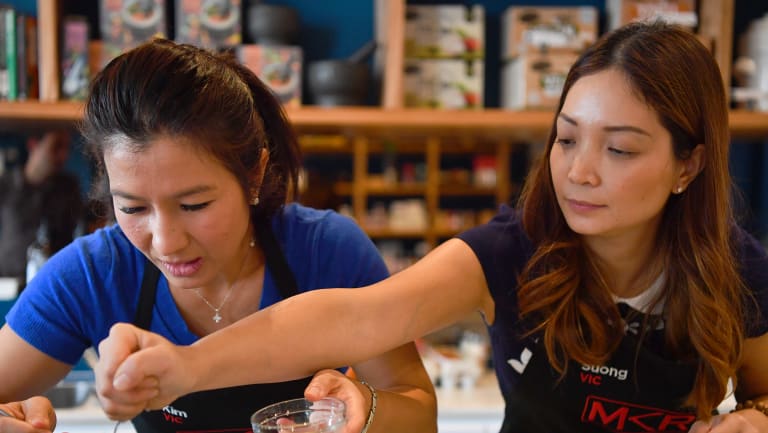 Suong, right, cooking with her MKR partner Kim at Newport's Heart of Hall cafe earlier this month.
The 38-year-old mother said she was put on a drip all night but is now healthy. However, she did hint that the intense filming schedule may have contributed to her immune system being low.
"Thank you so much everyone who looked after me," she said. "It's been overwhelming. Everyone was sick and not well."
Contestants on this season of My Kitchen Rules  sometimes endured 12-hour days and slept as little as three hours a night in between the strict filming schedule, travel and practising their culinary skills.
However, some viewers were not happy that weeks of promos about an ambulance rushing to the MKR set ended in stomach cramps.
"They made out [that] it was some big emergency," one fan wrote on Facebook. "I thought someone had a heart attack or a bad cut (glad it wasn't). Just a ratings ploy."
"This is BS," wrote another. "Obviously she is OK as she is in the promo for the next show."
Twitter pundits were similarly unimpressed, with some speculating that the "whole thing was a stunt".
Speaking to Fairfax Media, Suong said she was sorry for causing "such a scene". But she said she was thankful that everyone cared so much about her wellbeing and the show.
"It's all my fault," she said. "I thought it was something that I could deal with… so I just kept pushing on. I would have preferred for someone to drive me because I was worried about how much it would cost.
"But it [the MKR set] is a workplace. It's work health and safety. Channel Seven, all the crew, they were all very supportive. I know there was a lot of controversy this season, but behind the scenes there was so much love and support."
Source: Read Full Article