Little People, Big World returned with more Roloff family content, and TLC fans can't wait for more information on Zach Roloff and Tori Roloff's growing family. The season 23 episode airing on May 31, 2022, gives details about Jackson Roloff's leg surgery. Here's what to know about Zach and Tori's son's procedure and why he needed it.
How old is Jackson Roloff now? He's 1 of Tori Roloff and Zach Roloff's kids who has achondroplasia
Jackson Roloff is 5 years old, and he was the first grandchild to be introduced to Little People, Big World. Fans know that Tori Roloff is of average height while Zach Roloff has achondroplasia — the same type of dwarfism his mother, Amy Roloff, has. Zach and Tori's two other children also have dwarfism.
Because of his parents, Jackson had a 50% chance of being born with dwarfism. While his lifespan remains unaffected by the condition, achondroplasia causes the bones to grow abnormally. Despite the extra challenges, Zach and Tori always knew the risks. And they mentioned many times in the past they're completely open to having children of all shapes and sizes.
"I think as a parent, it would be scary," Tori told In Touch in 2017 about having children with dwarfism. "If you didn't know anything about dwarfism and you found out your child was a dwarf, that would be scary. There are certain things that come along with having an achondroplasia child that would be more difficult than having a child that was average height."
Tori Roloff explains Jackson's leg surgery as seen in 'Little People, Big World'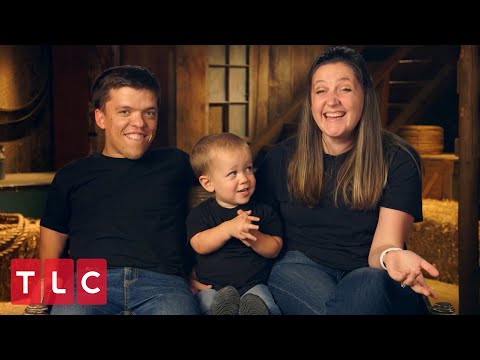 Little People, Big World Season 23 Episode 3, "Battle Ground," puts some focus on Jackson and his bowed legs. Jackson needed surgery at the time of filming, and he's since completed it. Tori explained the ordeal on her Instagram Stories, according to Us Weekly.
"So Jackson DID have leg surgery," she wrote. "However, it was to correct bowing over time. He had plates put on his growth plates. Nothing changed immediately. As his legs grow, they will hopefully straighten, and we will avoid a more invasive surgery."
While Jackson's legs still look bowed post-surgery, Tori further explained it will get better with time. She also verified he's not in pain. "We're hoping over the next five to six years, the pigeon toe and the bowing will be gone," she wrote. "Thank you to everyone who has reached out with concern for baby J."
The couple's third baby, Josiah, was born in April 2022 with dwarfism
Zach and Tori Roloff explained their worries over their two oldest kids, Jackson and Lilah, on Little People, Big World. While Jackson needed surgery for his legs, Lilah had other health issues that constantly worried Tori. Now, the couple has a third baby. Josiah Luke Roloff was born on April 30, 2022, according to People. Josiah was also born with achondroplasia.
While Zach and Tori love their family, it seems they aren't looking to expand further. "I'd never say never because already I can't believe that those first few days are already over," Tori said. "This one's been more emotional this time just because I went into it with the mindset that this is most likely our last baby. …  And now we get to just enjoy our three babies. Never say never, but I think I'm saying never."
Little People, Big World airs Tuesdays at 9 p.m. ET on TLC.
For more on the entertainment world and exclusive interviews, subscribe to Showbiz Cheat Sheet's YouTube channel.
Source: Read Full Article