Ozark Season 3 dropped on Netflix on March 27, 2020, but fans are still reeling from it. The twists and turns of Marty (Jason Bateman) and Wendy Byrde's (Laura Linney) money laundering scheme keep the action and drama coming. However, the addition of Tom Pelphrey as Wendy's brother changes everything, particularly Ruth Langmore (Julia Garner). Even the Guiding Light star did not know the impact his role would have on the show until this one moment.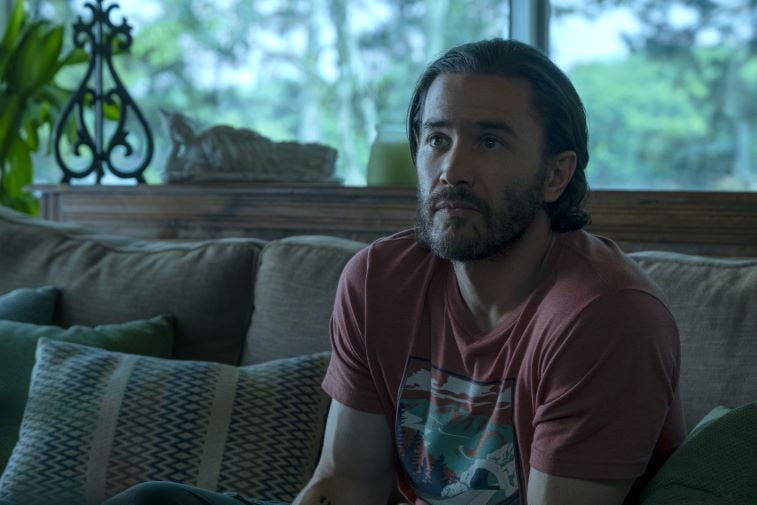 'Ozark' Season 3: What role does Tom Pelphrey's character, Ben Davis, play?
Although Wendy's brother, Ben, is mentioned in seasons 1 and 2 of Ozark, he doesn't appear until season 3. Fans aren't sure at first why the opening scene with Pelphrey is so essential. Ben teaches math as a substitute teacher when he notices all of the students looking at their cell phones. He throws all of their phones in a wood chipper and ends up beating up the landscaper. 
His role throughout the season is a slow-burn. We know that he has strong emotions when someone is intentionally hurt. Ben destroyed the phones because the students were laughing at a private photo that one teen should not have shared with his classmate. As the season goes on, we see what makes him tick. 
RELATED: 'Ozark's Julia Garner Reveals the 2 Items She Will Never Take For Granted After the Quarantine
Ben falls for Ruth, and as he tears down her walls, we love him more. Viewers find out that Ben has Bipolar Disorder, and during a chilling scene in a cab, we get a glimpse into his mind. However, he threatens to disrupt everything the Byrdes have built. Wendy tries to save her brother, but in the end, she is the one who orders the hit on him — another casualty of the Byrdes business with the Mexican drug cartel.
'Ozark's Tom Pelphrey didn't realize at first the impact his character would make
"After I'd gotten the role and before we started filming about a week before we started filming, Chris Mundy, the showrunner, called me and walked me through the end-arcs for the season," Pelphrey told Pop Culture.
Unfortunately, Mundy broke it to Pelphrey that his character would die at the hands of his beloved sister. However, the actor wasn't concerned at first.
RELATED: 'Ozark' Season 3: Was Ruth Unreasonable to Think She Was 'Untouchable'?
"I don't think I understood the magnitude of the impact it would have on the overall story until I read the scripts — particularly [episodes] eight and nine," Pelphrey continued. "I was like, 'Oh, oh, this will really change things.'"
The star had to read his demise in black and white to feel how it was going to weigh on the viewers' minds.
Pelphrey loves the 'excellent writing' for his character
"I think there's a lot of ways in which the audience could watch what Ben is doing and understand it, and support him," he continues. "[The viewers] also feel outraged about what he's outraged by and also feel like somebody should say the truth to what he says."
RELATED: 'Ozark' Season 4: The Most Likely Fan Theories to Play Out When Marty and Wendy Byrde Return
He says that although the audience feels what Ben is feeling, they are screaming at their devices for him to stop because they know what might happen.
"So I just think that that was excellent writing in the sense that sort of great, you know, quote-unquote tragedy is like, yes, we fully understand why this is happening and makes perfect sense — and yet it's going to end terribly," he concluded.
Source: Read Full Article