As if All-Stars didn't have enough drama already. Now, All-Stars 5 is ringing in a new era for this spin-off series, complete with "secret lipsync assassins" and a new set of queens ready to prove they're "America's Next Drag Superstar." Here's what you might've missed from the first episode of RuPaul's Drag Race: All-Stars 5.
[This article contains major spoilers from RuPaul's Drag Race: All-Stars 5. Read at your own risk, squirrel friends!]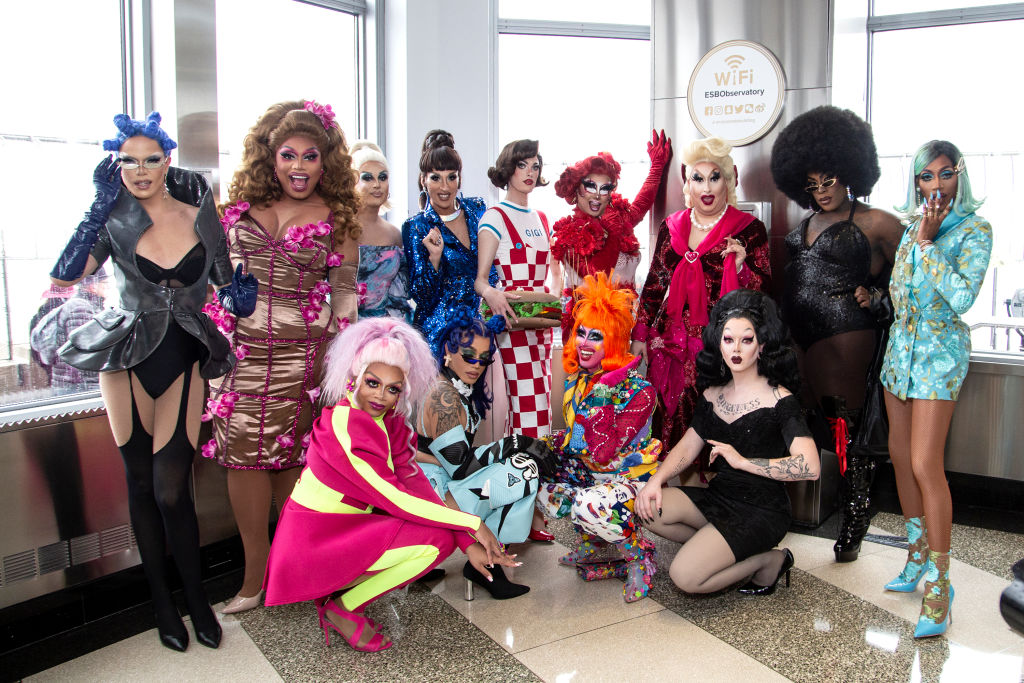 Start your engines 'Drag Race,' fans! It's time for the next season of 'All-Stars'
After months of anticipation, it's finally time for the queens of All-Stars 5 to sashay into the Werk Room. That includes Alexis Mateo (Season 3 and All-Stars 1), Blair St. Clair (Season 10), Derrick Barry (Season 8), India Ferrah (Season 3), Jujubee (Season 2 and All-Stars 1), Mariah Paris Balenciaga (Season 3), Mayhem Miller (Season 10), Miz Cracker (Season 10), Ongina (Season 1) and Shea Couleé (Season 9.)
Once they're all kiking around the table, Jujubee makes a timely joke about the printer running out of ink when it comes to the nationalities of the contestants. Miz Cracker and India dressed in similar colors and said that they should switch. Well, she would have to take them in, Miz Cracker explained, she would drown in them. (We love a Devil Wears Prada reference.)
Just then, Ru comes in and says there's a twist this season and the queens are pretty confused. Especially Derrick. Later, RuPaul states that all the contestants will vote to eliminate one of the bottom queens… but more on that later. It's time for the reading challenge with Ricky Martin!
Ricky Martin starts it off strong by throwing some bilingual shade at RuPaul. After a few laughs, Blair St. Clair and Jujubee are the winnings of the mini-challenge. RuPaul shares that the maxi-challenge this week will be a "Werk the World" inspired variety show. The queens each pick a station and get ready to showcase their talents.
The queens compete in a Werk the World-themed variety show
While de-dragging, India shares that she and Derrick don't get along, which was already pretty obvious with the reading challenge. When they go back to the mirror to prepare for the maxi-challenge, they finally have it out, with Derrick calling India two-faced. No matter. It's time to head to the mainstage.
Alexis Mateo gives Ricky Martin life with her lipsync number. Shea Couleé pole dances and Mayhem Miller does a meme-inspired lip-sync. Mariah shines a light on racism and Miz Cracker comes out as her season 10 character Doctor Dill.
Blair shows off her singing skills while Ongina does a ru-veal filled medley of RuPaul songs. Derrick Barry does some "impersonations," Jujubee sings live. India does a lip-sync performance filled with plenty of aggressive hair twirls.
There's a new twist regarding the elimination of contestants for 'All-Stars 5'
After each girl performs, RuPaul shares that each week there will only be one "Top All-Star." That winner will then lipsync against a "secret lipsync assassin" for a chance to eliminate one of her sisters. If the lipsync assassin wins, though, the bottom queen who goes home will be the one voted on by the remaining contestants. This is a ru-mocracy after all.
After receiving the judge's critiques, the winner of this week is India Ferrah. The bottom two are Derrick Barry and Mayhem Miller. For the rest of the contestants, there's a lot to unpack. The queens head backstage and hear the peace of the two bottom contestants.
Mayhem Miller tells India Ferrah that she's open to alliances. If India saves her this week, she promises that in the future she would throw her a bone. The other top queens have a pretty difficult time choosing the lipstick of who should go home, but they do.
With India Ferrah ready to lipsync, the lipsync assassin "ruveals" herself. It's season 11 winner, Yvie Oddly! They both face down to "Livin' La Vida Loca" by Ricky Martin and Yvie is the winner. That means the $10,000 rolls over to next week and the queens who voted pick who will be eliminated. They choose Derrick Barry.
RELATED: 'All-Stars' Rules Are Officially 'Suspended' for 'RuPaul's Drag Race: All-Stars 5' — What Could That Mean for the Competition
RELATED: Lip-sync Assassins Bring It to the Runway for 'RuPaul's Drag Race: All-Stars 5'
Source: Read Full Article