Outlander star Sam Heughan has played the role of Jamie Fraser for five seasons. He's currently in production on season 6, and Starz has already renewed the drama for season 7.
Chances are, the series will have a full 10-season run if they continue to cover each one of Diana Gabaldon's books a season at a time. But what will life be like for Heughan when Outlander finally comes to an end?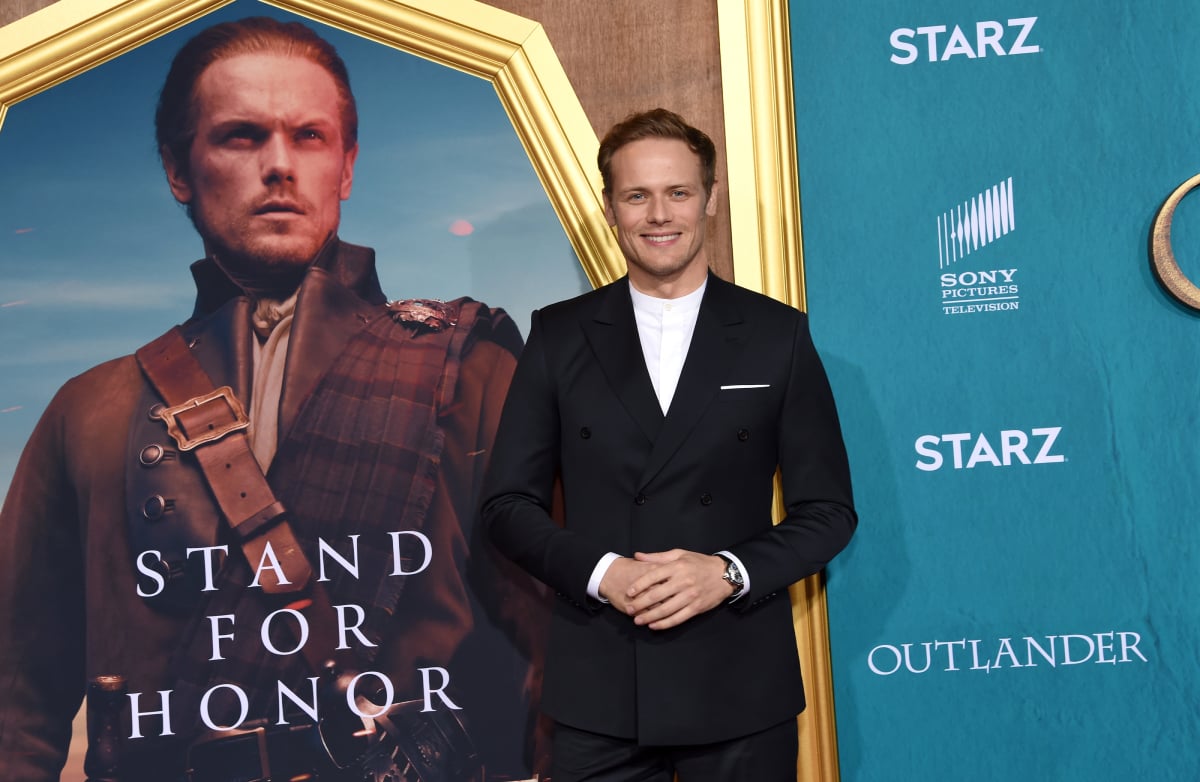 Sam Heughan says his roles are always 'in the same sort of realm'
Heughan landed the role of Jamie Frasier in 2014 when he was a struggling actor unsure about his career. In the years since, Outlander has made him a global superstar. The job has also led to film roles. But, he has some concerns about being typecast.
"Jamie Fraser has obviously been brilliant and I have been doing a number of film roles to try to play other parts, but they've all been primarily in the same sort of realm," Heughan told host Nicola Roy on The Cultural Coven podcast.
Being Jamie Frasier has been a 'unique' experience
Despite his typecasting fears, Heughan has nothing but love for the Starz time-traveling drama. As well as the character he plays. He says that Outlander has been "so unique" because Jamie has been through so much and has significantly changed.
"My character has been a young warrior, who has become a laird, a father, a husband and a grandfather now, he's been in battles, he's been abused, he's been to the Caribbean, I've had so much to play with. But of course, we all get burnout and want to do different things," Heughan said.
Sam Heughan is ready for a challenge after 'Outlander'
The 40-year-old Scot says that he "definitely" wants to do something else when Outlander ends. He doesn't have any specific roles in mind. But, he wants to do something that "challenges" him.
"I'd love to have a real acting challenge because I think that's where you get to really stretch yourself," Heughan explained. "I'll see what comes along."
The actor did a lot of theater when he left drama school, and he says he would love to go back. Before the pandemic, Heughan was close to returning to the stage until theaters shut down.
With his current Outlander filming schedule — and the film schedule he has — Heughan says theater would be tough to do right now.
The 'Outlander' star has his eye on Shakespeare
The scheduling conflicts may make theater impossible right now. But in the future, Heughan says he would "love" to get back to it. He says that for him, it's "always been about Shakespeare."
"I'd love to do Hamlet, Romeo and Juliet, and Macbeth," Heughan revealed.
The actor isn't too focused on life after Outlander just yet, though. Most likely, he's only about halfway through his Jamie Frasier experience. Which means he has another few years ahead of him playing the 18th century Highland warrior.
'Outlander' has made Sam Heughan love Scotland more
What life will be like for Heughan after Outlander remains a mystery. But it is clear that the show has had a major effect on Heughan's life. Not only has it been kind to his bank account and made him a big star, it's also made him love his home country even more.
Heughan says he "never really felt Scottish" during the years he worked in London and America. But after seven years working on Outlander, he realized how incredible Scotland really is.
"I just realized what an incredible country it is and how much I love it. There's so much to explore and it's just on our doorstep," Heughan explained. "I think it's a great wee country and so interesting and not black and white. People think it's one thing or another."
Outlander seasons 1 through 5 are available on Amazon Prime Video.
Source: Read Full Article