Few performers can match the easy charm of Sam Neill either on camera or off, but he is braced for outrage in response to his latest outing, as presenter of a six-part documentary series retracing the epic voyages of Captain James Cook.
Replay
"Let me say firmly and squarely that there's hardly a minute in all of this six hours that isn't going to give offence to someone," he says. "Some people will say, 'These people are apologists for colonialism, they're burnishing the reputation of Cook'. Others will say, 'This is political correctness gone mad'.
"There's hardly a minute that's not going to infuriate someone. But that's good. If it's controversial, that's great."
The Pacific: In the Wake of Captain Cook is no straight history. Rather it's an attempt to look at Cook's three great voyages, as the tagline says, "from both sides of the beach" – to consider not just the voyages but their impact on the indigenous cultures they encountered and, inevitably, changed.
And what a lot of beach there is. Cook's first journey, from 1768 to 1771, took him to Polynesia, New Zealand and up along the east coast of Australia; his second, 1772-75, skirted Antarctica; the third, 1776-79, took in Hawaii and the west coast of North America, passed through the Bering Strait and then returned to Hawaii, where Cook's peregrinations concluded rather abruptly with his murder and, appropriately enough, the roasting of his body (for preservation of the bones, not cannibalism).
That's a lot of ground – or ocean – to cover, and it made for a big, and at times unwieldy, exercise.
In New Zealand, the series is called Uncharted. "That reflects two things," says Neill. "The fact Cook was sailing into waters uncharted by Europeans, and the fact that I was myself sailing into uncharted waters. I didn't know what I was going to find."
Sam Neill, one of the entertainment industry's great charmers.
At 70, Neill is as in-demand an actor as he's ever been, having just wrapped roles in Rachel Griffiths' feature directing debut Ride Like a Girl (about Melbourne Cup-winning jockey Michelle Payne) and Rachel Ward's adaptation of Joanna Murray-Smith's play Palm Beach. His recent screen roles include the curmudgeonly Hec in Hunt for the Wilderpeople, Tiny Rowland in the miniseries House of Bond, and the Bible-quoting settler in Warwick Thornton's magnificent Sweet Country.
But by the time the idea for The Pacific was born, says Neill – who started his career as a maker of documentaries in New Zealand – "I was a little bit over acting – not overacting; I've never overacted – and I just wanted to take a break. So I more or less put a year aside for this."
Filming took place in bursts, with Neill and the crew travelling by container ship and plane to the far-flung locations for interviews with talent lined up by a team of researchers and writers. But they didn't really know what they were getting until they sat down to talk about what Cook's "discovery" of their lands has meant for the various indigenous cultures of the Pacific.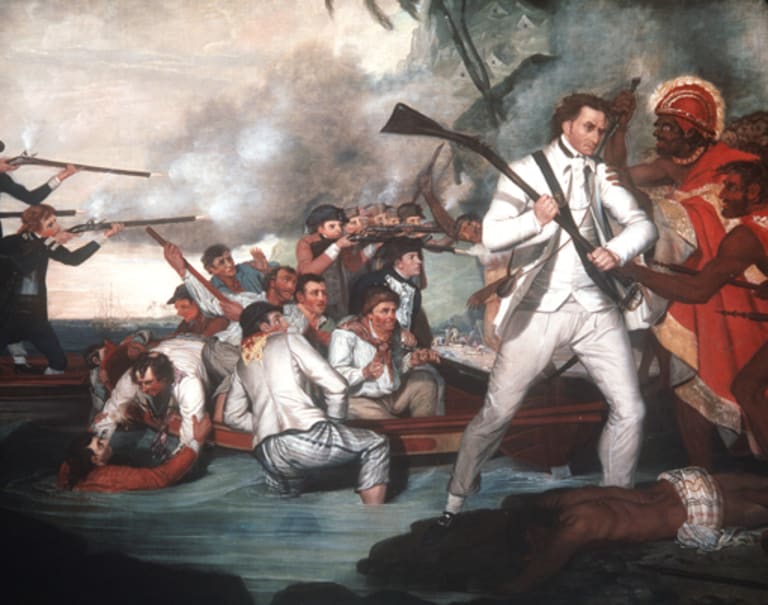 Death of Captain Cook, by George Carter, oil on canvas.
"And to be perfectly honest we didn't quite realise how disparate the various versions of Cook's journeys are until we got into it, nor did we properly gauge how deeply felt things are," he says.
"I didn't fully understand how much there are Cook fanatics who see him as close to Superman, and there are people who see him as demonic."
And your take on the man?
"I don't think either is entirely fair," he says. "The truth lies somewhere in between."
Some of these encounters are absolutely delightful, and surprising in the way they hold in balance seemingly massive contradictions. He encounters a tribe in Vanuatu, for instance, that has gone back to the traditional ways of "kastom" (if you've seen the movie Tanna, you'll recognise some of the faces), but whose number includes eight men from three generations of the same family who are all called Captain Cook.
The series covers a lot of ground – and water – though not of all of it by rowboat.
In one extraordinary scene, he talks to a Maori woman descended from a white whaler, who says people like her – hybrids – are in an ideal state to adapt to the modern world. But, he tells me, she also gave him one of his biggest jolts, when he shared with her the views of a Samoan friend who said it could have been worse, in that it could have been the French who staked a claim, "because they never leave".
"And she looked me square in the eye, there was very loaded pause, and she said, 'And yet, here you are'," says Neill. "I'm still bleeding a little bit from that wound."
But the most personally moving moment of the series, and the experience of making it, is one whose significance he is still struggling to understand.
In the second episode he catches up with Gordon Toi, a Maori tattooist and actor who became a friend after the pair met on the set of The Piano in 1992. Toi gives Neill a tattoo (it's his first), a Maori symbol on his forearm. Neill is in tears – and it's not from pain.
"I'm still at a loss as to exactly what it was that made having that tattoo so emotional, what its importance was," he says. But he cites the idea floated by Dame Anne Salmond in her book The Trial of the Cannibal Dog that Cook, the agent of British colonialism, was in fact reverse-colonised by the lands he visited.
"And maybe what is engraved on my arm is indicative of something like that in me," he says.
Neill claims to have emerged from the year-long journey feeling "optimistic" about the future of the Pacific nations and their indigenous peoples.
"While impact has had horrendous consequences in different places, not least of them being the wholesale destruction of culture, what you see now all around the Pacific is a resurgence of those cultures," he says.
Though the notion that the region was "discovered" by Cook is patently nonsense – "you can't discover something that's already been discovered", he says – the reality is that advances in the technology of sailing and navigation meant that encounters with Europeans were always going to happen.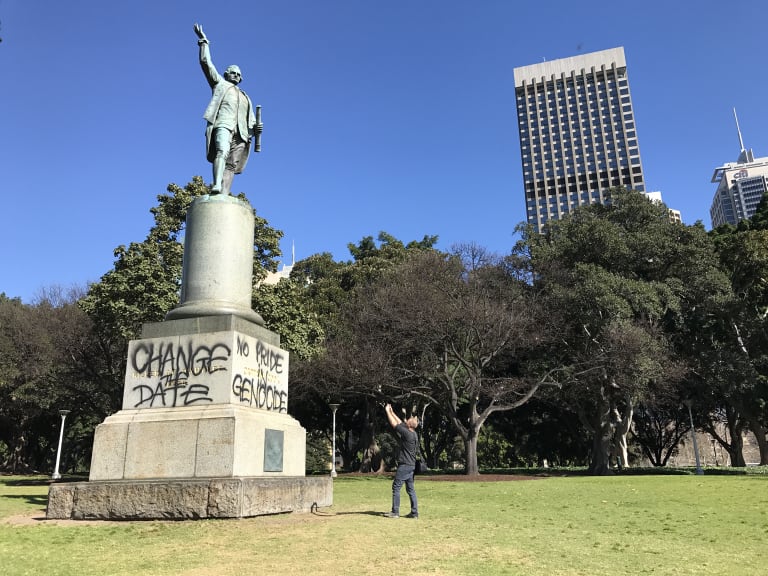 Statues of Captain Cook, including this one in Sydney's Hyde Park, were targeted by protesters.
Neill says he and his fellow program makers had initially considered starting the series with the statue of Cook in Sydney's Hyde Park, and its "rather awkward" inscription about the Yorkshireman having "discovered" territories that had in fact been settled for thousands of years. But once the statue became a focus for an outbreak of the history wars, they realised that ship had already sailed.
At any rate, he says, "I didn't think it was my function to proselytise in any sense. If we offend both ends of the spectrum, we've done our job."
You can hear Karl on the weekly pop culture podcast The Clappers and follow him on Facebook at karlquinnjournalist and on twitter @karlkwin
Source: Read Full Article