It's not the NBA finals
Performing at the White House Correspondents' Dinner is no easy task. You have to be a roast master to an incredibly tough room, not all of whom can take a joke. If you do poorly, well, at least it's on C-SPAN. If you do well, it's almost as thankless a gig as hosting the Oscars, and you might still earn the ire of politicians and the media. "The Daily Show" correspondent Michelle Wolf found that out the hard way this week when she joked about White House press secretary Sarah Huckabee Sanders. But if you think Wolf was tough, look back at how personalities like Stephen Colbert, Don Imus and Larry Wilmore handled the evening. Here are more outrageous moments that shocked the crowd at the annual "Nerd Prom."
CSPAN
Gerald Ford Does His Best Chevy Chase (1976)
Before the Correspondents' Dinner was  broadcast on CSPAN, Gerald Ford brought a little bit of Hollywood into the proceedings. He opened his remarks by saying, "I'm Gerald Ford, and you're not," a nod to Chevy Chase's "Weekend Update" catch phrase on "SNL" while impersonating Ford.
Getty Images
Don Imus Does Exactly What You'd Expect (1996)
For years the WHCD had been hosted by people like Jay Leno, Bob Hope and Ukraine-born comic Yakov Smirnoff. But in 1996, radio shock jock Don Imus made everyone in Washington fair game for roasting. He started by asking why a folder on his podium was just left "lying around," a swipe at Hillary Clinton and the Whitewater investigation. He even insulted Newt Gingrich's lesbian half-sister and Joe Biden's hair transplant.
Getty Images
Stephen Colbert Performs in Character (2006)
Stephen Colbert was only rising as a comedian in 2006, so he got away with a massive gambit: performing in front of George W. Bush in character as his trademark Republican pundit and blowhard, "Stephen Colbert." For a while it looked like he even had the President fooled. "We're not so different," Colbert said in faux-admiration. "We're not brainiacs on the nerd patrol." It was cutting satire laced in irony that ultimately left Bush visibly upset.
Getty Images
Jay Leno Recycles His Jokes (2010)
In 2010, Jay Leno was looking like the bad guy in the NBC debacle that wrestled "The Tonight Show" away from Conan O'Brien. So for what would be his fourth time hosting the WHCD, Leno played it safe and recycled some gags that he had already done on air. "If you took all the money the Republicans have spent trying to stop health care, and all the money Democrats have spent trying to get health care, we could afford health care, you know that?" His material didn't go great the first time around, and he bombed even harder in front of the press crowd.
NBC
Barack Obama Taunts Trump (2011)
Barack Obama made the idea of Donald Trump running for president such a joke that many believe it might've been the reason he ultimately decided to throw his hat in the ring. Obama first teased that Trump, more than anyone, was happy to put the birther conspiracy to rest. "He can finally get back to focusing on the issues that matter, like, did we fake the moon landing? What happened in Roswell? And where are Biggie and Tupac?" Obama then talked up Trump's "credentials," specifically how he chose to fire Gary Busey on "The Celebrity Apprentice." "These are the decisions that would keep me up at night."
Getty Images
Obama Brings Out His Anger Translator (2015)
Host Cecily Strong found out that Obama proved to be a tough act to follow. He would trot out his tightest 20 minutes each time the Correspondents' Dinner rolled around. And though Key & Peele were a formidable duo, there's nothing better than the real thing. Keegan-Michael Key played his famous character, Obama's anger translator Luther, speaking for the actual President in a brief sketch. "Hold on to your lily-white butts!"
CSPAN/Getty Images
Larry Wilmore Calls Obama 'My N—a" (2016)
Former "Daily Show" correspondent Larry Wilmore admitted he "lost the room early" in his WHCD set. But he sparked the most outrage when he got real with Obama. "Mr. President, if I'm going to keep it 100: 'Yo, Barry, you did it, my n–. You did it," Wilmore said to wrap up his speech. 
CSPAN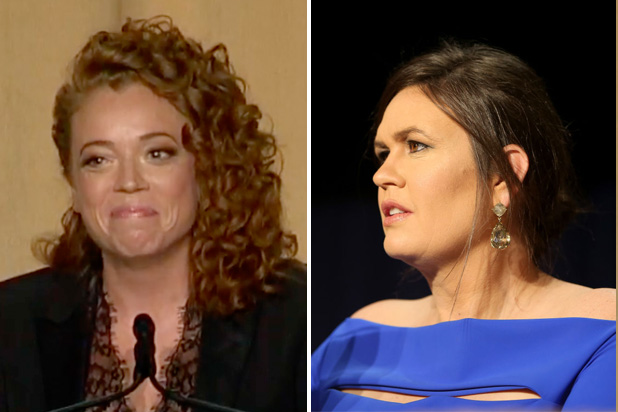 Michelle Wolf "Compliments" Sarah Huckabee Sanders's "Smoky Eye" (2018)
While President Trump declined to attend the WHCD for the second year in a row, in 2018 he sent White House press secretary Sarah Huckabee Sanders in his place… and comedian/host Michelle Wolf didn't let her off easy. Wolf called Sanders a liar and she compared her to Aunt Lydia in the dystopian "The Handmaid's Tale." But her joke that created the biggest stir was this one: "I actually really like Sarah. I think she's very resourceful. She burns facts, and then she uses the ash to create a perfect smoky eye. Maybe she's born with it, maybe it's lies. It's probably lies." Many journalists in attendance criticized Wolf for attacking Sanders' appearance, but Wolf pushed back on that interpretation. 
CSPAN; Getty Images
Michelle Wolf wasn't the only shocker. Look back at performances from Don Imus, Stephen Colbert and even President Obama
Performing at the White House Correspondents' Dinner is no easy task. You have to be a roast master to an incredibly tough room, not all of whom can take a joke. If you do poorly, well, at least it's on C-SPAN. If you do well, it's almost as thankless a gig as hosting the Oscars, and you might still earn the ire of politicians and the media. "The Daily Show" correspondent Michelle Wolf found that out the hard way this week when she joked about White House press secretary Sarah Huckabee Sanders. But if you think Wolf was tough, look back at how personalities like Stephen Colbert, Don Imus and Larry Wilmore handled the evening. Here are more outrageous moments that shocked the crowd at the annual "Nerd Prom."
Source: Read Full Article