Do you miss Steve Harrington's perfect hair? I miss Steve Harrington's perfect hair. The good news is, Stranger Things is getting a fourth season, so we will be seeing those luscious locks sometime in the (hopefully) near future! Here's a rundown of everything we know about what's next for your favorite Netflix series while you wait for season 4.
First things first: Will there even be a season 4?
YEP. The show's obviously a huge hit, and its producer, Shawn Levy, and creators, Matt and Ross Duffer (aka the Duffer Brothers), have all basically said it's going to go on forever. (JK. There will probably be, like, five seasons.) Netflix officially confirmed the news on September 30.
It's going to take place outside of Hawkins.
Did you catch that casual little "We're not in Hawkins anymore" thrown into the end of that season 4 announcement? Let the conspiracy theories commence! Personally, I'm voting for the Stranger Things crew to end up literally anywhere that does not have a big, scary forest. Or a portal to the Upside Down.
Season 4 will be absolutely bonkers.
"I think the biggest thing that's going to happen is it's going to open up a little bit, not necessarily in terms of scale, in terms of special effects, but open up in terms of allowing plotlines into areas outside of Hawkins," Matt Duffer said.
And Ross Duffer teased this little bit of info: "Obviously, the question of who that American is in that cell and then also what they're doing with the Demogorgon is a tease. That's obviously going to play a huge role in a potential season 4."
We know the title of episode 1!
See for yourself, straight from Netflix UK's Twitter account:
the first episode title of Stranger Things 4 is… 🥁 pic.twitter.com/jUgMKFalhd
Episode 1 of season 4 is titled "Chapter One: The Hellfire Club." What does that even mean?
So…in the X-Men comics, the Hellfire Club kidnaps Jean Grey (a crazy powerful psychic) and tries to use her as a weapon. Considering Jean Grey and Eleven's powers are pretty similar, does this mean we can expect someone to try to abduct our girl?!
The fifth season will probably be the last.
In the past, the Duffer brothers have said they wanted to end the series with five seasons. Yes, we obviously want to see Stranger Things go on for as long as possible…but think of the children! In 2017, Matt told Vulture,"I don't know if we can justify something bad happening to them once a year." I mean, understandable. Talk about a rough childhood.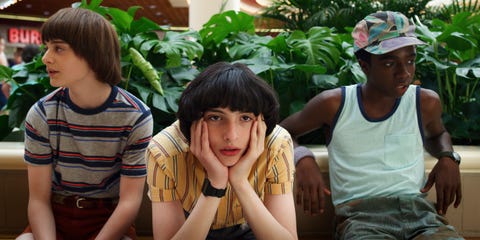 When would a fourth season air?
The first two seasons premiered in the fall, with season 3 being the first to debut in the summer. They started filming the third season last April, so there's a solid chance we could get another fall season or even our very first winter season. Bring on those '80s Christmas sweaters.
But there is another theory. One fan on Reddit thinks they know when season 4 will premiere based on the drawings seen in Will's room during the Netflix season 3 set tour.
The drawing of a prisoner seen at 2:59 in the above video is wearing the number 403-X on the uniform…the same number of Mrs. Driscoll's hospital room. For some reason, this fan thinks we could be looking at an April 3rd (4/03) release date, but I personally don't think we'll be so lucky.
Would everyone come back for S4?
Obvs, all our alive (no spoilers!) main characters are returning for season 3—and we would assume the same for season 4. Insert praying-hands emoji here.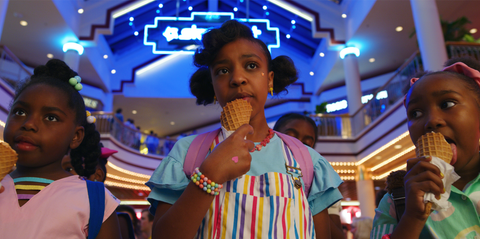 There are a few newbies in season 3 we could potentially see again in the future. Cary Elwes is playing the mayor of Hawkins and Jake Busey is playing a sketchy reporter. Also, Priah Ferguson—who plays Lucas's absolute sass little sister, Erica—is being added as a regular character, which is the most exciting news ever.
Hopper might be alive after all.
Obviously, fans of the show are buzzing about whether Hopper is alive. The thing is, David Harbour's contract runs through a potential fourth season. So it's probably safe to assume he's coming back?
But Netflix just actually confirmed that he's alive, with this surprise teaser for S4.
In the meantime, here's the cutest video of Gaten Matarazzo.
Need more stuff to watch? Feast your eyes on this vid of Gaten playing Cosmopolitan's Expensive Taste Test. Yes, there are cheeseburgers and lipstick involved. Yes, it is hilarious and adorable at the same damn time.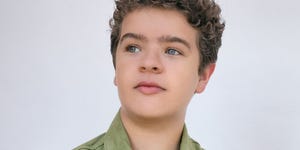 Source: Read Full Article