As Oscar Wilde might have observed of Network Ten's struggling morning television show Studio 10, to lose one presenter (so long Jessica Rowe) is unfortunate, but to lose two (farewell Ita Buttrose) is careless.
Had he been watching from his cell in Reading Gaol, he might have added that losing an executive producer (adios Robert McKnight) could be seen as either a plus or a minus, depending on the circumstances. But when a good chunk of the audience follows, chance are the EP wasn't the problem.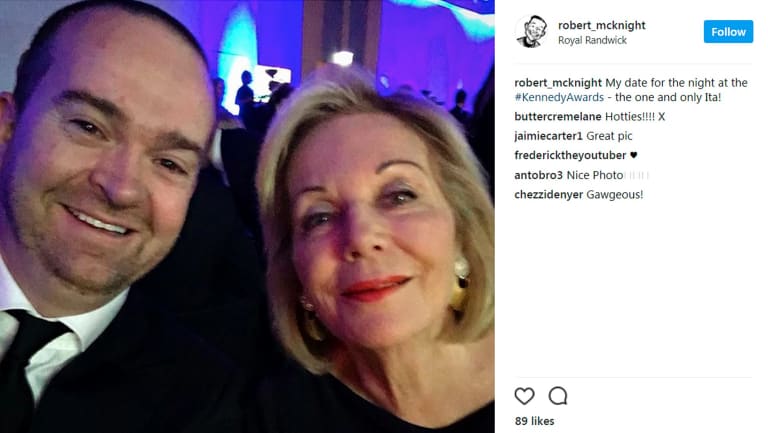 Former Studio Ten executive producer Robert McKnight with Ita Buttrose
Back then the show was averaging more than 90,000 viewers a day (across the five capital cities), a high point in a slow climb over the years (up from an average 48,000 a day in 2014).
This Tuesday, it averaged 63,000, a fairly typical result. Its direct competitors, Nine's Today Extra (121,000) and Seven's The Morning Show (146,000), have opened huge leads.
According to the Australian Bureau of Statistics, morning television is among the cheapest content commercial broadcasters can produce.
Though its 2016 survey results didn't identify the genre specifically, they revealed that "light entertainment and variety" programs (where morning TV likely sits) cost just under $92,000 per hour in 2015-16. Meanwhile, news and current affairs (the other possible pigeonhole for a show such as Studio 10) cost a shade under $12,000 per hour. Either way, Australian TV content doesn't get much cheaper than that.
Such programs are obviously attractive to a network, as they help satisfy local content requirements for a fraction of the cost of drama, children's and documentary content – but only if they are attracting an audience.
If they're not, those costs need to come down even lower.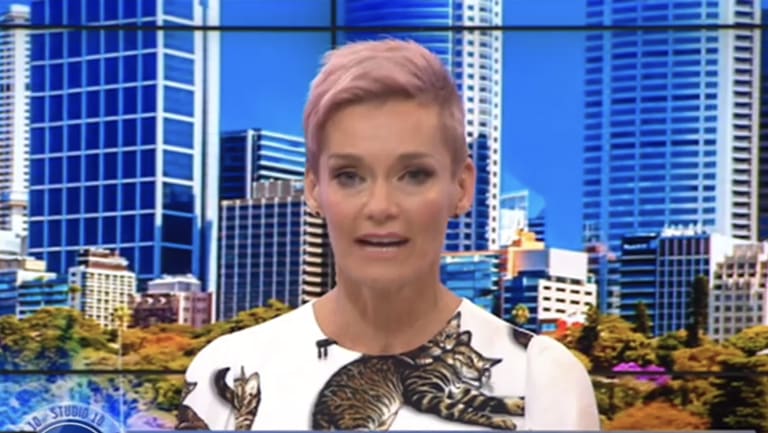 Jessica Rowe announces her departure from Studio 10..
In the past month Studio 10 has shed its two highest-profile presenters, Jessica Rowe, who left at the end of March to spend more time with her daughters, and Ita Buttrose, who announced her departure on Tuesday, saying she wanted to spend more time with her grandchildren. Fair enough. But if these women were politicians, wheeling out the old "I want to spend more time with my family" line would send journalists scurrying in search of the scurrilous truth.
To that end, rumours have abounded that there were tensions between Buttrose and fellow panellist Denise Drysdale; tensions that came to a head in a ludicrous spat last year that has been rather hilariously labelled "Brussells-sproutsgate".
There have also been suggestions that Buttrose may have been miffed that she wasn't part of the network's plans for covering the impending nuptials of Prince Harry and Meghan Markle, a seemingly pointed snub given her considerable experience in royal weddings (she covered her first, Princess Alexandra's, when she was just 17).
It was also suggested – by McKnight on Twitter – that the network had been looking to get rid of Rowe for as long as a year before her departure.
Whatever the truth of that, it is highly likely Buttrose and Rowe were Studio 10's highest-paid panellists. Their departures, along with McKnight's, represent significant savings for Ten. Given the show has moved from five panellists to four and extended by an hour, there are savings to be had even when factoring in the replacements.
With Ten now under the ownership of the American network CBS, it would be easy to imagine a scenario in which Studio 10 is axed to make way for more of the cheap American content, by which it is already surrounded. But that is unlikely to happen, at least so long as the Australian government maintains its local content requirements (under which 55 per cent of a network's main channel offerings broadcast between 6am and midnight must be Australian). Change of some sort is quite possibly coming, but it's unlikely to be in that area.
And then there were five: Studio 10's team until March (l-r): Sarah Harris, Joe Hildebrand, Denise Drysdale, Ita Buttrose and Jessica Rowe.
"The reality is Australian content drives audiences," Ten's CEO Paul Anderson told me late last year. CBS, he insisted, was "not going to change Ten's DNA. They're very conscious that Australia is a unique market, it's not the same as the US."
Network executives can and do lose patience with struggling shows, but it's worth remembering that Ten has tried and failed with a host of programs in the challenging morning slots, and Studio 10 has done better than most.
And it's Australian, and cheap, and it probably just got a whole lot cheaper.
All of which suggests that whatever its current problems, chances are it will be here for a good while yet.
Facebook: karlquinnjournalist Podcast: The Clappers Twitter: @karlkwin
Source: Read Full Article