Because she's been there and done that, literally, former Bachelor contestant/tear fountain Ashley Iaconetti is recapping this season of The Bachelorette for Cosmopolitan. With insider insight as well as a clear eye for what's going down both in front of and behind the cameras, read on for her thoughts.
This post contains spoilers for last night's (10/13/20) episode of The Bachelorette.
Well hello there, Bachelor Nation. It's been an unpredictable year, so we have a fittingly unconventional Bachelorette season.
And man am I glad that the producers and editors address that right off the bat. The season teaser at the beginning on the premiere episode highlights a man named Dale Moss. Clare feels so struck by him during their (apparent) first meeting that she says, "I feel like I just met my husband." The show doesn't try to pretend Dale is just one of 31 suitors. They're not belittling our intelligence (as John Paul Jones so infamously once said in Paradise). Anyone who follows pop culture news or keeps up with the franchise in the slightest during the off season knows it's rumored that Dale Moss is the man that Clare "blows up" (Chris Harrison's words, not mine) the season for. In the teaser trailer at the end of the episode, they all but show Tayshia Adams' face when the men are discussing getting a new Bachelorette. I'm really glad they didn't play coy on this storyline.
Assuming this is how the first half of the season will unravel, I completely understand Clare's mindset. I always knew what I was looking for in a man and once I found it, I was completely zeroed in. I had no interest in exploring other options, even on a TV show in which it's almost a requirement. I don't know how other leads have faked it in the past. Most will tell you they were able to narrow it down to their top four on night one. Clare's so gracious to all the men there to date her, and she keeps speaking of the bright energy they are bringing her. She even seems to be having fun making out with some of them in the scenes previewed from the next episode, but it certainly seems her favoritism towards Dale will be the thing to lead Chris to tell her the season can't continue in that fashion.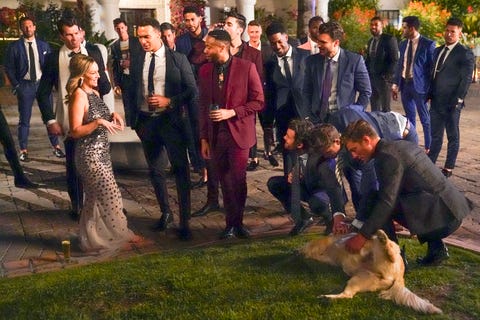 It's funny how so often I'll use these recaps to analyze what's ahead instead of what we currently just watched. I just feel like it's no fun to regurgitate the content you saw. So let's combine foresight and episode one together and ask the obvious question: Was this really the first time Clare and Dale ever met?

My internal dialogue says, "you fell in love with Jared in Paradise the exact same way. You saw him sitting at the bar and for the first time in your life you believed in love at first sight. You practically called him 'The One' after 24 hours." The small cynic in me, and the part of me that tries to serve as a spokesperson for the viewer, thinks there's no way she was this vocal about her feelings towards Dale without spending some of those 100-odd days in quarantine chatting with him.
I looked for signs of acting. I analyzed Clare and Dale's facial expressions and tones trying to find something that read, "I'm trying really hard right now not to lead on that I know anything about you." I felt like I saw some, but then again, I was looking for it. Dale seemed to know about her mom's Alzheimer's, but then again, it's information very easily found the Internet and of course he's going to Google Clare before the show. Clare seemed particularly wide-eyed when Dale got out of the limo, but what woman wouldn't be? He is a strikingly good-looking man. She also was the only Bachelorette to see photos of her group of men online before filming began, and perhaps Dale was the one she was most attracted to. For Paradise, you get to tell the producers who you want to see there from previous seasons. When you walk down those steps, your eyes are peeled for that person.
If you're wondering why Clare was the first Bachelorette to see photos of her men beforehand, this was because they released their photos when she was in her first Bachelor quarantine (not COVID-19 quarantine) in March, before the delay of the season. See, the cast of The Bachelor franchise are not new to quarantines. Before EVERY season, you are sequestered to a hotel room for at least four nights without your phone or computer. There's a lot of reasoning behind that including interviews, producer chats, and promotional material that need to get done without you fraternizing with other cast members before the cameras start rolling. If it weren't for COVID-19, Clare, in Bachelor quarantine, would have started filming just days after those photos were blasted out having never seen them.
Source: Read Full Article