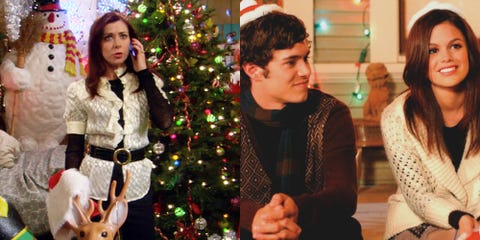 With the holiday season comes a lot of downtime before family meals, gift giving, and egg nog. While Netflix and your favorite channels host some of the best new and classic Christmas movies all season long, sometimes you just want a taste of cheer between activities. Here, we've rounded up some of our favorite Christmas TV episodes, to get you into the holiday spirit without a huge time commitment.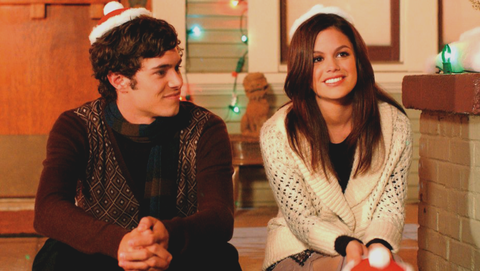 STREAM NOW
There might be Chrismukkah episodes that are better than others—honestly, "The Best Chrismukkah Ever" from the first season where Seth makes a choice between Summer and Anna is probably the best. But the others totally creep up on you like season four's "The Chrismukk-huh?" which is a Groundhog Day-esque homage that brings some closure over Marissa's death. Whichever you choose, you can't go wrong.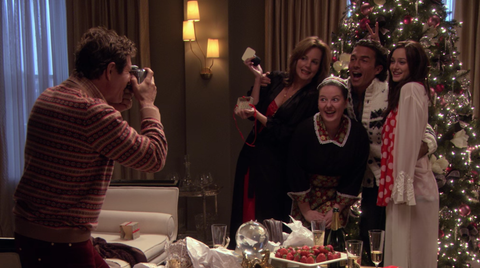 STREAM NOW
I may be biased, but any Gossip Girl episode that puts Blair front and center is bound to be a good one. With her father back in town for the holidays with his lover Roman, we get peak scheming Blair, riddled with jealously.
Meanwhile, Serena is trying to find the perfect gift for Dan that's under $50 dollars. It all ends up in a very sweet ending for all…well maybe not for Rufus.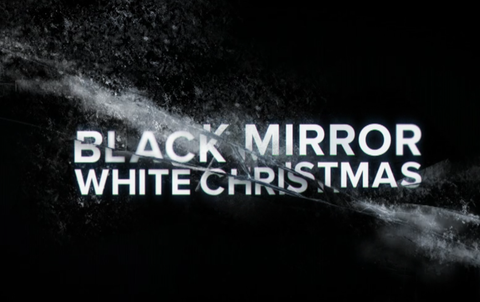 STREAM NOW
In case you want some darker Christmas fare, Black Mirror
has you covered with their special holiday episode that connects three stories together narrated by two men (one of which is Jon Hamm!) who are stuck in a remote cabin during some very wintery weather. This being Black Mirror, don't expect something too cheery and upbeat, the great performance by Hamm is worth adding to your viewing list.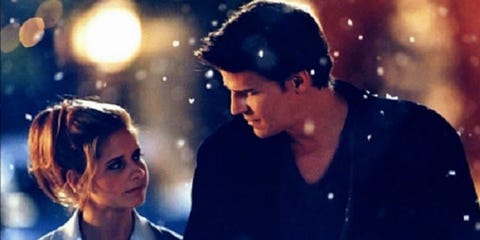 STREAM NOW
Season three of Buffy the Vampire Slayer is a rough one. After Angel and Buffy sleep together, he's turned into Angelus, the evil murderous version of himself. Even once he's changed back to Angel, there's an obvious level of distrust from the Scooby Gang. But, when he starts reliving the memories of all of the people he's killed (and drags Buffy along with him), they realize that the First Evil is haunting him. This ep is a pretty sad one, but its gorgeous ending really makes up for it.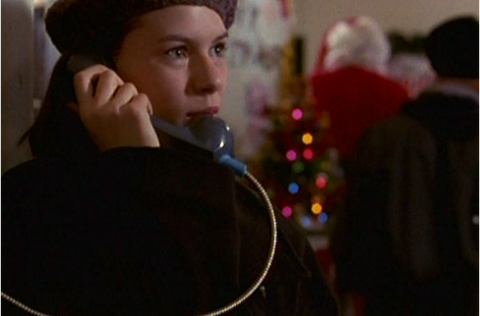 STREAM NOW
The excellent My So-Called Life had an equally excellent Christmas episode that follows Rickie, who is out on the streets after having a fight with his abusive uncle. Angela tries to help Rickie to the best of her abilities which puts her and her mom in an awkward situation.
When Rickie runs out, Angela is aided by a mysterious stranger (90s rock icon Juliana Hatfield) to find him. One of the best things about this episode is that it's one of those "high concept" holiday episode that adds supernatural elements into the mix in such a grounded way that it works out surprisingly well.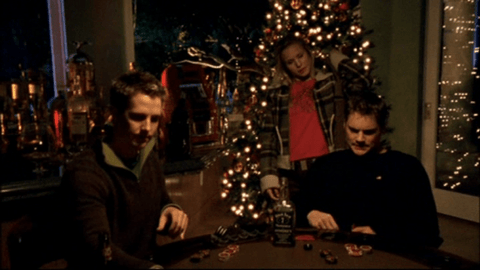 STREAM NOW
With the Hulu reboot of Veronica Mars awaiting us in 2019, now is as good a time as any to revisit the beloved teen P.I. show starring Kristen Bell. Their holiday episode has Veronica investigating a thief who stole money from Logan Echolls and a laptop from Duncan containing personal information about his previous relationship with Veronica.
While Veronica investigates, "An Echolls Family Christmas," also delves into the rest of Logan Echolls' relatives, who aren't the greatest.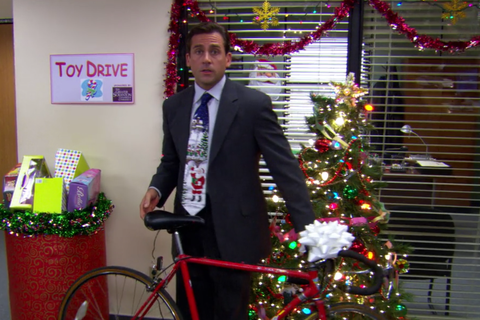 STREAM NOW
I mean how could an Office Christmas episode be bad when Dwight brings in a dead goose to prepare for the holiday? When Michael's girlfriend breaks up with him, the guys go to Benihana and find some dates for their office Christmas party.
Meanwhile, There are competing office Christmas parties once Angela kicks Karen off the party planning committee, Karen and Pam join forces to throw another party. And per usual, there's a lot of Jim and Pam longing. The holidays man!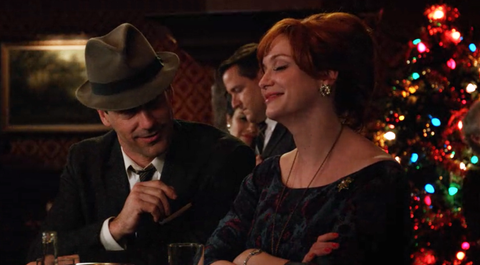 STREAM NOW
Mad Men's season five Christmas episode is pretty much fan fiction for everyone who wants to watch Don Draper and Joan Holloway cosplay as a couple to find out more information for a potential account with Jaguar. It's a lovely holiday episode watching two people connect over their life foibles, as they commiserate over drinks.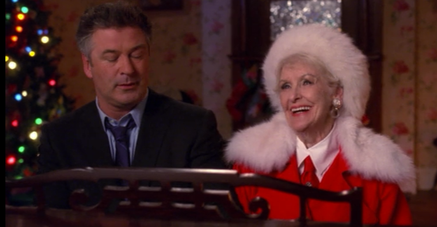 STREAM NOW
30 Rock always has pretty solid Christmas episodes, especially because we usually get to see the divine Elaine Stritch as Jack's mother, Colleen.
When Jack accidentally hits his mom with a car, things go a bit haywire. Jack takes out his frustration about not being able to take his Christmas vacation on the TGS staff, making them produce a last-minute Christmas episode. Don't worry, Liz Lemon showcases some classic awkward Lemon behavior, this time telling some kids that Santa isn't real.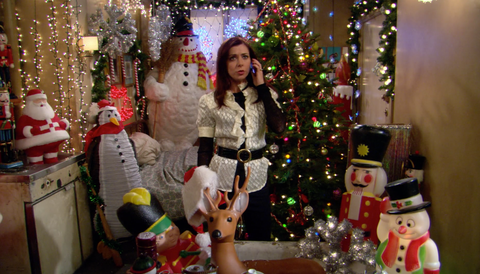 STREAM NOW
Early seasons of How I Met Your Mother were some of the best in sitcom history, so of course their Christmas episode in season 2 is a must-watch.
Lily and Marshall are back together just in time for Christmas after their breakup, so this year she's going to go over the top with the holiday planning. But when she hears that Ted called her something really, really awful while she and Marshall were apart, Lily decides to take back all the holiday celebrations, putting Marshall in the middle during his favorite holiday.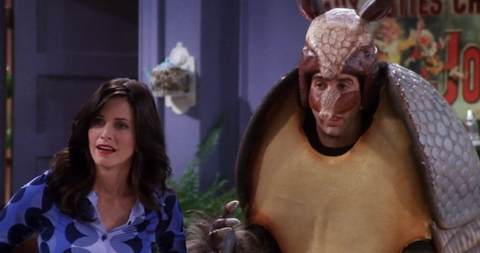 STREAM NOW
The first holiday that Monica and Chandler spend as an engaged couple, Monica's plans begin to go awry when Phoebe starts it off by displaying her mother's skull candy dish.
Ross is having his own problems, wanting to teach his son (hey, Cole Sprouse!) all about Hanukkah, which Ben keeps countering with Christmas stuff. When Ross tries to surprise Ben with a Santa costume, he ends up with the iconic armadillo suit instead.
Source: Read Full Article