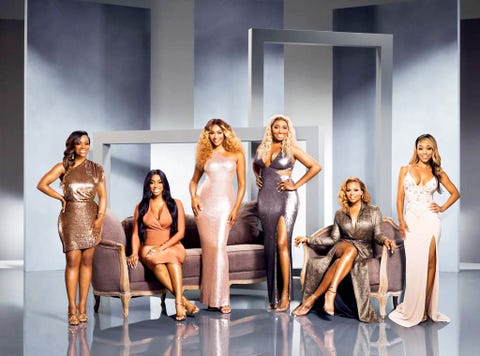 The Real Housewives of Atlanta Season 11 trailer was just released Monday and it's juicier than a Georgia peach.
Housewives Nene Leakes, Porsha Williams, Cynthia Bailey, Eva Marcille, and Kandi Burruss return for the new season and deal with major real-life drama. In the sneak peek, below, Williams reveals she is expecting a baby with boyfriend Dennis McKinley.
The ladies all cheer with excitement when 37-year-old announces, "I'm pregnant," but not everyone is apparently a fan of her new man. In a separate segment, Porsha's sister, Lauren Williams, tells her, "He just cut his ex off a couple weeks ago."
However, Lauren's concerns don't seem to worry Williams too much, because the housewife confirmed on Instagram Monday that she recently got engaged.
View this post on Instagram
I said YES…. ???? Photo: @the_treeves ring by: @richierichny Leon Diamond
A post shared by #PorshaWilliams (@porsha4real) on
Marcille is another housewife ringing in a major milestone in Season 11. She is getting married to politician Mike T. Sterling, and according to Page Six, the Bravo cameras will film the nuptials.
"My wedding is three months away," Marcille says in the clip above. "They are begging for Eva the Diva to come out."
In Season 10, Marcille appeared on the show in a Friend of the Housewives role, but has been promoted to full-time housewife for Season 11. She joins newcomer Shamari Devoe, a former alum of the R&B group Blaque and wife of New Edition's Ronnie DeVoe, as this year's newest housewives.
View this post on Instagram
Okay Ladies…..
A post shared by Eva Marcille (@evamarcille) on
According to People, Tanya Sam, a registered nurse turned tech entrepreneur, and RHOA regular Marlo Hampton will both be appearing as Friends of the Housewives.
This season, though, not all of the women are celebrating. The preview shows that veteran housewive, Nene Leakes and her husband, Gregg, are at a doctor's appointment after he was diagnosed with cancer.
"The type of cancer that Gregg has, is it beatable?" a concerned Leakes asks the doctor, before the video shows her breaking down in tears.
View this post on Instagram
Our New Normal and the fight begins?? #fuckcancer????????#mdandersoncancercenter #yougotthis #iloveyou
A post shared by Nene Leakes Public Figure (@neneleakes) on
With all of the drama surrounding the women, Season 11, which premieres November 4, promises to be an action-packed season.
Source: Read Full Article