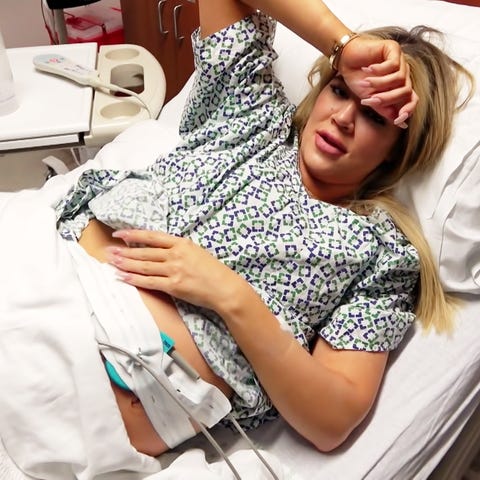 This season of Keeping Up With the Kardashians has been an absolutely crazy ride. Between Kylie Jenner's pregnancy, the Christmas card fiasco, and Kim telling Kourtney she's the least interesting to look at, there's been no shortage of drama.
But have no fear, they're not done! E! just released a trailer for the rest of the season, including the moments the Kardashian family found out about Tristan Thompson's cheating.
One clip shows Kim on the phone with someone, saying "They have another video of him…" and then the next clip shows her saying, "Unfollowed, I hate him, sorry not sorry." Kim was public about the fact that she unfollowed Tristan after the cheating came to light, so she's definitely talking about him here.
Then, the preview flashes to Khloe lying on a a doctor's exam table getting an ultrasound. "The things I can control, I have to be able to control," she says.
The preview switches to Kris, who says, "These guys are always going for sloppy seconds," although it's unclear which Kardashian-adjacent man she's talking about here.
The clip finishes with Khloe in labor and the family rushing to be by her side, but the whole situation looks like it was action-packed.
KUWTK airs Sunday nights on E!, so grab your popcorn and settle in.
Follow Emma on Instagram.
Source: Read Full Article