It's known as the "Melbourne bump": the lift in TV ratings for programs filmed in Victoria's capital.
"You'll generally get an increase of around 15 per cent [in metropolitan audiences]," says veteran drama producer John Edwards, whose credits include Offspring, Love My Way and Puberty Blues. While Sydneysiders appear to have no special affinity for shows shot in their city, Melburnians are more likely to watch local productions – boosting the size of the audience overall.
"That was the rationale for moving The Secret Life of Us to Melbourne," Edwards says. "It was actually meant to be set in Bondi."
Next year, the Nine Network will move Ninja Warrior from Sydney to Melbourne. It's a path already trod by MasterChef in 2013 and The Block in 2011.
"We looked at the ratings and realised we had a larger audience in Melbourne than Sydney," says Julian Cress, The Block's co-creator and producer. "We brought the show down as a reward for that loyalty and, for the same reason, we never left."
During his final Sydney season, around 5,000 viewers attended The Block's open for inspection event. In Melbourne, an estimated 20,000 turn up each year.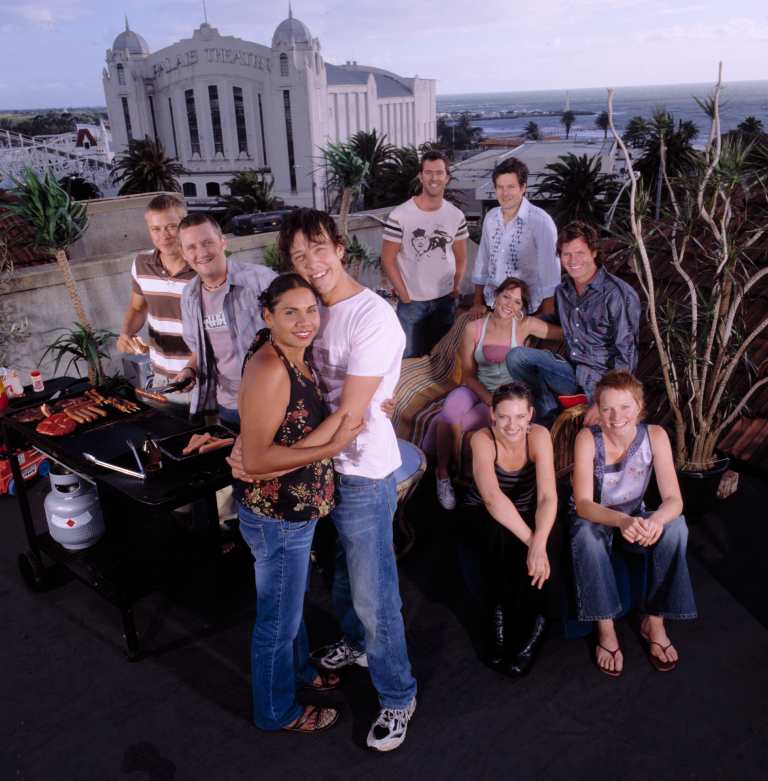 The suburb of St Kilda had a starring role in The Secret Life of Us, but the show was meant to be set in Bondi.Credit:Ten
"If a show has a 'Made in Melbourne' stamp on the promos, it does especially well here because people are proud of that fact," Cress says.
No wonder Nine will produce the bulk of its 2019 prime time slate – including The Block, Ninja Warrior, Lego Masters, Talkin' 'Bout Your Generation, Family Food Fight, Paramedics and Bad Mothers – in Melbourne.
"I think the city is central to Melburnians' sense of identity," says Nine's programming chief, Hamish Turner, "whereas Sydney is divided geographically by the water, so people are more connected to their own regions."
Even when a series is made interstate, Melbourne usually delivers the biggest capital city audience. In Sydney, for instance, the 7.30pm to 8.30pm time slot averages 1.27 million viewers, across all free-to-air channels, on Sundays and Mondays. In Melbourne, it's 1.40 million on Sundays and 1.43 million on Mondays.
Some of The Block's open-for-inspection events in Melbourne attracted 20,000 people.Credit:Mal Fairclough
Why? "Because Sydney people are still at work," Cress says, "whereas Melburnians pack up their desks, go home to their kids and watch TV together."
Turner suspects the larger transient population in Sydney plays a role. "And even though Sydney has more rain in total, it also has more sunny days," he says. "Obviously Melbourne's climate in winter is more conducive to staying indoors."
After two years in Sydney, the 2019 season of Ninja Warrior will be made in Melbourne.Credit:Nine Network
The diversity of Melbourne's landscapes – from bayside suburbs and period homes to European-style boulevards and trendy inner-urban areas – makes it especially suited to drama, he adds.
Turner's counterpart at Ten, Beverley McGarvey, agrees. "If you look at Offspring, it doesn't just have a generic metropolitan setting," she says. "It's very vividly a Melbourne show."
Edwards recalls putting bright crochet patterns around tree trunks to give Offspring its "warm" feel, while police drama Rush took full advantage of Melbourne's grey skies and abundant concrete. Indeed, the city was versatile enough to serve as the principal location for his Beaconsfield telemovie, based on the Tasmanian mine collapse, and Howzat!,  a dramatisation of Kerry Packer's World Series Cricket launch in Sydney.
"People don't realise they were almost entirely shot in Melbourne," he says, noting that Film Victoria's financial support sealed the deal. "It was that crucial bit of extra money from the Victorian government that made the difference."
In the 2017-18 financial year, the state funding body distributed $7 million across 31 TV projects, sparking a further $100 million spend on production costs. One of these programs was Superwog, a six part comedy series also supported by the ABC, Screen Australia and YouTube. Creators Theo and Nathan Saidden live in Sydney, but Film Victoria's money helped convince them to shoot in Melbourne.
Caroline Pitcher, CEO of Film Victoria, says such investment help sustain the entire industry.
"We have a stable crew base that has a regular flow of employment, and that's a real benefit to Victoria," she says. "We don't experience the severe peaks and troughs that other states do.
"I think Melburnians are pretty passionate about their city … the recognisable locations on TV are something that people connect with and are proud of."
Source: Read Full Article