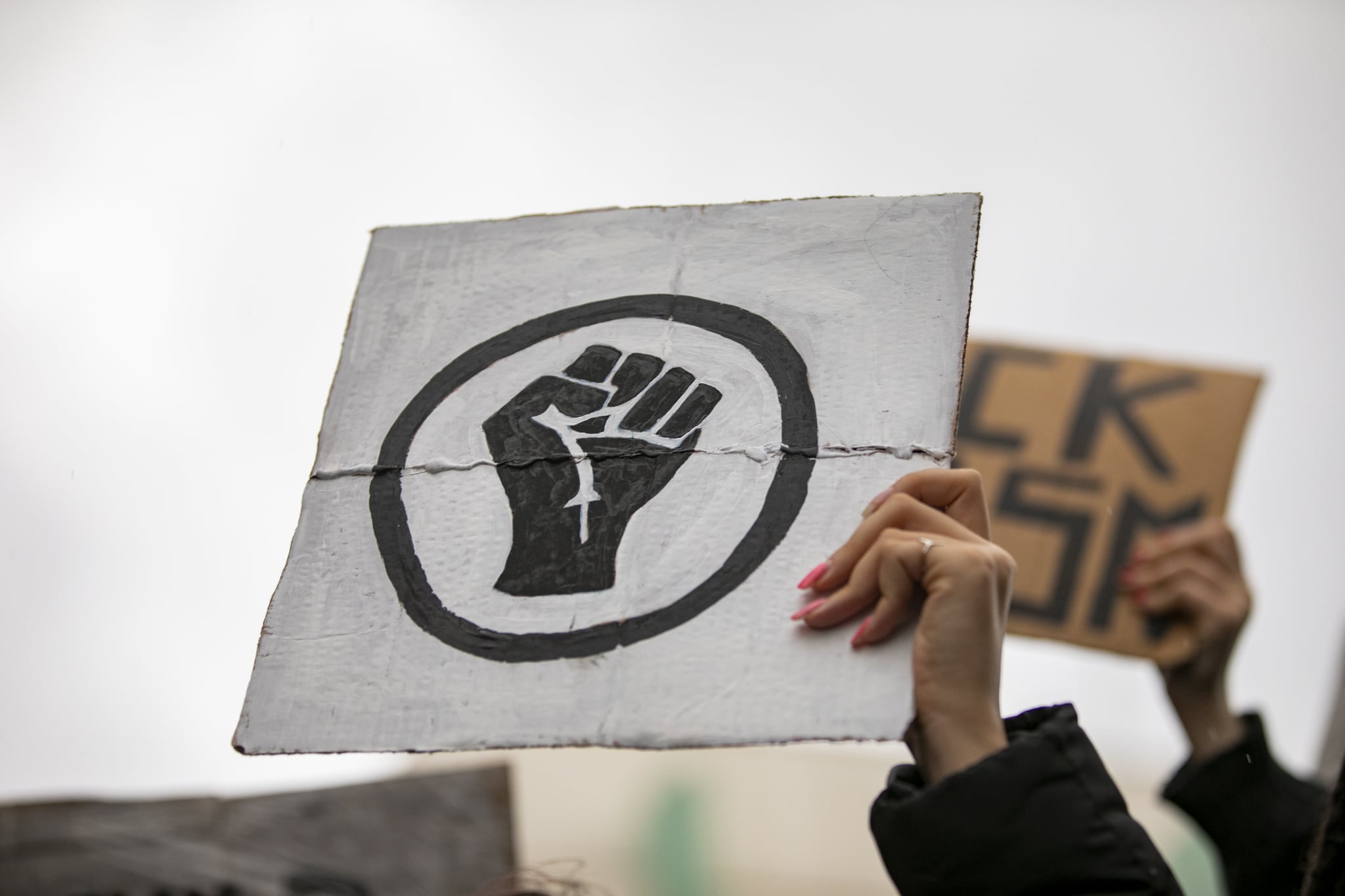 Image Source: Getty / NurPhoto
People across the country and around the globe are calling for justice following the recent killings of Black Americans — George Floyd, Ahmaud Arbery, and Breonna Taylor, among others. There were also Tony McDade and Nina Pop, both of whom were transgender. The deaths that have garnered media attention are simply a glimpse at the systemic oppression and racism the Black community faces every day at the hands of fellow citizens and police, too.
It's important to educate yourself first to understand the history of police brutality and racial oppression in this country. If you're white, you can start with this recommended reading list for white people to be a better ally. Read New Era of Public Safety: An Advocacy Toolkit For Fair, Safe, and Effective Community Policing, a report and toolkit developed by the Leadership Conference on Civil and Human Rights on police reform.
But, as activist and community organizer Leslie Mac told Vox, "Antiracism is about doing and not just knowing." Donating to local and national organizations fighting for racial justice is one act of "doing." And when it comes to being an ally in this fight, there are other ways you can take political and civic action right now and in the future without opening your pockets. Take a look ahead for five main actions.
Sign Petitions
To start, here's a petition from Black Lives Matter to defund police. The concept behind defunding the police isn't, as Vox explains, to completely strip funding altogether; rather, it's a call to reallocate funding in places that need it more. (Read more about that here.) For instance, this petition started by Reclaim the Block in late May specifically asks Minneapolis City Council to defund the police force, which would free up resources for the safety and health of the city's BIPOC communities. You'll find other petitions for victims and for policy change compiled in this resource landing page put together by Twitter user @dehyedration. Here are just a handful of the petitions you'll see on that page:
Hands Up Act: This petition is for legislation that prohibits police officers from shooting unarmed citizens.
Justice For Breonna Taylor: This petition asks for justice for the 26-year-old emergency-room technician who was killed by authorities on March 13 in Louisville, KY, during a narcotics raid on her home. Police used a "no-knock warrant," she was shot eight times and was unarmed, and none of the officers were wearing body cameras, according to CNN. None of the officers have been fired or arrested — they were placed on administrative reassignment, and the FBI is investigating the killing. The Metro Council Public Safety Committee unanimously passed a proposal on June 3 to limit no-knock warrants in Louisville called Breonna's Law.
Justice For Ahmaud Arbery: This petition seeks justice for Arbery, who was gunned down by two white men — Gregory McMichael and his son Travis McMichael — while out running in Glynn County, GA. At the time of this article's publishing, the two men face murder and aggravated assault charges, and William Bryan, who recorded the shooting, is also facing charges including felony murder, according to CNN.
Justice For George Floyd: This petition was started by a 15-year-old named Kellen in response to Floyd's killing on May 25. It is the largest US petition to date on Change.org, but there's still room to sign. As of June 3, all four police officers involved have been charged, and Derek Chauvin, who pressed his knee into Floyd's neck for eight minutes and 46 seconds and killed him, now faces a charge of second-degree murder, upgraded from third-degree murder.
Why it will help: Put simply, every signature counts. As sources who spoke to The New York Times in 2016 explained, the online petitions raise awareness, and the effectiveness of a petition depends on a number of factors such as how many signatures are collected and whether those being petitioned are in a position to facilitate change.
Source: Read Full Article