Our live coverage of the coronavirus pandemic is free for all registered readers. Please also consider supporting our journalism with a subscription.
Boris Johnson announces further military support for Ukraine
Britain's Prime Minister Boris Johnson has just announced more military support for Ukraine.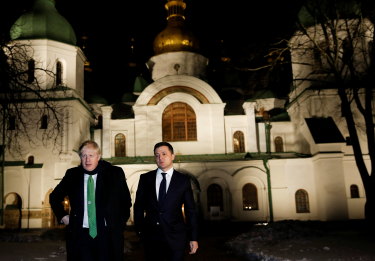 British Prime Minister Boris Johnson with Ukrainian President Volodymyr Zelensky in Kyiv, Ukraine earlier this month. Credit:Getty
Johnson made the announcement at the start of Prime Minister's Questions and after coming under sustained criticism for the weakness of his first round of sanctions against Russia.
The announcement was light on detail. He said the extra support would include more defensive weapons as well as "non-lethal aid."
Earlier, Foreign Secretary Liz Truss said the UK would back £500 million ($935 million) in loans for Ukraine.
'Hit more': Ukraine's foreign minister urges tougher sanctions
Ukraine's Foreign Minister, Dymtro Kuleba, says he is grateful for the first round of sanctions imposed by Western nations in the 24-hours after Vladimir Putin's rambling televised address, which culminated in Russia recognising the two eastern breakaway regions of Ukraine.
But in an emphatic tweet, he said far more was needed.
"To stop Putin from further aggression, we call on partners to impose more sanctions on Russia now," Kuleba said.
"First decisive steps were taken yesterday, and we are grateful for them.
"Now the pressure needs to step up to stop Putin. Hit his economy and cronies. Hit more. Hit hard. Hit now," he said.
In a statement, Ukraine's foreign ministry went further and warned that Russia would use force in "any region of the world" if Putin is not stopped today.
"Ukraine calls on the international community to take immediate and tough actions against the aggressor," the statement said.
"The lack of decisive action taken by the international community effectively gives free rein to the Kremlin.
"If we fail to stop Russian aggression in Ukraine today, tomorrow Russia's military force will be used in any region of the world."
State of emergency to be declared in Ukraine
Ukraine's national security chief Oleksiy Danilov has been speaking to the media in Kyiv and announced that a state of emergency will be declared across the country, except for in the two eastern breakaway regions that Putin is recognising as independent.
Oleksiy Danilov, Secretary of the National Security and Defence Council of Ukraine, announcing a state of emergency for Ukraine at a news conference in Kyiv, on February 23, 2022.Credit:InTimeUkraine/YouTube
Donetsk and Luhansk have been declared war zones since 2014.
The declaration needs to be approved by the parliament but that approval is expected.
Danilov says a state of emergency would enable authorities to step up security checks at "public places and locations that are critical for the public".
"This can include restrictions on movement of transportation, additional inspections of transportation. This can include inspections of individuals' documents," Danilov said.
The state of emergency is one step lower from martial law which would put the military, led by President Volodymyr Zelensky in charge of all decisions.
Under a state of emergency, special commissions composed of the central government and regional authorities make and impose decisions.
More world leaders land in Kyiv
There has been a steady march of world leaders travelling to Kyiv to meet President Volodymyr Zelensky in acts intended to demonstrate their country's support for Ukraine.
Today the leaders of Poland and Lithuania, two members of the European Union that yesterday announced unanimous support for sanctions against Russia, have arrived in Ukraine and are meeting Zelensky.
Gitanas Nausėda of Lithuania and Andrzej Duda of Poland meeting their Ukrainian counterpart was set for 2.15pm local time (11.15pm AEDT), according to the Ukrainian President's office.
Welcome to our rolling coverage
Hello and welcome to our rolling coverage of the crisis on the Russia-Ukraine border.
I'm Latika Bourke in London and I'll be taking you through developments overnight.
The sanctions announced by Western countries in the past 24-hours, including by Australia, the US, UK and European Union states, as well as Germany's decision to halt progress of its huge new gas pipeline to Russia, appear to have fallen on deaf ears in the Kremlin.
The world's eyes are now on Russia's Vladimir Putin who does not recognise Ukraine's right to exist and has been given "permission" by his Parliament to deploy troops abroad.
Recap – As it happened: Scott Morrison rolls out sanctions against Russia as Vladimir Putin begins invasion of Ukraine
Most Viewed in National
Source: Read Full Article