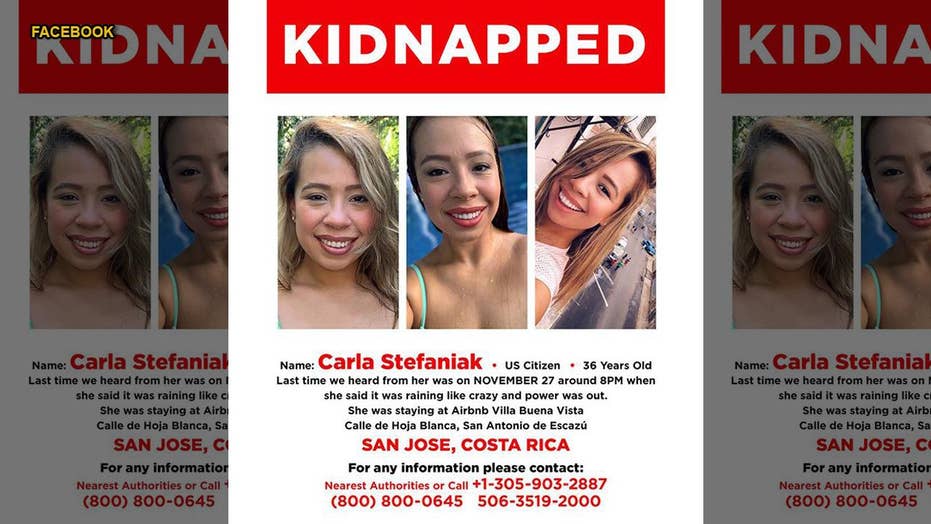 Florida woman vanishes while celebrating her birthday in Costa Rica
The family of Carla Stefaniak is searching for answers after the Miami woman vanished while celebrating her birthday in Costa Rica, just hours before she was reportedly set to return to the United States.
A body that was found on a property in Costa Rica on Monday was reportedly confirmed to be that of Carla Stefaniak, a Florida woman who disappeared last week while on vacation.
Stefaniak was discovered half-buried and covered in plastic bags on the property of an Airbnb villa where she was staying for her 36th birthday, multiple outlets reported, citing Costa Rican officials.
BODY FOUND IN COSTA RICA AMID SEARCH FOR MIAMI WOMAN, 36
A security guard at the property, identified by the news outlet as Bismarck Espinosa Martinez, 32, was detained in her death. He allegedly gave conflicting statements to authorities as they investigated Stefaniak's disappearance.
An official with the department said earlier on Tuesday that investigators found blood in Stefaniak's Airbnb, which led to the search for her body on the property in the San Antonio de Escazu neighborhood.
Stefaniak traveled to Costa Rica with her sister-in-law, April Burton, to celebrate her birthday. Burton left Costa Rica a day earlier than planned.
Stefaniak was supposed to travel home to the U.S. on Nov. 28, but never made the flight. Her family last heard from her on the night of Nov. 27.
Her family suspected Stefaniak was kidnapped, according to a Facebook page dedicated to helping find her. The family wrote on Tuesday afternoon that they visited a morgue in Costa Rica to try to identify the body officials found on the property but said "investigators decided that they need more time."
"The stress, anxiety, and wait is so devastating to everyone, and this is by far the worst day for the family," the Facebook post read.
Source: Read Full Article