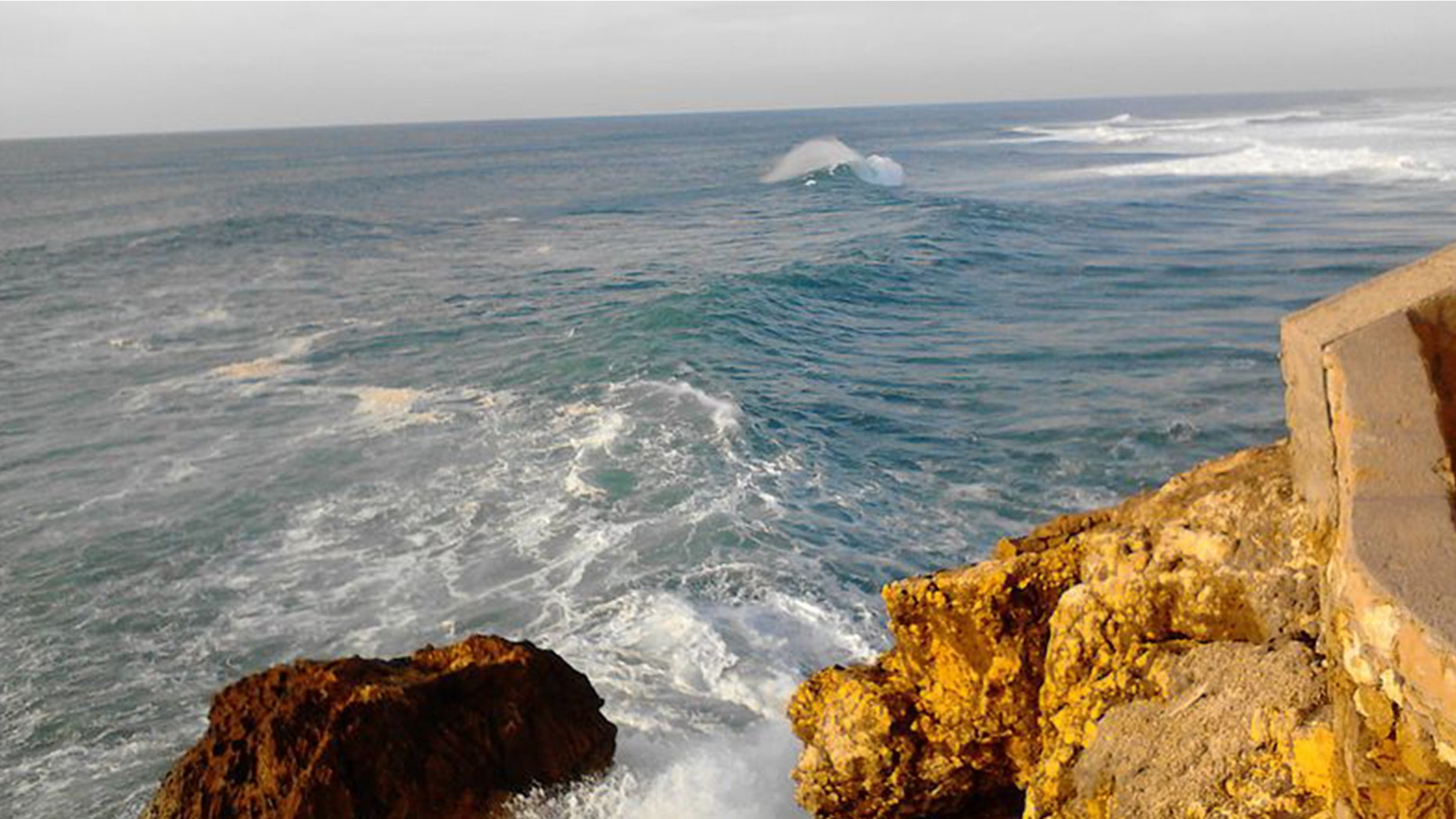 Pictured is the Praia do Norte in Nazare in Portugal where a German man died Monday base jumping after his parachute did not open.
(Threeohsix, Wikimedia Commons)
A thrill-seeker died on Monday after his parachute failed to open in time and he crashed to the ground.
The base jumper's friend landed safely moments after his pal – identified locally as a 50-year-old German – died instantly after hitting rocks at the back of the sandy beach.
Distressing footage taken by an onlooker showed the horrific sequence of events leading up to Monday's tragedy in the Portuguese fishing town of Nazare, famous as a surfing destination where world records have been broken.
A man thought to be the third base jumper filmed standing by the pair that leapt off the edge of the cliff, could be heard yelling: 'No, no' as he witnessed what had happened before shouting out to the survivor in English, 'Are you okay?'
CLICK HERE TO VIEW THE GRAPHIC VIDEO 
A woman, also speaking in English, could be overheard saying, 'Oh my God'.
The dead man's chute only opened after he hit the ground.
The incident happened just after midday today at Praia do Norte in Nazare – North Beach in English.
Leading Portuguese daily Correio da Manha said the victim was a 50-year-old German. Officials confirmed he was a foreigner.
Police and firefighters were among the emergency services who raced to the scene, but they could do nothing to save him.
He was pronounced dead just before 1 p.m.
The tragedy happened near the same spot where a 29-year-old Swedish man died when his parachute failed to open in July 2013.
He had traveled to Portugal with some Norwegian friends to pursue his passion for base jumping, which involves participants jumping from fixed objects such as bridges and using parachutes to break their fall.
The victim in Monday's incident has not been named.
Maritime Police chief Paulo Agostinho said the German base jumper fell around 310 feet and confirmed the man he jumped with was a Portuguese friend.
The height of the cliff meant the victim would have hit the ground at just under 100 mph.
Psychologists are now assisting friends of the victim who witnessed the tragedy.
An autopsy was due to take place at regional capital Leiria.
The cliffs at Nazare are a popular spot for base jumping and enthusiasts usually upload videos of their feats onto social media.
Click here to read the full article from The Sun. 
Source: Read Full Article