Victoria's hospitality industry has delivered a detailed blueprint to the Andrews government for safe, post-lockdown dining in the hope that COVID-stricken cafes and restaurants will be allowed to open sooner than planned.
Under a regulatory framework being assessed by Victoria's health authorities, restaurants would keep for 28 days the names and contact details of everyone they have served, table condiments and shared plates would be off the menu and menus themselves would be laminated to meet the industry's "COVID-normal" standards.
Where possible, patrons would be greeted at one door and shown to a separate exit at the end of their meals. If they are showing any COVID symptoms or refuse to wear a mask before seated, they would not be served at all.
Melbourne chef and restaurateur Guy Grossi says his industry needs to step up.Credit:Chris Hopkins
The provisions are detailed in a 30-page COVID-safe industry plan that the industry association Restaurant & Catering has developed based on an operating model used in Queensland for the past four months.
The proposal has been submitted for consultation to Premier Daniel Andrews, Chief Health Officer Brett Sutton, Jobs Minister Martin Pakula and Treasurer Tim Pallas' Victorian COVID Advisory Group.
Chief Health Officer Brett Sutton and Premier Daniel Andrews are following an "extremely conservative" road map out of lockdown, a restaurant industry body says.Credit:Paul Jeffers
Restaurants and cafes are open only for takeaways until October 19, when provisions for limited outdoor dining are expected to be introduced as part of the government's road map out of COVID-19 restrictions.
Under the road map, indoor dining won't resume until Victoria has recorded 14 days straight of zero new coronavirus cases.
Restaurant and cafe owners whose businesses have fasted through Melbourne's COVID winter are hoping their blueprint, combined with an absence of virus outbreaks in Queensland venues since eateries reopened in May, will convince Mr Andrews to bring forward his timetable.
Restaurant & Catering chief executive Wes Lambert said it was important for industry, rather than government bureaucracy, to lead the development of a workable, COVID-safe framework.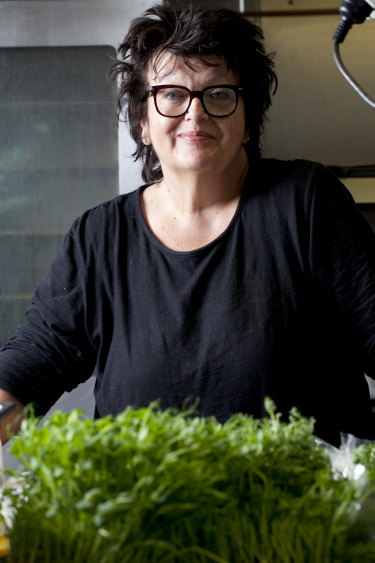 Alla Wolf-Tasker, owner of the Lake House in Daylesford. Credit:Arsineh Houspian
Mr Lambert warned that if the government stuck to its "extremely conservative'' road map, the industry would be devastated. Under the current timetable, dining rooms will stay shut until two weeks have passed with zero new coronavirus cases.
The Victoria Retail Food Services Industry COVID Safe Plan covers indoor and outdoor dining and provides guidelines on how to take and track bookings, receive food deliveries, and serve and accept payment from customers while reducing the risk of infection.
It also advises restaurants what to do if a patron returns a positive test and details the industry-specific COVID-safe training all staff must undergo within two weeks of returning to work.
Under the plan:
All patrons must supply their full name, contact details and time of dining.
Patrons must wear a mask until they are seated and staff should be masked at all times.
Restaurants should refuse entry to anyone with COVID-19 symptoms.
Diners must be limited to one per two square metres in small restaurants and one per four metres in larger restaurants.
Cutlery and crockery must be removed from the table at the end of each course.
Salt, pepper and other condiments cannot be left on the table.
The Victorian industry plan, which goes beyond measures currently in place in Queensland and NSW, requires government approval to become legally binding. Mr Lambert said the industry was willing to do "whatever it takes'' to safely reopen.
Trump Biden 2020
Our weekly newsletter will deliver expert analysis of the race to the White House from our US correspondent Matthew Knott. Sign up for The Sydney Morning Herald's newsletter here, The Age's here, Brisbane Times' here and WAtoday's here. 
Most Viewed in National
Source: Read Full Article