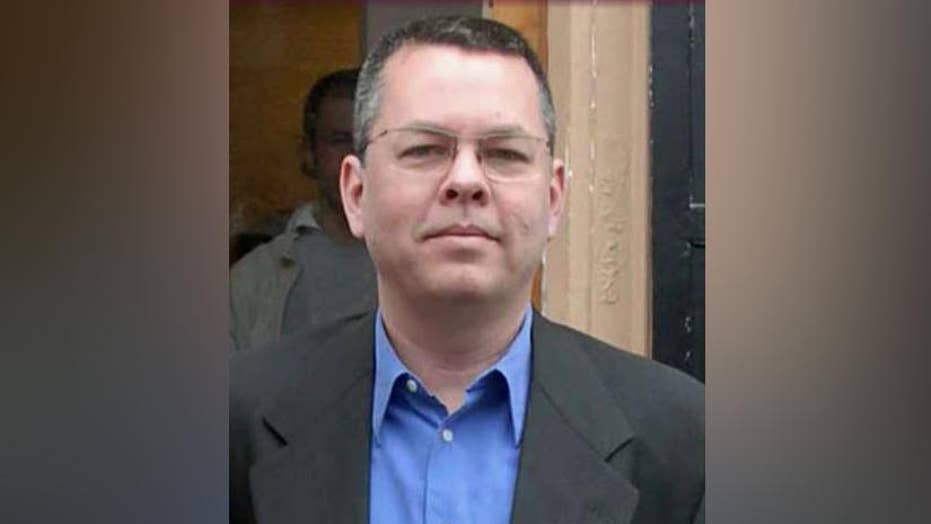 U.S. senators sought sanctions until Turkey frees Pastor Brunson
There is a renewed – but extremely cautious – optimism that Pastor Andrew Brunson could be released from prison in Turkey and be headed home soon.
"We have seen a lot more positive spins in the Turkish press on the case, so an uptick in stories could have a different outcome," a source close to Brunson's case told Fox News. Another source to the family also noted they had good reason to believe a release would be imminent, possibly within the next week.
There is a Friday court hearing on the case, amid increasing speculation that a deal is being worked on between the U.S. and Turkey to release the pastor.
NBC reported on Thursday that the Trump administration had reached an agreement to drop certain charges against Brunson at the Friday hearing, which would then open the door to th hisrelease. But two U.S. officials with strong knowledge of Brunson's case said no specific plans were in place, and there was nothing concrete to predict he would be released from house arrest.
Brunson's lawyer also said no deal has been inked "yet" – and again referred to Friday morning's court date to "see what happens."
Republican Oklahoma Sen. James Lankford once again called for the release of "unjustly" jailed U.S. Pastor Andrew Brunson on Sunday, exactly two years after Turkey imprisoned the American in the months following the failed July 2016 coup attempt.
"Today is a solemn reminder that it has been two full years that a NATO-ally is unjustly holding a US citizen, Dr. Andrew Brunson," Lankford said in a statement. "President Trump and Vice President Pence have been staunch advocates for releasing Dr. Brunson, and I urge them to impose additional sanctions and take other appropriate action if Turkey does not release Dr. Brunson immediately. Our nation prefers to work with Turkey, but we are first committed to protect the safety of Americans."
The now high-profile pastor was arrested and detained for 18 months before finally being charged by the Turkish government with being connected to the coup attempt, an accusation U.S. officials have rejected.
Amid mounting pressure from the U.S., Brunson was moved from prison to house arrest in July. But advocates have said the U.S. needs to be even tougher with the Turkish goverment to press for his relase.
AFRIDI MISTREATED AND IN FAILING HEALTH, FAMILY SAYS, AFTER RARE PRISON VISIT
EXPERTS DISPUTE TURKISH PRESIDENT'S CLAIM US TO BLAME FOR ECONOMIC WOES
The Trump administration has advocated persistently for Brunson's release, leading to an intense economic showdown between the two NATO allies. In August, the U.S. slapped sanctions on an array of Turkish officials and on some goods, sending the Turkish currency into freefall.
Brunson's lawyer on Wednesday filed an appeal to Turkey's highest court, requesting that the pastor be released from house arrest.
Brunson is not the only American behind bars in Turkey on questionable charges. Several Turkish-American citizens, including a NASA scientist Serkan Golge and several workers from the United States Embassy in Ankara too are languishing in prison under government accusations they were connected to the Gulen group.
Source: Read Full Article