Russia has made the extraordinary claim that ex-spy Sergei Skripal and his daughter Yulia were deliberately injected with the nerve agent Novichok in hospital just before an independent chemical weapons inspection team took their blood samples.
Russia's ambassador to the UK, Alexander Yakovenko, was responding to a report by independent chemical weapons watchdog OPCW confirming the UK's finding that the Skripals were poisoned using the nerve agent Novichok.
Russia's ambassador to the UK, Alexander Yakovenko, speaks at his London residence.
Asked if he believed this is what had happened, Yakovenko said: "We are saying this in absence of any explanations".
He said the deadly nerve agent Novichok A234 – which he insisted Russia had never developed or produced – was "in a condition that it was just injected… if this substance stayed for almost a month it always works with the other parts of the body and of course the composition of that chemical substance will be different".
"It was probably… highly likely injected before taking the blood test," he said.
Yakovenko said the poisoning of the Skripals was "a huge provocation against Russia".
He declined to say who might have injected the Skripals with the Novichok.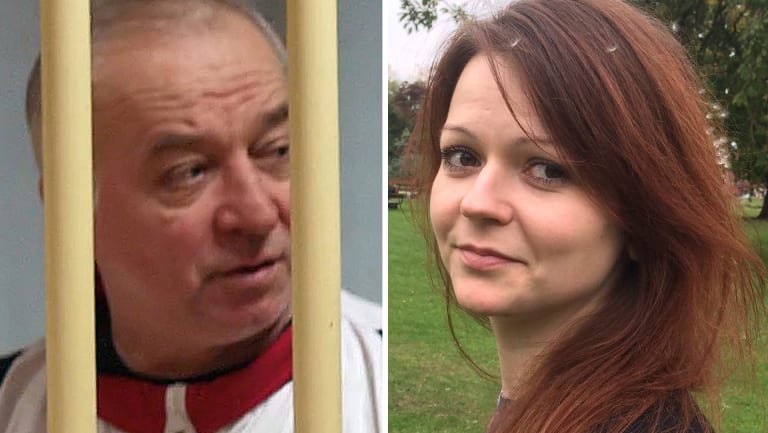 Poisoned: Russian ex-spy Sergei Skripal, 66, and his daughter Yulia Skripal, 33.
"We don't know who did it, how it was done, this is just the assumption based on the papers that we got," he said.
Yakovenko, in a press conference at his Kensington residence on Friday that lasted more than an hour, also presented two videos in relation to the Syrian regime's recent chemical attack using what was reported as chlorine gas on Douma.
One video, he said, showed Hassan Diab, an 11-year-old child who had pretended to be affected by a chemical attack for videos later shared online. Diab's father said his son was given "dates, cakes and rice" to play a part in staging the alleged attack.
Another video by Chinese reporters, the ambassador said, showed "a lot of chemical components which were left by the jihadists" in eastern Ghouta.
"There will be physical evidence that the chlorine was supplied from Germany," he said.
"Basically what they did, they produced the chemical weapons, the chlorine and some others, then they staged the so-called chemical attacks and, with the help of the White Helmets, it was presented in a way that it was done by the Syrian government."
Fairfax Media asked whether he was saying there had been no chemical attack, or there had been an attack by the regime's opponents.
Yakovenko said there was "no contradiction" in the two accounts he had presented.
He also said the UK was breaking international law by refusing access to Russian diplomats to see the former spy and his daughter, calling it "an abduction of two Russian citizens".
Yulia Skripal has issued a statement via Britsh police saying she did not wish to speak to Russian diplomats or to media.
Meanwhile, British authorities have sealed off nine areas in Salisbury that they are concerned may be "toxic hotspots" left by the use of Novichok against the Skripals. The decontamination effort is expected to cost millions of pounds.
A government scientist said there were "some high concentrations" of the poison at some locations that could be toxic to the public.
The cleaning operation has deterred tourists: the BBC reported that Americans are no longer stopping in Salisbury en route to Stonehenge.
Yakovenko said the "so-called decontamination" was a way to destroy evidence.
Russian and pro-Russian social media accounts are working hard on social media to spread Kremlin denials related to both the Skripals and Syria.
Almost as soon as Fairfax Media tweeted the ambassador's claim, a Twitter account calling itself "melbcity.net.au" and describing itself as "Melbourne City Council – holding them to account" responded with a series of tweets defending the Russian position.
Around 2am, Melbourne time, the account insisted the ambassador "never said that", in relation to the claim about the Skripals.
It accused Fairfax Media of "cherry picking the facts" and repeatedly linked to a long video interview with Russian Foreign Minister Sergei Lavrov.
The Twitter account of melbcity.net.au points to a website that it says is "dedicated to Melbourne politics, design and tourism".
Russia denies having an extensive social media propaganda network, and mocks the idea that it attempts to intervene in foreign politics and elections.
Source: Read Full Article