Direct talks between the leaders of antagonistic nations are rare events, moments of high risk and – potentially – of extraordinarily high reward. National interest and prestige is on the line for both, peace and security at stake.
Historically then preparations for such events have been painstaking.
Before meeting with Mikhail Gorbachev in 1986 for talks that lead to a key nuclear treaty and contributed to the thawing of the Cold War, Ronald Reagan's advisors spent months with the president, effectively putting him through a college level degree in the topics to be negotiated, the historian William Taubman writes in his book Gorbachev: His Life and Times.
US president Ronald Regan spent months preparing with advisers for his meeting with Russian counterpart Mikhail Gorbachev in 1986.
Over a series of months key experts prepared more than 20 papers for presentation to the president. Academics as well as CIA analysts were drafted for the effort. At one point, recalled one of the administration's top Soviet affairs specialists, Jack Matlock, "we could get two or three two-hour sessions with [Reagan] a week! Try to get 15 minutes with any other president."
This is not Donald Trump's way.
The talks between Trump and Kim came about after Trump accepted the latter's invitation on a whim during a phone call without the input of his advisors.
"Meeting being planned!" tweeted Trump early one March morning.
US President Donald Trump tweeted the news that a meeting with North Korea was being planned.
The current US State Department has been hollowed-out and stripped of key staff and funding by the administration. Its new leader, the former CIA chief Mike Pompeo, has been in place for little more than a month. His replacement at the CIA, Gina Haspel, was confirmed on May 18. An ambassador to South Korea was announced in April, when Harry Harris, who had been bound for Australia, was redirected in haste.
Trump's new national security advisor, John Bolton, has long advocated for war with North Korea and Politico has noted that in his first two months on the job did not even call a cabinet-level planning meeting to discuss the talks.
Nor is the President known for his enthusiasm for painstaking preparation. Breaking with tradition Trump does not read the daily intelligence briefings prepared for him by his agencies as it does not suit his preferred "style of learning", The Washington Post has reported.
Speaking to reporters before a White House meeting with Japanese Prime Minister Shinzo Abe, Trump said: "I don't think I have to prepare very much. It's about attitude. It's about willingness to get things done."
North Korean leader Kim Jong-un is due to travel to Singapore for the meeting.
Trump's approach has prompted concern in some quarters. John McLaughlin, former acting director of the CIA, told the Post's conservative commentator – and frequent Trump critic – Jennifer Rubin, that he doubted Trump's team. "These people have never been in a real negotiation … and have no idea how complicated this will be."
"Even in the hands of the most astute diplomats and serious presidents," wrote Rubin, "this meeting would be a daunting proposition; in the hands of the Trump crew, the prospect of face-to-face meetings is, candidly, petrifying."
One man who does know exactly how complicated it is to negotiate with North Korea is Robert Carlin, a former CIA analyst and US State Department official who is currently a scholar with Stanford University's Centre for International Security and Cooperation. Carlin has perhaps spent more time in face-to-face negotiations with North Korean officials than any other American.
Carlin disputes the view of some US observers that negotiation with North Koreans is pointless. In a paper for the Centre for International Security and Cooperation published in 2008, Carlin wrote that US officials spent thousands of hours of often fruitful negotiation with North Korea between 1993 and 2000, before the relationship again frayed. He lamented that the lessons of those negotiations had been forgotten by American officials, to the detriment of US national security.
I don't think I have to prepare very much. It's about attitude.
Recalling those talks in a recent interview with the American journal National Review, Carlin said he believes there is a possibility of a breakthrough in the coming talks. He argued that despite the lack of painstaking preparation, there were reasons for optimism, especially since talks had taken place between Pompeo and Kim.
"We're much better off than we were at the beginning of the year, when no one we knew or trusted had direct experience with Kim Jong-un," he wrote. "We were trapped in our own bubble of ignorance. Now several people have met with Kim, and the President will have the benefit of first-hand observations on the North Korean leader."
Carlin described North Korean negotiators as tough but careful, reports The New Republic.
"They are good at their game … When they get precise in their presentation, it's important to pay attention — they mean what they say. But it's often only possible to understand what they mean by having a good grasp of their previous positions … My experience is that Americans sometimes don't recognise progress when they see it from the North Koreans, and thus may miss openings."
He said the North Korean negotiators would also be alert to signs of disrespect.
"When what we are asking for flows from our sense of moral superiority rather than any pragmatic or rational basis, the North Koreans can sense it. They have good emotional radars and know when we are being condescending, speaking down to them."
And he warned that they would prosecute their case rigorously.
"If we leave gaps, we can be sure they will explore them. If there are seams, they will play them. If they are uncertain about our own commitment, they will pursue hedging."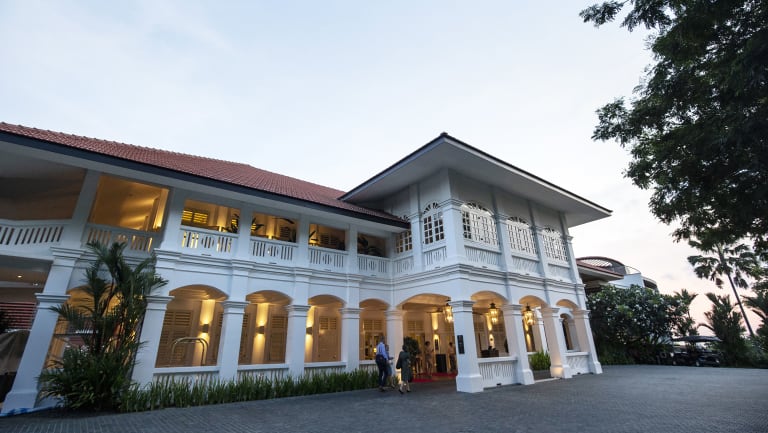 Donald Trump and Kim Jong-un are set to meet at the Capella Hotel on Sentosa Island in Singapore.
In a separate piece written for 38North, a website for analysis of North Korea, Carlin wrote that North Koreans are pragmatic negotiators who followed diplomatic norms.
"A productive set of negotiations with them follows a pattern found anywhere in the world: Define the problem in terms that both sides can claim benefit from a solution; divide the problem into parts; move from easiest to hardest to solve; fix details and define terms; review again so that both sides understand what is and what isn't in the agreement; agree on implementation details and timetable."
He wrote that in talks with North Koreans, negotiators needed not only to be able to stand firm when they felt they had been slighted, but to be able to sit patiently and listen while North Korean officials voiced their own concerns.
"Rarely do the North Koreans pound the table. More often, when we raise a point they find objectionable, they may quietly take off their glasses, close their notebooks gently, and lay their pens to the side."
The benefits of preparation, Carlin told National Review, are often to be felt in the wake of talks rather than at the table.
"It's then people will evaluate what happened based not on top-of-the-head judgments, but real understanding of what the other side said, and what it meant."
Source: Read Full Article