Moscow: Ten days of demonstrations that escalated throughout Armenia have forced the resignation of the man who has led the country for the past decade, creating the latest crisis in a post-Soviet state trying to overcome a legacy of weak democratic rule.
Serzh Sargsyan's unexpected resignation prompted scenes of jubilation in the capital, Yerevan, and other cities. Tens of thousands of people flocked to the central Republic Square in Yerevan.
A man covered with a national flag waves an opened bottle of a sparkling wine celebrating Armenian Prime Minister's Serzh Sargsyan's resignation in Republic Square in Yerevan.
President since 2008, Sargsyan reached his legal two-term limit earlier this month. A constitutional referendum in 2015 had transferred most presidential powers to the role of prime minister, however, and the Parliament, dominated by his right-wing Republican Party, swiftly voted him into the post with no other candidate given a chance.
"I was wrong," Sargsyan said in a brief resignation statement carried by the official news agency. "The street movement is against my tenure. I am fulfilling your demand."
Serzh Sargsyan, left, gestures as he leaves a meeting with protest leader Nikol Pashinian, right, in Yerevan on Sunday.
Thousands of incensed Armenians, most of them young, swarmed through Republic Square starting on April 13. The protests gradually spread to other major cities in the tiny southern Caucasus nation, including Gyumri and Vanadzor.
The pressure on Sargsyan, 63, to resign ratcheted up markedly on Monday after soldiers from one company of the country's prestigious peacekeeping force, which had served abroad in Iraq, Afghanistan and Kosovo, joined the march in Yerevan in their uniforms.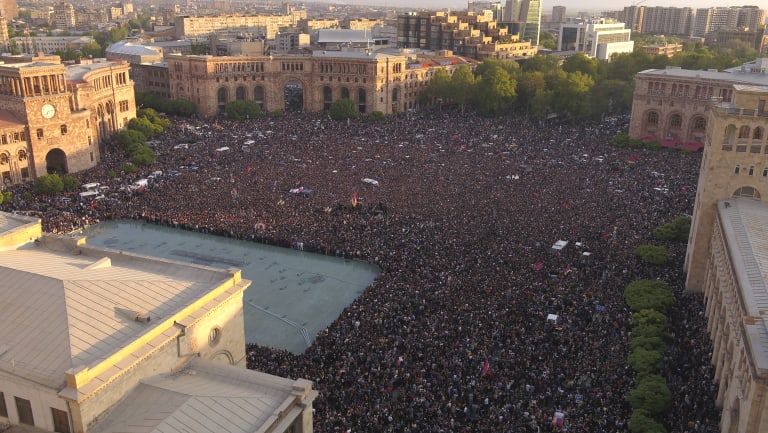 Demonstrators gather in the Republic Square celebrating Armenian Prime Minister's Serzh Sargsyan's resignation in Yerevan on Monday.
Tuesday is Armenia's Genocide Memorial Day, when many of the country's more than 2.6 million people turn out onto the streets. It was expected to quickly turn into a vast anti-Sargsysan demonstration that would have been unthinkable to suppress by force, said Aleksandr Iskandaryan, the director of the Caucasus Institute in Yerevan.
Sargsyan had promised last year not to try to extend his tenure in office by becoming prime minister when his presidential term ended.
Karen Karapetyan, who had just left the post of prime minister to make way for Sargsyan, stepped back in as acting PM.
The rapid events threw the country into disarray. The new constitution invests considerable power in the Parliament, and some expected snap elections to be called.
The demonstrations were fuelled by a new generation of Armenians disenchanted with the small elite of politicians and their oligarch allies who have long controlled the government and much of the economy, analysts said.
New York Times
Source: Read Full Article