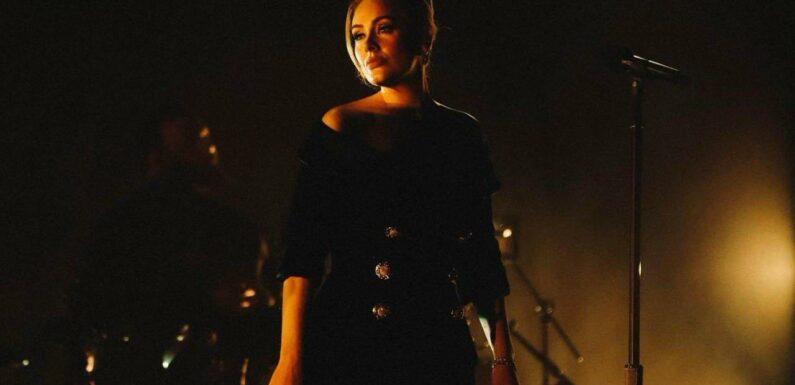 The 'Easy On Me' hitmaker is seen hunching over and hobbling from one side of the stage to the other as she's suffering from a painful nerve condition in her lower back.
AceShowbiz –Adele's health issues refuse to go easy on her. The chart-topping singer has confessed that she suffered "really bad" back pain when performing at her Las Vegas show on New Year's Eve.
In a video obtained by the Daily Star, the "Easy On Me" hitmaker, clad in a custom off-the-shoulder Balmain gown with a plastic Happy New Year crown, could be seen telling the crowd, "I've just got to get over to the other side of the stage." She added, "I have to waddle these days as I have really bad sciatica."
"I've been in pain with my back for, like, half of my life, really," Adele, who was handing out T-shirt launchers to the crowd, further explained. The 34-year-old Grammy winner added, "It flares up, normally due to stress or from a stupid bit of posture."
Adele has spoken out about her chronic back pain in the past, revealing that she's lived with chronic back pain, including injuries like two separate slipped discs, for half of her life. "I slipped my first disc when I was 15 from sneezing. I was in bed and I sneezed and my fifth one flew out," she recalled during a 2021 interview with The Face magazine. "I slipped my sixth one, my L6. And then where I had a C-section, my core was useless."
Adele then admitted that her 100-pound weight loss and intense exercise regime, including core work, had helped alleviate some of the issues. "I got my tummy strong, down at the bottom, which I never had before, [and] my back [doesn't] play up as much," she told the publication. "It means I can do more, I can run around with my kid a little bit more."
Back in September, Adele spoke to ELLE that she suffered excruciating pain after getting pranked by her 9-year-old son Angelo. The "Turning Tables" singer told the magazine that she she "slipped her L6 a few months ago, when Angelo jumped out to scare her as she came out of the bathroom."
You can share this post!
Source: Read Full Article