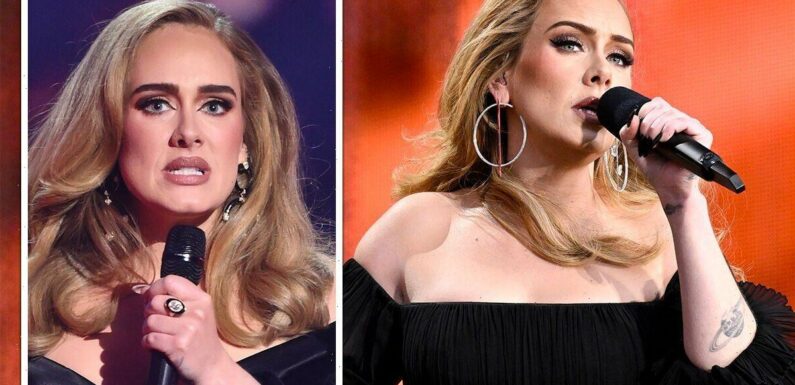 Adele 'disappears' with confetti downpour at Las Vegas show
We use your sign-up to provide content in ways you've consented to and to improve our understanding of you. This may include adverts from us and 3rd parties based on our understanding. You can unsubscribe at any time. More info
Adele Adkins, 34, started her residency in Sin City in November, performing sold-out shows almost every weekend. However, reports now suggest demand to see the singer has plummeted as ticket prices on resale sites dropped dramatically.
Adele is currently in the middle of her five-month residency, which was originally postponed from January 2022.
When her residency, Weekends with Adele, first started ticket resale sites saw prices as high as $45,000.
However, recently these resale prices have crashed by a staggering 90 percent.
While this means the resale tickets are still costing up to a staggering £3,450 per seat, the drop in demand is evident.
The singer still has two and half months left of her residency after adding eight extra dates in March 2023.
The Sun on Sunday claimed insiders from The Colosseum at Caesars Palace, Adele's residency home, said the shows are no longer selling out.
The insiders claimed "seat fillers" are being used to give the appearance of a hefty crowd and cover-up the empty seats.
This has also increased the chances of fans being able to snap up last-minute tickets for a far better price.
The insiders noted that although the singer's performances have been "magnificent" the "early demand to see her sing has waned".
They also claimed that the current expectation is for resale ticket prices to continue dropping until the end of her residency.
The Easy On Me singer was reportedly paid up-front for her residency, meaning the dip in demand likely won't affect her pay cheque.
Her residency is set to end in March, almost a year after the shows were originally set to take place.
Weekends with Adele was meant to start in January 2022 until April 2022, but was controversially postponed with just 24 hours before the first show was due to start.
She appeared on the Graham Norton Show in February and explained there were many delays and limited manpower at the time due to Covid-19 which meant it would have been "a really half-a**ed show" that she refused to put her fans through.
Fans were largely left in the dark for months before rescheduled dates were leaked in July.
Following the leak, the singer took to Instagram to confirm she would be resuming her residency in November 2022.
She also revealed those who had tickets for the original January dates would be prioritised for the updated run.
Adele revealed in an Instagram post featuring the poster for her residency: "Words can't explain how ecstatic I am to finally be able to announce these rescheduled shows. I truly was heartbroken to have to cancel them.
"But after what feels like an eternity of figuring out logistics for the show that I really want to deliver, and knowing it can happen, I'm more excited than ever!
"Now I know for some of you it was a horrible decision on my part, and I will always be sorry for that, but I promise you it was the right one."
Source: Read Full Article