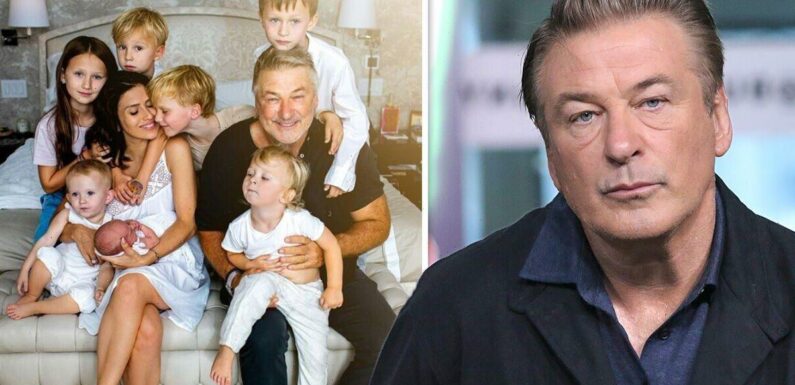 Alec Baldwin rehearses for fatal film scene on the set of 'Rust'
We use your sign-up to provide content in ways you've consented to and to improve our understanding of you. This may include adverts from us and 3rd parties based on our understanding. You can unsubscribe at any time. More info
Hilaria Baldwin, 38, has shared the first adorable family portrait featuring all seven of her children to Instagram. This comes as the star's husband Alec Baldwin, 64, could be facing some serious criminal charges following the tragic death of Halyna Hutchins on the set of the film Rust.
Alec and Hilaria looked overjoyed as they posed surrounded by their seven children in the first picture to include every member of their large family.
Hilaria gave birth to the couple's daughter Ilaria last month, and could be seen cradling the tiny baby in her arms.
In her caption, Hilaria noted that Ireland Baldwin, Alec's 26-year-old daughter from his marriage to Kim Basinger, wasn't included in the photo.
She told her 979,000 followers: "Our first photo with the smallest Baldwins! What a Baldwinito dream team.
"Ireland, you are missed and loved," she added, before giving a shout out to professional photographer Eroula Dimitriou.
"Now my love letter to @roushoots: 20 years of friendship, you have captured memories of my family since we was pregnant with Rafa. We are grateful to you," she penned.
"Mama, artist, one tough cookie, multi human… Rou makes it a joy to take maternity and family photos.
"She has the patience of a saint, the calm of a wise woman, and the touch of a mama. We love you. Check her out and give some love."
In the picture, Hilaria looked positively glowing in a white satin slip dress with a lacy top, while many of the other children also wore white.
Meanwhile, Alec wore a black shirt and dark trousers with black socks.
Alec and Hilaria's other children include Carmen, nine, Rafael, seven, Leonardo, five, Romeo, four, Eduardo, almost two, and Lucia, 18 months.
The sweet snap is in sharp contrast to the dark events Alec has been embroiled in over the past year.
Strictly's Tess Daly and Claudia Winkleman were plagued by feud rumour [NEWS]
Kaye Adams hits back after Strictly Come Dancing elimination attack [NEWS]
Lorraine Kelly bids heartfelt farewell to 'brilliant' BBC broadcaster [LATEST]
Alec was seen breaking down in October of last year when cinematographer Halyna Hutchins was fatally shot on the set of the movie Rust, which saw Alec holding the gun from which the bullet was fired.
Since then, New Mexico prosecutors revealed that he may be charged for the shooting that occured during filming, though he claims that he never pulled the trigger of the prop gun.
It seems he could be facing serious criminal charges as the prosecutors indicated late last month in a letter to the state's financial board that the Beetlejuice actor might be among those prosecuted for the death of Haylna
The mother-of-one was the cinematographer for New Mexico-based movie Rust, which featured Alec both as an actor and a producer.
On October 21, Alec accidentally shot and killed her while holding a prop gun that appeared to have been loaded, breaking on-set safety protocols.
The Santa Fe District Attorney District Attorney Mary Carmack-Altwies wrote in her letter that she was "ready" to file charges against four people.
Although she didn't specify what she had planned to charge the individuals with, she wrote that she was "certainly looking at all the homicide statutes and any gun statutes under New Mexico criminal code".
"One of the possible defendants is well known movie actor Alec Baldwin," she continued.
Baldwin has continued to defend himself since the tragedy and has passed some blame along to armourer Hannah Gutierrez-Reed, as he claimed the gun should never have been filled with live rounds and should only have been loaded with blanks.
In turn, Hannah has advanced a theory that someone may have sabotaged the gun by putting a live round in it.
Source: Read Full Article