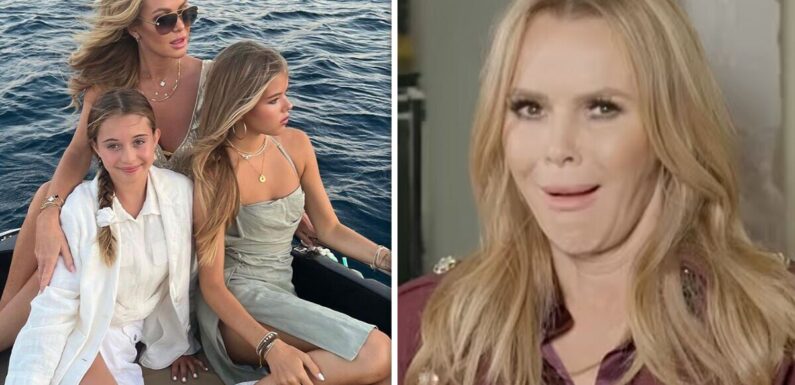 Amanda Holden teases Sky History's Sex: A Bonkers History
Britain's Got Talent judge Amanda Holden has revealed exclusively to Express.co.uk and other publications that her youngest daughter is banned from tuning into her latest TV series.
The actress and presenter is fronting Sex: A Bonkers History, alongside historian Dan Jones, which explores how sexual behaviours through the ages have shaped civilisations.
Discussing the fascinating new series at a Q&A, Amanda, 52, admitted that her eldest daughter Lexi, 18, keeps pestering her about the start date of the show, while her youngest, Hollie, 11, is well aware that she won't be allowed to watch it.
The star explained: "My 18-year-old daughter keeps asking me the start date, and my 11-year-old is like, 'I know I'm not allowed to watch it mummy'."
Fortunately for Hollie, she was able to embrace the fun side of her mum's new project, as she enjoyed dressing up in wigs from costumes Amanda wore during historical recreations in the Sky History series.
READ MORE: Folk singer Roger Whittaker famous for hit song Durham Town dies
After bringing the Marilyn Monroe and Queen Charlotte wigs home, Hollie wasted no time in playing dress-up.
Amanda continued: "She liked all my dressing-up clothes, because I brought a lot of them back, so she's donned both wigs!
"I got the Marilyn Monroe and the Queen Charlotte wig… just for a rainy day!"
Don't miss…
Roman Kemp's mum's trading with Princess Kate as George's obsession unveiled[INSIGHT]
This Morning and 10 Years Younger expert Dr. Uchenna Okoye dies suddenly[LATEST]
Layton Williams hits back as viewer threatens to switch off due to 'camp' attire[COMMENT]
We use your sign-up to provide content in ways you've consented to and to improve our understanding of you. This may include adverts from us and 3rd parties based on our understanding. You can unsubscribe at any time. More info
Amanda went on to joke that she was planning on including the costume wigs in her glamorous work attire.
The star, who is often photographed looking stylish while walking home from hosting Heart FM's Breakfast Show, quipped: "I might walk out of Heart Breakfast with a Queen Charlotte wig on and a hot pant!"
During the first episode of Sex: A Bonkers History, Amanda gives viewers an insight into the "sexy heartthrob" Gladiators of the Roman Empire.
The TV and radio personality meets with sex historian Kate Lister to find out why women were so attracted to the warriors at the time.
Sex: A Bonkers History premieres on Sky History tonight at 9pm.
Source: Read Full Article