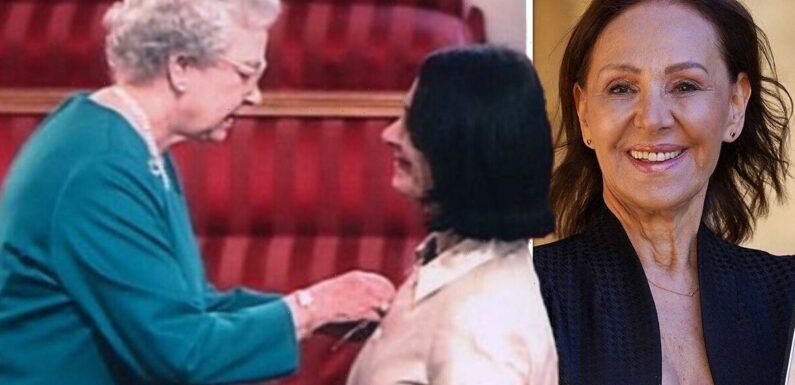 Guards rehearse ahead of Queen Elizabeth II's funeral
We use your sign-up to provide content in ways you've consented to and to improve our understanding of you. This may include adverts from us and 3rd parties based on our understanding. You can unsubscribe at any time. More info
The 79-year-old has dedicated numerous posts to Queen Elizabeth II since her death was announced on September 8. Having been awarded an OBE, CBE and finally a DBE, two of which were directly from the late Queen, Arlene said that her death has had a "enormous effect" on her, making the day of her state funeral (Monday, September 19) particularly difficult.
Posting on her Instagram stories to her 40,000 followers, Arlene shared a picture of her receiving her OBE from the Queen back in 2001.
The late monarch, dressed in a blue dress, was pictured slightly bent pinning the medal onto the professional dancer's blazer, while Arlene beamed up at the Queen.
With a red heart emoji, Arlene wrote: "Thinking about the Queen all day and the enormous effect it's had on me.
"Tomorrow will be truly a day of tears and loss."
Echoing the attitude of many across the nation ahead of the Queen's funeral, Arlene's Instagram story extended to a montage of photos that she posted around a week ago.
Sharing two pictures of her receiving honours from the Queen and one from Princess Anne earlier this year, Arlene explained how the Queen has been a "constant" in her life.
She wrote the caption: "I keep thinking of our late Queen and how she has been such a constant in our lives, personally remembering back to her coronation when I was 10 years old.
"As we are all in this time of mourning, I am reflecting on how she gave me something I could never have dreamed of, by presenting me with both my OBE in 2001 and my CBE in 2013.
"Then earlier this year, I had the honour to receive my DBE from Princess Anne at Windsor Castle. #honours #queenelizabethII."
Arlene's tribute to the late monarch gained more than 2,000 likes, with many celebrity faces and fans of the former I'm A Celebrity… Get Me Out of Here! contestant sharing their condolences in the comments.
User @kianc2410 wrote: "Aww she was an amazing women and you are so lucky to say you've met her Arlene."
And @bradleysdancestudio added: "Fabulous photo it looks like she is really taking care putting it on…"
A third, who goes by the username @louisecorpe explained the effect that the Queen's death has had on her in the last week.
She wrote: "I'm still so heartbroken. I tried watching a drama today but had to go back to the news.
"I just couldn't concentrate and I feel the need to see everything live on TV. God bless our Queen and God save our King."
In another tribute to the Queen, Arlene shared a black and white montage of the monarch throughout her life and a photograph of perhaps the first time she had the honour of meeting the Queen.
View this post on Instagram

A post shared by Dame Arlene Phillips (@arlenephillips)
View this post on Instagram

A post shared by Dame Arlene Phillips (@arlenephillips)
In the black and white photo, a young Arlene can be seen curtseying in front of the monarch as she shakes her gloved hand, smiling as she does.
Captioning the two images she wrote: "This montage shows our beautiful Queen and how long she has reigned.
"I was saddened today to hear of her passing and I realised having met her a number of times how lucky I was in my lifetime to have listened to her voice ring out on so many occasions in both intimate conversation and all her messages to the nation.
"Her loss will be immense and my condolences go out to her family."
Source: Read Full Article