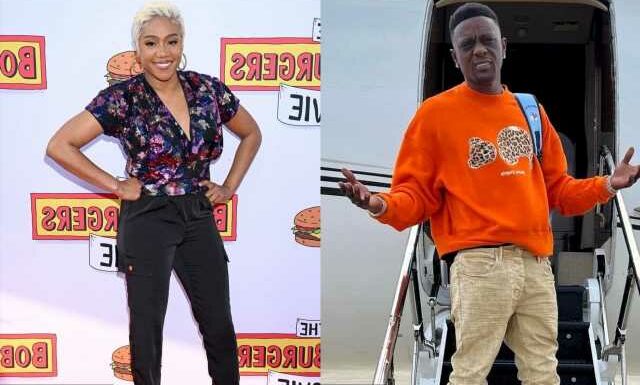 The 'Wipe Me Down' rapper turns to social media to ask the comedienne to work with him after she claims that all of her gigs are 'gone' due to the now-dismissed lawsuit.
AceShowbiz -Boosie Badazz (Lil Boosie) is extending a helping hand. The "Wipe Me Down" hitmaker is offering Tiffany Haddish a job after she confessed that she lost all of her jobs due to recent child grooming lawsuit.
On Wednesday, September 21, the 39-year-old Baton Rouge native turned to his Twitter account to declare that he'd love to work together with the comedienne. "@TiffanyHaddish I CAN'T PAY YOU WHAT THEY WAS PAYING YOU BUT I GOT A CHECK !!" he began. "N I WOULD LOVE TO PAY YOU TO MAKE A COMEDY WITH ME !"
"WHAT THEY DID TO YOU MIGHT BE CAREER CHANGING, DONT LET THIS SLIDE," Boosie reminded Tiffany. He went on to add, "this a billion dollar lawsuit SIS ! YOURE A STAR. U CAN PRODUCE YOUR OWN MOVIES."
Boosie's offer came shortly after Tiffany claimed that she "lost everything" as a result of the now-dismissed allegations of child molestation and grooming made against her and fellow comedian Aries Spears. "All my gigs, gone. Everything, gone," the "Girls Trip" star told TMZ on Wednesday. "I don't have no job, bro."
According to IMDB, Tiffany has two projects in post-production, but none that she is currently filming or listed as in pre-production. The 42-year-old also has no upcoming tour dates for her comedy tour, per Ticketmaster.
Tiffany and Aries were accused of grooming and molesting a sister, who is now 22 years old, and her younger brother when they were 14 and 7 years old, respectively, in a lawsuit filed earlier this month. The alleged victims, who went by Jane and John Doe, claimed Tiffany coerced them into participating in explicit comedy skits, one of which was titled "Through a Pedophile's Eyes".
However, on Tuesday, September 20, the plaintiffs decided to dismiss the lawsuit with prejudice, meaning it cannot be refiled in the future. In a statement, Jane said, "My family and I have known Tiffany Haddish for many years and we now know that she would never harm me or my brother or help anyone else do anything that could harm us. We wish Tiffany the best and are glad that we can all put this behind us."
Previously, the alleged victims agreed to settle the legal issue under certain conditions. "My brother and I are amenable to Plaintiff Haddish's desire to engage in mediation/settlement talks," Jane stated in court documents obtained prior to reaching a deal to "block the public from seeing the original complaint."
Jane stated in the new paperwork that the mediation would have to be paid by Tiffany and "must take place in Las Vegas within the next two weeks." She said "if we succeed in agreeing to a settlement," she's willing to put out a joint statement with Tiffany where "we state that the parties have agreed to a private settlement, and [Tiffany] must publicly apologize for her role in the skits."
In addition to that, Jane urged Tiffany to recant her shakedown statement directed "towards our mother." She also asked Tiffany to "state she never intended to harm my brother, mother and me."
Source: Read Full Article